18 Apr, 2015
(China Daily) April 13, 2015 — China's anti-corruption system is receiving "high-quality" tips from around the world and is ready to take further action to catch more former public officials who have escaped abroad with ill-gotten gains.
A senior official from the CPC Central Commission for Discipline Inspection told China Daily that the top anti-graft watchdog had received more than 100 "valuable clues" since it opened an Internet channel for tips in December.
"Many of the clues we received are of high quality, and some, after our careful verification, have been used as key evidence to assist the nation's anti-corruption manhunt," said an official from the CCDI's international cooperation bureau who declined to reveal his name.
He said that about 60 percent of the clues came from other countries, including the US, Canada, Australia and Singapore. Many overseas Chinese and local people provided valuable clues involving the location of fugitives and their assets, including bank deposits and properties.
The other 40 percent were reported by people in China, who offered evidence about so-called "naked" officials — those who may be preparing to flee the country after sending their family abroad.
In recent years, the US, Canada and Australia have become big destinations for corrupt Chinese officials due legal differences and the lack of extradition treaties.
Meanwhile, a number of corrupt officials have transferred millions, if not billions, of yuan to their foreign accounts through money laundering and underground banks.
The official said that more than 10 special anti-graft officers are taking charge of dealing with the clues received online. "Once we receive such clues, we will give timely feedback to those who report information while classifying and analyzing the clues and sending them to judicial authorities for verification. And those valuable clues will be provided as evidence to the countries concerned."
He said they welcome more valuable clues and will pay attention to protecting the whistleblowers' rights.
In April, Chinese judicial authorities launched an action code-named "Skynet" to hunt down corrupt officials at large overseas and confiscate their illegal assets. The action will last until the end of December, according to the CCDI.
To date, three fugitives suspected of economic crimes have been brought back to China to face trial from Laos and Greece, including one accused of illegally raising public funds of 44 million yuan ($7 million) after spending two years on the run in Greece, setting an example for enhanced cooperation with European countries to extradite more Chinese fugitives.
Huang Feng, law professor from Beijing Normal University, said, "the priority for nabbing the fugitives is to obtain complete evidence for each individual case."
US backs China's campaign to hunt down fugitives
BEIJING (Agencies/chinadaily.com.cn) 2015-04-12 – The United States has agreed to streamline the procedure to repatriate Chinese corrupt officials abroad, after meetings between security officials from the world's two largest economies, China News Service reported Saturday, quoting a statement from the US Department of Homeland Security.
In the statement released Saturday, the department said that US Secretary of Homeland Security Jeh Johnson had reached an agreement with the Chinese side over simplifying the process to repatriate Chinese citizens who have received the final deportation orders.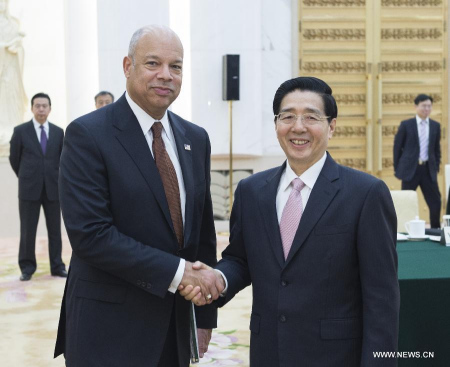 Chinese State Councilor and Public Security Minister Guo Shengkun (R) shakes hands with US Secretary of Homeland Security Jeh Johnson during the first ministerial meeting between the Chinese Ministry of Public Security and the US Homeland Security Department in Beijing, China, April 9, 2015. [Photo/Xinhua]
The US Immigration and Customs Enforcement (ICE) will work closely with Chinese Ministry of Public Security to verify the real identity of Chinese citizens applying for travel documents and they will also ensure the arrangement of regular chartered flights to advance the repatriation process, according to the statement.
The official Xinhua News Agency also reported late Friday that the United States has promised support for China's campaign to hunt corrupt officials fleeing abroad.
Johnson visited China for the meetings between April 9 and 10, the first of its kind by a US Secretary of Homeland Security in nine years. Talks this week between Chinese domestic security leaders Meng Jianzhu and Guo Shengkun, and Jeh Johnson also touched on counter-terrorism, intellectual property rights, maritime law enforcement and cybersecurity issues, the official Xinhua News Agency reported.
Guo said the two sides should seek cooperation in law-enforcement, Xinhua said, and that both sides agreed they would not provide refuge to fugitives.
Chinese public security authorities said the United States supported Chinese programs dubbed "Sky Net" and "Operation Fox Hunt," which are meant to coordinate a campaign to track down suspected corrupt officials who have fled overseas and to recover their assets.
The Chinese government has given the United States a priority list of Chinese officials suspected of corruption and who are believed to have fled there, state media has reported.
Chinese officials have said more than 150 "economic fugitives" including corrupt government officials are in the United States.
China's anti-corruption watchdog said last month that more than 500 suspects were repatriated to China last year, along with more than 3 billion yuan ($484.32 million).
Chinese President Xi Jinping has said he aims to track down corrupt officials across sectors in a far-reaching campaign against graft.