31 Dec, 2014
Beijing, (chinadaily.com.cn) 2014-12-30 – More than half of white-collars employees describe their life as unsatisfying, according to zhaopin.com, a Chinese job seeking and hiring website said in a report released on Monday, reported thepaper.cn.
The majority of the participants who took part in the study with 9,272 valid samples said they don't work out, don't have time to read books and barely take vacations.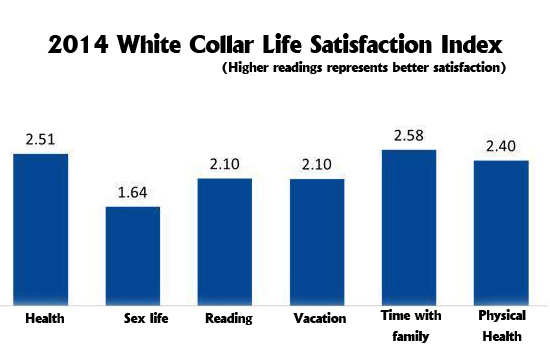 Source:zhaopin.com
White-collar employees in China are not a big fan of physical exercise, with most of them spending just one and a half hour on weekly workout, according to the report. Half of the group admitted they hardly do any workout.
Reading is another activity that ranks low. About 40 percent said they never read while only a quarter of them spend more than three hours on reading.
Sex is another activity that doesn't see much action. Half of the white-collar employees have sex less than once a month. Only a quarter of them have sex more than once in a week.
According to the report, the first-tier cities like Beijing, Shanghai, Shenzhen and Guangzhou have surprisingly failed to meet the expectations of workers either in life or work.
In sharp contrast, those who work and live in second- or third-tier cities like Yantai, Xiamen, Changchun are more satisfied with their work and life.
Second-tier cities offer workers not only diverse opportunities and career growth as the local economy develops, but also a less competitive environment compared to the first-tier cities, according to the analyses of the report by the experts.