31 Dec, 2014
Beijing, (Chinadaily.com.cn)  2014-12-30 – Is the world becoming more dangerous? This question was recently asked by strategists, scholars and foreign policy practitioners from across the world at Ditchley Park, Oxfordshire, without an affirmative answer.
Looking back at 2014, the sky of the West didn't have much of a silver lining. The key words that marked the year were Russia, Islamic State and defense spending. The Cold War ended a long time ago, but Russia look like a threat again to the west. The IS is the most alarming of developments because terrorists can no longer be simplistically identified only as people from the Muslim world. According to CNN, at least 2,000 Europeans have traveled to Syria to join the IS. Many of them are now back in Europe fighting for radical Islam. In spite of these threats, public interest in defense spending is low. No matter how justifiable it might be, NATO's standard of 2 percent of member states' GDP will not be easy for most of them.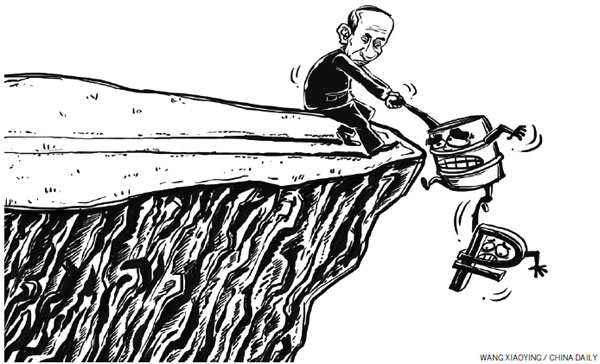 In the Asia-Pacific region, optimism over the future still prevails. The economies of most Asia-Pacific countries are thriving. China has become the largest-trading country, if not the largest economy, in the world. True, disputes over islands and reefs have intensified and tensions have flared up sometimes, but things have not got out of control. China and ASEAN are negotiating on a Code of Conduct in the South China Sea. China and Vietnam have agreed to establish a hotline. A similar hotline between China and ASEAN has been proposed by China. Nobody is talking about a war.
The real dangers in the region are accidents and miscalculations, especially between China on one side and the United States and Japan on the other. Too often in China's Exclusive Economic Zone and in the overlapping air defense identification zones of China and Japan, military vessels and aircraft cross each other's path unplanned. A Chinese and an American aircraft collided in 2001. Thirteen years later, in August 2014, a Chinese J-11B fighter jet and a US P-8 were involved in an air miss.
The year 2014 was remarkable also for massive crisis management efforts by all sides. April saw 21 countries agreeing on the Code for Unplanned Encounters at Sea (CUES) at a meeting in Qingdao, Shandong province. CUES provides procedures to avoid collision such as not getting too close to any vessels in formation and maintain safe speed and distance.During US President Barack Obama's visit to China in October, Beijing and Washington announced the signing of a memorandum of understanding by the two countries' militaries on the Rules of Behavior for Safety of Air and Maritime Encounters. A similar maritime liaison mechanism is being negotiated between China and Japan. The merit of CUES and the MOU is that they are tailor-made for officers, sailors and airmen at operational levels, the ones who have to deal with one another every day, sometimes in dangerous situations.
So, what will the world look like in 2015? Will it signal the beginning of more disorder? Is the IS an international threat or just a regional threat? Who will blink first, Russia or the West? Will Afghanistan become better or worse after the withdrawal of all NATO combat troops by the end of this month? Finally, if indeed the US is in relative decline and China is rising, how can the latter help make the world a safer place?
There are no easy answers to these questions. But one thing is for certain, a stronger China will be more actively involved in world affairs. In the 2014 Government Work Report, Premier Li Keqiang said China is a responsible power, and it will actively participate in international multilateral affairs and play a constructive role in global issues and hot issues.This is the first time that "responsible power" has been mentioned in the Government Work Report.
Besides, the People's Liberation Army's presence is being felt in the other parts of the world like never before. Its international involvement is becoming frequent and sophisticated, from joint exercises, and counter-piracy to peacekeeping, humanitarian aid and fighting the Ebola virus in Africa. China certainly doesn't look like a free-rider, as Obama once claimed.
The world has always been unstable and unpredictable, but the right way of describing a glass half full with water is: the glass is half full and half empty. The world is not necessarily getting more dangerous.
The author is an honorary fellow with Center of China-American Defense Relations, Academy of Military Science.