29 Aug, 2014
Opening Remarks by Nassir Abdulaziz Al-Nasser, the United Nations High Representative For The Alliance Of Civilizations Before The Sixth UNAOC Global Forum, Bali, 29 Aug 2014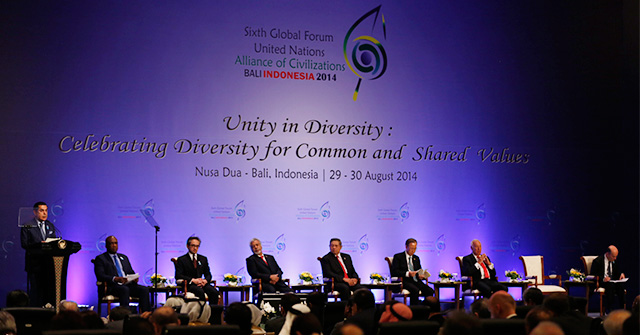 Your Excellency Mr. Susilo Bambang Yudhiyono, President of the Republic of Indonesia
Your Exellency Mr. Ban Ki-Moon, United Nations Secretary-General,
Your Excellency Mr. John Ashe, President of the UNGA,
Ministers, Excellencies, Ladies and Gentlemen,
Selamat datang!
Good morning and welcome to Bali.
It is an utmost honor for me to welcome all of you to the Sixth Global Forum of the Alliance of Civilizations, convened under the theme; "Unity In Diversity".
Today is a historical chance for us to celebrate the world diversity for common and shared values for all.
A little over a year ago I took the helm of this organization with sincere intention to expand its work in bridging cultural divides; to help it create mutual understanding and respect for different communities and across ideologies.
My philosophy to do so was driven by more than taking it as a job. In fact, I believe that God created us free to live, and that we can truly invest the love and compassion implanted in us to develop civilized relations between different civilizations.
Co-existence depends on the rule of law, Human Rights and the protection of dignity for every human being.
Our world desperately needs these magnificent ethics to live happy and we need to act to achieve this goal if we are serious about ending the on-going conflicts and tensions that plague our global society.
But I will not hide the inconvenient truth that you all can see. Global shifts are serious, rapid and disproportionate. Much has changed since I have started my tenure as High Representative for the Alliance of Civilizations. The events of the past two months alone are enough to alarm us.
The crises in Iraq, Gaza, Syria and further a field in the Central African Republic, Nigeria, Myanmar, and Sri Lanka so clearly demonstrate that societies are grappling with identity based tensions. Globally, there is a persistent need for the work of the Alliance if we really want to pursue the future we want.
Running an organization with a small number of staff, limited resources and a huge mandate is challenging. This is why as soon as I took office, I initiated a strategic review to take stock of the activities that needed to be continued and expanded, as well as those new and innovative, that deserve to be added as priorities and areas of focus.
As part of this crucial process, I made the mainstreaming of the UNAOC into the broader UN system a strategic priority. One year on, I am happy to report that my team is in regular contact with various parts of the UN system, including the UN entities charged with mandates related to the vision of the Alliance.
International Peace and Security is with great importance to me. No development can be achieved without stability and no Human Rights can be protected without security.
Therefore, I'm in constant collaboration with the Political Affairs and its Counter Terrorism Implementation Task Force, the Mediation Support Unit, UNDP, Office for the Coordination of Humanitarian Affairs, the Peacebuilding Support Office, the Office of the Special Advisor on the Prevention of Genocide, UNESCO, UNICEF —not to mention countless others.
This has not simply been an exercise in information sharing; it has resulted in notable system-wide initiatives.  Take the area of youth as an example, an area in which the Alliance has played a pioneering role, specifically in mainstreaming youth voices and contributions to core UN activities.
In collaboration with the Peacebuilding Support Office and UNICEF, the Alliance, alongside a number of UN agencies, has helped launching guidelines on youth and peacebuilding. These guidelines are directed at policy makers in governments, UN agencies, other multilateral organizations, local authorities and civil society organizations to aid them in leveraging the role of young people in fostering peace. For me, this is a major global issue because in many societies around the world, young people remain the marginalized majority and this is truly dangerous.
This is why when we started this work we asked ourselves "why aren't young people being brought into the conversation? Why can't they be part of our decision making?" As these guidelines are new I am excited to see what effects they will have in the future. Some times I even direct such questions to my son in order to understand more about what we should all do about this issue.
But this is not the only way in which the Alliance is working with young people. At the Alliance we believe in a 360-degree approach when it comes to youth engagement. Critically, this includes young peoples' role in social and economic growth. Inclusive growth is a pillar of civilized and democratic system, that is based on respect for basic freedoms, in particular respect for cultural and religious diversity.
The Alliance partnered with civil society foundation and governmental bodies to launch projects to support entrepreneurs for social change. Under this program we train and mentor young social entrepreneurs from the north and south basins of the Mediterranean to scale up their businesses, while also fostering intercultural understanding. This proved to reduce youth un-employment, and build inclusive societies through social enterprises.
As many of you know, social enterprises are businesses that combine profit making with a social mission. Thanks to the generous contribution of our partners, this year we will have a second edition of Entrepreneurs for Social Change. I am happy to report that compared to last year the number of people applying to this programme has doubled.
Both the initiatives I just mentioned are recent additions to our long-standing youth programming, including the Youth Solidarity Fund programme, which provides seed funding to youth led cross-cultural programs with a special focus on countries and areas where tensions are high. Under this program, we have funded tens of projects in more than 30 countries that have directly and indirectly affected hundreds of thousands of people, most of whom were youth.
In the area of media, which is another one of our pillars, we also work with young people. We look at youth as not just consumers of content but as producers. Here, I would like to highlight the Plural + program, which supports young filmmakers who are using the medium of film to openly discuss the complexities of being a migrant. The films that these young people make are then distributed worldwide on different platforms, including TV broadcasts, the Internet, festivals and schools.
Under another programme, we also have close working relationships with media professionals. We produced a Media-Friendly Glossary on Migration and we will be launching the glossary today!
Another area related to media and entertainment is video games. As many of you know the gaming industry is now larger than Hollywood. In that respect UNAOC and UNDP are working together to promote digital games and apps as avenues for cross-cultural dialogue and conflict resolution.
As you can see from all the projects I have shared thus far, the Alliance retains a strong commitment to innovative approaches. This is reflected not only in the substance of our programs and projects but in our operations as well. As part of this commitment to innovative partnerships, the Alliance has secured partnerships with some International private sector organizations, such as the BMW Group and others. Through these partnerships we promote dialogue and intercultural understanding, while making vital contributions to prosperity and peace in global societies.
The editions of a program we call Summer School that have been organized thus far, provided opportunity for young people from more than 75 countries who came together in New York city for a week of training in workshops and collaboration, to teach them the meaning and benefits of diversity.
One point I would like to emphasize in all of this is that in spite of a fairly rich range of programmes and projects that are ongoing within the Alliance, we operate with very limited resources. However, we are a lean organization and we believe in efficiency.
At the same time we are seeing that identity is being used to divide people rather than unite them toward common purpose.
Under which rule can people remain for decades under foreign occupation? Is it that they belong to different culture?
Who has the right to issue verdicts to end lives of innocent people because of their different background? Aren't these massive atrocities shameful in the 21st century? Aren't we responsible according to the Charter of the UN?
In my private conversations with the Secretary-General, we have thought on countless occasions that we would like the Alliance to be engaged on more and more fronts. But I will be honest with you as I was honest with him; the challenge we face is that we do not have the sufficient resources to deliver what we really can achieve if we have the means and the adequate support.
We have the know-how, the partnerships and the willingness of our collaborators on the ground, but we lack adequate funds.
This is where you come in; Member States and Partners. I want to emphasize here that over and above mere financial support, what we are seeking from you is meaningful partnerships. The Alliance only stands if you stand with it. The Alliance is only as strong as its members. You are the Alliance!
The Alliance is here for you to serve as a soft power tool for conflict prevention, reconciliation, and to advance sustainable development.  All of these are major issues for our global community. Our preventive role is indeed cost-efficient and protective against the consequences of unsettled tensions when they erupt.
This is why I would like to end my remarks this morning with an invitation.
As we are gathered here in this beautiful part of the world, please use this moment and the coming days to reflect on how the Alliance might better serve the needs of your governments, of your multilateral organization, your grassroots initiative and your respective constituencies. I invite any of you to approach me and my staff directly for this purpose.
It is my sincere hope that you will use the myriad opportunities that the various sessions of this forum offer, to speak up and engage with us.
I'm truly proud that the 6th Global Forum of the United Nations Alliance of Civilizations is focusing on the overarching theme "Unity in Diversity" and reaffirming the importance of common and shared values as a unifying factor in a multi-divergent world, as well as bringing to the fora new themes for discussions and break-out sessions in the areas of "Promoting harmony through interreligious and cross-cultural education"; "Media conversation across lines"; "Social inclusion and migration: developments for post-2015″;  "Youth participation in peace building agenda";  "The role of culture in the formulation of new sustainable development"; "Harnessing the positive power of social media"; "Fostering understanding through the power of sports, arts, music and entertainment"; "Perception of migration & how to change the narratives about migrants?"; "The use of interreligious and intercultural approaches to advance the broader interests of mediation in conflict"; "The role of women in fostering understanding among cultures" and some others.
In conclusion, I, the High Representative, humbly ask for your utmost support to make this forum a unique success, and to put your hands in the hands of every woman and man in the United Nations Alliance Of Civilizations, in service of our humanity.
I thank you and wish you very good day, memiliki hari yang baik!