25 Jun, 2014
(CRIENGLISH.com) 2014-06-23 – Chinese art collectors from the Chinese mainland, Taiwan and overseas have worked together to bring an ancient ritualistic bronze ware item, lost overseas for nearly a century, back to China on Saturday June 21, 2014, from New York-based fine arts auction house Christie's, according to CCTV news.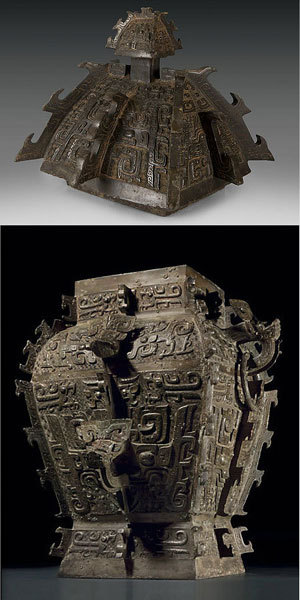 A combination photo shows China's national treasure Minfanglei: its lid (above) and the body (below). [File Photo: rednet.cn]
Thanks to the efforts of a group of Chinese collectors, Christie's auction house announced on March 19, one day prior to the auction date, that an agreement between the auction house and the Chinese side had been reached, and the bronze item would be sold to an association of Chinese collectors without going through the auctioning process.
The lost bronze item is the body of a wine vessel known as the Minfanglei. Previously, only the vessel's lid was in China. It is now being preserved at the Hunan Provincial Museum.
According to an introduction from a member of staff at the Hunan Provincial Museum, the handover team from Hunan province received the bronze item in America on June 12, 2014. It is scheduled to arrive in China on Saturday after being escorted by a professional international insurance company and a separate transportation company.
A ceremony will be held on June 26 in Changsha city, Central China's Hunan province in order to celebrate the combination of the bronze vessel and its lid.
Chen Yuanping, the director of the Cultural Relics Bureau of Hunan Province, promised that the bronze ware will be preserved permanently in the Hunan Provincial Museum and that it will never be traded again.
The Minfanglei, a large ritualistic wine vessel produced during the Shang Dynasty (1600 BC -1046 BC), was unearthed in the county of Taoyuan in Central China's Hunan province in 1919. Named Minfanglei due to the epigraphs engraved on the bottom of the vessel, it is the biggest of its kind ever found in China.
The Minfanglei is considered to represent one of the greatest achievements in the golden era of Chinese bronze art during the Shang Dynasty.
In 1924, the bronze item was sold to an individual in Shanghai, and then auctioned off to foreign collectors. It was later auctioned off again in a series of countries including the United States, the UK, France, and Japan.
Appearing in a Christie's auction in 2001, the Minfanglei fetched 9.246 million US dollars, representing a record high for Asian art work in the international market at that time.