25 Apr, 2014
Bangkok, 24 April 2014 – If geopolitical instability is now well recognised as a primary cause of travel & tourism disruptions, Cuba has issued a formal warning that the U.S. government has become a major instigator of such instability.
At a press conference at the Foreign Correspondents Club of Thailand on 24 April, Cuban Ambassador Ramirez Peña provided further insights, context and background on how the U.S. government allegedly uses a combination of methods to engineer regime change and install governments that are more pliant with its own policies.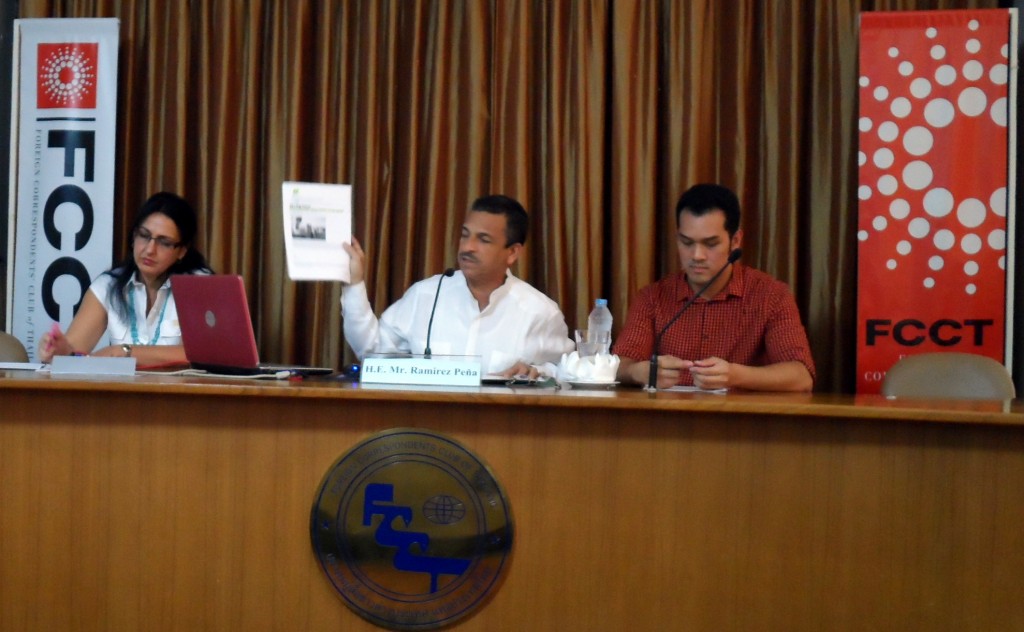 It was the first media conference by the Cuban government in Thailand, which is home to one of its few diplomatic missions in Asia. It came against the backdrop of President Obama's just-concluded Asia trip and the much-ballyhooed U.S. "pivot" to Asia which is being viewed in many diplomatic and political circles as another way of getting Asian countries to gang up against China.
The window of opportunity for the Cuban media counter-offensive was opened by the U.S. media disclosure of ZunZuneo, a supposed "social network" which, the Ambassador alleged, was operated with funding from the US Agency for International Development and "illegally obtained data base of the telecommunications company of Cuba (ETECSA), which allowed them to process profiles by sex, age, tastes and affiliations of various kinds of dozens of thousands of youngsters, to be used for political purposes."
The U.S. government has either denied these reports or declined to comment.
Ambassador Peña said that the attempt had created big problems for communications with Cuba. Because of the long-standing sanctions, the bandwidth assigned to Cuba is very constrained. It was only in 1996 that Cuba had gained Internet access and even now it takes a long time for local users to connect to the internet."
The ZunZenio "Cuban Twitter" subversion campaign overloaded the network because both text and voice messages were being used.
"The US attempts to exploit social networks against Cuba as part of a design that has been called "soft coups", to overthrow Governments without having to resort to the use of military forces or before these are used," a statement distributed at the press conference said (see full text of statement below).

The Ambassador said that if the programme was legal, "why use shell companies and secret bank accounts to channel the money? Why does it have to be covered (up)? When people take a position and recognise the illegality of something, nobody can accept. What will happen if the Cuban Ambassador in the U.S. carries out something like this?"
He added, "It is just a new method to continue what has already been done for many years, including sabotage, terrorism, subversion" (against Cuba).
"Look at how many other countries where similar things are going on," he said, citing Syria, Ukraine, Venezuela and Moldavia.
Asked if other Asian governments should investigate whether similar campaigns are being carried out in their own countries, and make their findings public, Mr. Pena replied, "It is not for me to say what governments should do or should not do."
Asked about the annual UN General Assembly sessions at which resolutions have been passed for decades calling on the US government to lift its embargo of Cuba, Ambassador Pena said that this resolution gets more votes in favour than any other resolution on the UN agenda. Every country backs it, with the exception of the US and Israel.
The Ambassador was realistic enough to acknowledge that probably not much will change. "Cuba is not a big power which can take action on the basis of UN resolutions. We cannot invade the U.S. to get them to lift the embargo on Cuba."
However, on the flip side, he said the embargo had had a beneficial effect. "They have not defeated us but we have a number of achievements on the social, economic, political sides."
========
The following is the full text of the statement distributed by Cuban Ambassador Ramirez Peña at the press conference
CYBER SUBVERSION AGAINST CUBA AND THE ZUNZUNEO NETWORK, APRIL 2014
Subversion against Cuba has been a constant since 1959. The US has not renounced those plans; it allocated more than $ 260 million for projects aimed at creating, organizing and directing an artificial opposition that has not materialized, though .
The US attempts to exploit social networks against Cuba as part of a design that has been called "soft coups", to overthrow Governments without having to resort to the use of military forces or before these are used.
I invite anyone harboring doubts about it to browse over Circular 18-01 of U.S. Special Operations Forces, under the heading "Non-conventional war", issued on 30/11/2010. It describes how subversive operations are to be carried out, with the aim of attacking and degrading the moral or political, psychological, economic or military strength of the adversary; its cohesion and effectiveness; to distance it from the population, undermining the power of a Government by disclosing that it is unable to govern effectively; using the support of a coalition or a third country partner, to weaken and subtract legitimacy to that Government; segment the population and generate discontent; influence or create leaders and unify them ideologically; using migrants; raising catalyzing events and creating favorable conditions for intervention through the use of propaganda, demonstrations, boycotts and sabotage, even in the absence of declared hostilities, in order to obtain concessions and, having degraded its capacity, facilitate a popular uprising that overthrow the Government in question.
A senior White House national security official had written in August, and I quote: "the new U S strategy is more effective and less costly. Bush's Administration (strategy) considered occupation; Osama's is (more of) a national liberation, through the development of a national movement. The strategy of the military intervention in Libya could also be applied in other cases. "
The destabilizing schemes have already been tested in countries like Syria, Ukraine, Venezuela and Moldavia, among others. It aims to influence people through "propaganda", "deception", and "construction of false stories" to destabilize the country and lead to changes in the political, social .and economic system of Cuba.
As part of its subversive work, they use of shell companies in third countries, money-laundering and the hiring of technological mercenaries disguised as businessmen ("contractors"), both outside and inside Cuba, to try to conceal their plans.
The US has maintained a policy of severe economic, financial and trade sanctions against Cuba since 1962; it has engaged itself in, condoned or abetted, acts of terrorism and sabotage.
The United States Government could not claim good intentions with regard to Cuba and at the same time continue their subversive and covert actions.
The ZunZuneo case
ZunZuneo is only a page of more than 50 years of hostility against Cuba
The social network was active for two years, until 2012, and illegally obtained data base of the telecommunications company of Cuba (ETECSA), which allowed them to process profiles by sex, age, tastes and affiliations of various kinds of dozens of thousands of youngsters, to be used for political purposes.
The revelations by AP confirmed the Cuban Government allegations that the US Government has not renounced its subversive plans against Cuba. It acknowledged having financed ZunZuneo though, as expected, it denied its aim was to confront the Government of Cuba.
ZunZuneo violate U.S. laws such as the CAN SPAM Act 108-187, of 2003, which prohibits the sending of commercial or any type of messages without the recipient expresses his consent. It also violates 11 resolutions of the International Telecommunications Union (ITU).
ZunZuneo was doomed to fail from the beginning; it does not count on people's support in Cuba.
Shell companies would allow ZunZuneo to distance themselves from Washington so that "the money trail would not lead to the United States".
ZunZuneo was not the only platform built with these features. Still in use are: Piramideo, Marti Noticias (Marti News), Diario de Cuba (Cuba's Diary), and Cubasincensura (Cubauncensored), among others.
All these technological attacks generate an overuse of capabilities installed on the cellular network of Cuba, that impair the quality of service and therefore the Cuban user and ETECSA as a trading company as well.
Use of information technologies in Cuba
The economic blockade imposed on Cuba by the US affects access to internet, constrained by the bandwidth available to the country, and the high costs of connectivity.
The information technology and communications services are at the disposal & for the benefit of the people; training in their use is free of charge for everyone.
ETECSA will continue its program of expansion and upgrading of telecommunications services, including Internet, in correspondence with the strategy of economic and social development of the country.
Policy of espionage and subversion
The NSA carried out actions of espionage in Latin America using, among others, Prism and Boundless Informant programs. Prism provides access to emails, online conversations and voice calls from customers of companies such as Facebook, Google, Microsoft and YouTube. Through these, for example, the NSA collected data on oil and military businesses of Venezuela, energy and narcotics from Mexico, and others.
The US military Cyber command, with headquarters in Fort Meade, Maryland, has been accelerating the preparation of 3000 – 4000 new "Cyber warriors" by the end of 2015, which will quadruple its forces.
Other secret surveillance system, XKeyscore, allows the US to monitor almost everything that people do on the Internet in real time.
The Cyber capabilities of the US have the ability to invade command and control networks, alter the communications or air defense systems of other countries and even introduce false radar screens on enemy computers to avoid U.S. aircraft from being detected.