6 Apr, 2014
Beijing, (chinadaily.com.cn), 2014-04-04 – New state regulations for China's taxi drivers were put in place this week to boost efficiency and raise standards, but some cabbies feel the rules are misdirected.
Some of the new directives, which went into effect on Tuesday by the Standardization Administration of the People's Republic of China, reinforce guidelines from 2008 that pertain to cleanliness. For example, smoking, spitting and carrying smelly food are all strictly prohibited while in service.
More controversially, the new standards say taxi drivers will no longer be allowed to choose or refuse passengers depending on where the customer intends to go.
For many taxi users, this has been a familiar scenario. In some cases, taxi drivers ask the destination before passengers get in the cab and at times deny service with excuses such as lack of fuel or road construction.
In fact, observers say the drivers actually feel the proposed fare would not be profitable due to snarled traffic or slim chances of finding a passenger for a return trip.
Now, a passenger who is denied service after telling the driver his destination can complain to the taxi company in question. The new standards state that the complaints must be addressed by the taxi company within 24 hours and the passenger will receive the result in 10 days.
The punishment for the drivers who deny customers or charge unreasonable fares differ based on the situation and in different provinces. In general, the fines range from a 2,000 yuan ($322) to 5,000 yuan ($805) fine or revoking the qualification certificate if the circumstance is serious.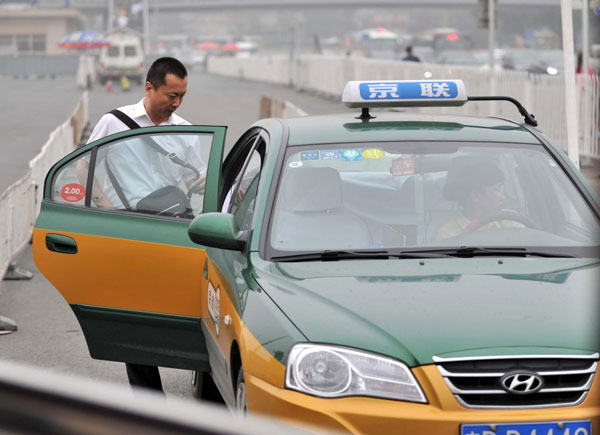 A man takes a taxi near Beijing Railway Station, June 6, 2013. [Photo/Xinhua]
According to the new standards, taxi companies must also establish lost-and-found systems for the convenience of passengers.
Finally, taxi drivers were urged but not necessarily required to practice 26 useful phrases to passengers during the trip in both Chinese and English. Among the phrases are, "Please fasten your seatbelt," "It's my pleasure to be at your service" and "Please note my plate number."
Zhang Yanming, who has been a taxi driver in Beijing for more than twenty years, said the new standards are a mixed bag.
"Actually, some of the standards have already been executed for quite a time. Many of them are easy to follow, like no smelly food and smoking? I could do it after pulling over. And English? I could try some," he said.
But when it comes to the standards about no refusals to the passengers, Zhang has a stronger opinion.
"It happens for a reason. During the peak [traffic] time, passengers do pay more than usual for their fare as our compensation, but still, the slow traffic is wearing us out and is unprofitable. Traffic jams usually cost at least 30 minutes for waiting on the road. I could use that time for two short rides that make more money easily if there are good traffic conditions."
According to Zhang, taxi drivers have to hand in a certain share of each fare to the taxi company they work for. He said he sometimes makes no more than 3,000 yuan ($483) a month, from which the company's share and gas fees are deducted.
Based on the data released by Beijing Municipal Commission of Transport, the number of the taxis in Beijing has remained stable at around 66,000 since the city enacted strict controls on the industry about a decade ago.
The baseline number of taxis is determined by the Code for Transport Planning on Urban Roads. In a metropolis like Beijing, at least 20 taxis are required for every thousand residents.
A taxi driver in Xi'an who identified himself as Mr Wang met the new regulations with a well-worn shrug.
"It is actually impossible for me driving all day without smoking. So I choose smoking when no passengers are on board," he said. "As for the greetings in English, I think I am too old for that."