20 Feb, 2014
Bangkok – In another strong indicator of the economic impact of the ongoing Thai political unrest, Thai Airways international has reported a 9.4% decline in total passengers carried in January 2014 over January 2013.
The figures, released today, tallied almost entirely with the total visitor arrivals reported earlier this week by the Ministry of Tourism & Sports.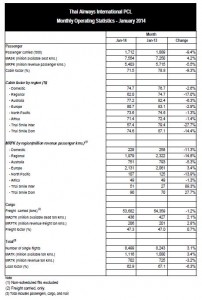 The decline in passengers led to an equivalent fall of 9.3% in the Cabin factor for January 2014. Regional routes have been most affected, with a much lower impact on European and North Pacific routes.
The Thai Airways subsidiary airline Thai Smile did not have much to smile about. It reported cabin factor declines of 27.7% on international routes and 14.4% on domestic routes.
The airline has already begun slashing fares and adjusting flight schedules. A number of under-performing routes are facing cancellation in the summer schedule.
Download the figures by clicking on the image on the right.