22 Feb, 2014
BANGKOK – Bhutan's Prince Jigyel Ugyen Wangchuck has indicated his support for a suggestion that Thailand may find it useful to apply the principles of Bhutan's Gross National Happiness (GNH) national development philosophy as a way out of its present political impasse.
The Prince was addressing a media gathering at an event marking the 25th anniversary of the establishment of diplomatic relations between the two Buddhist kingdoms. The reception also commemorated the birthday of the Prince's older brother, Bhutanese King Jigme Khesar Namgyel Wangchuck on Feb 21.
In his comments, the prince, who will turn 30 this July, also agreed that a socio-economic partnership between GNH and the sufficiency economy concept pioneered by Thai King Bhumibhol Adulyadej would be worth exploring as future development option for Asia.
The Prince's presence and remarks drew attention to some of the remarkable similarities and contrasts between Bhutan and Thailand.
Although both are Buddhist kingdoms, one is ruled by the world's oldest and longest reigning monarch and the other by the world's youngest and most-recently crowned monarch. They also have an equally diverse tourism heritage: One is a landlocked, mountainous country that is slowly but carefully raising its tourism profile and imposes a compulsory daily royalty of US$65 on all visitors, the other is an almost totally flat country with miles of beautiful beaches and a free-for-all visitor arrivals policy. Annually, one gets as many visitors as the other gets in just two days.
One is peaceful, stable and bears the tourism slogan: "Happiness is a place." The other is deeply divided, caught in the middle of a major nationwide confrontation and bears the tourism slogan: "Amazing Thailand: It begins with the People."
Bilaterally, about 3,500 Thais visit Bhutan per year, mainly people seeking to visit the Buddhist monasteries and enjoy the fresh air of the mountainous forests. In the reverse direction, Bhutanese visiting Thailand are statistically minute but they enjoy the buzzing shopping malls and urban entertainment missing in their own country.
The Bhutan-Thailand Friendship Offer
Pls click on each image for details.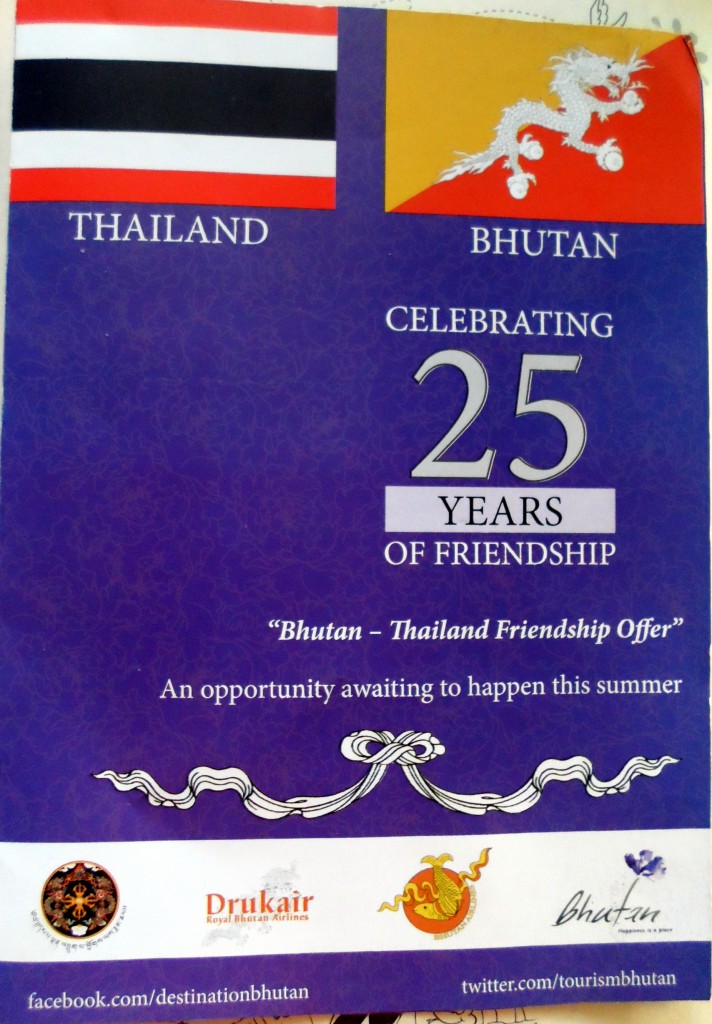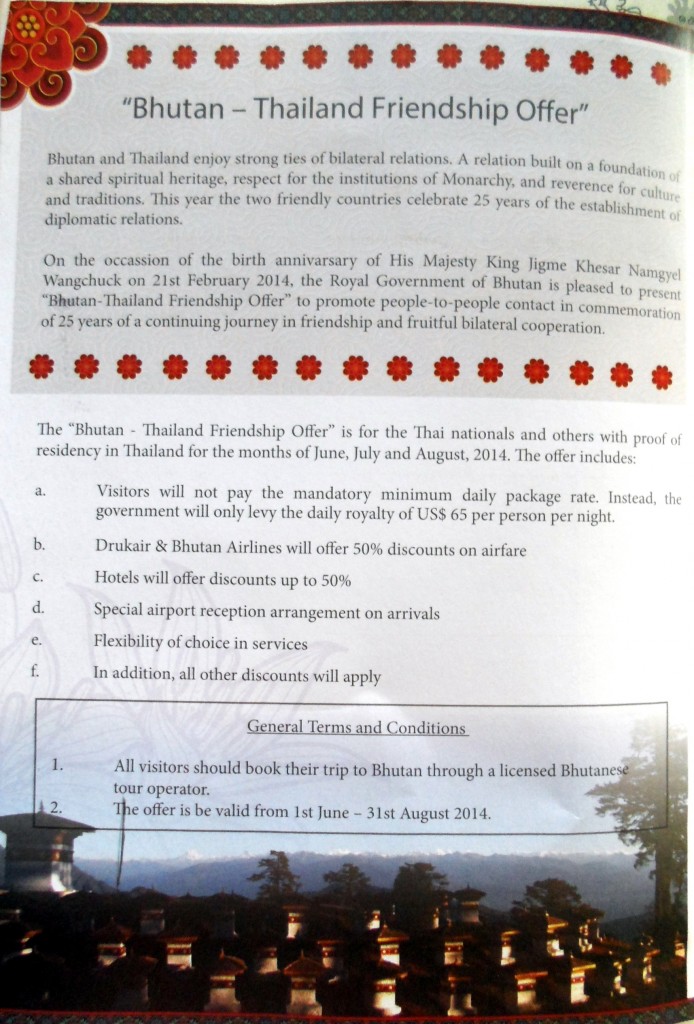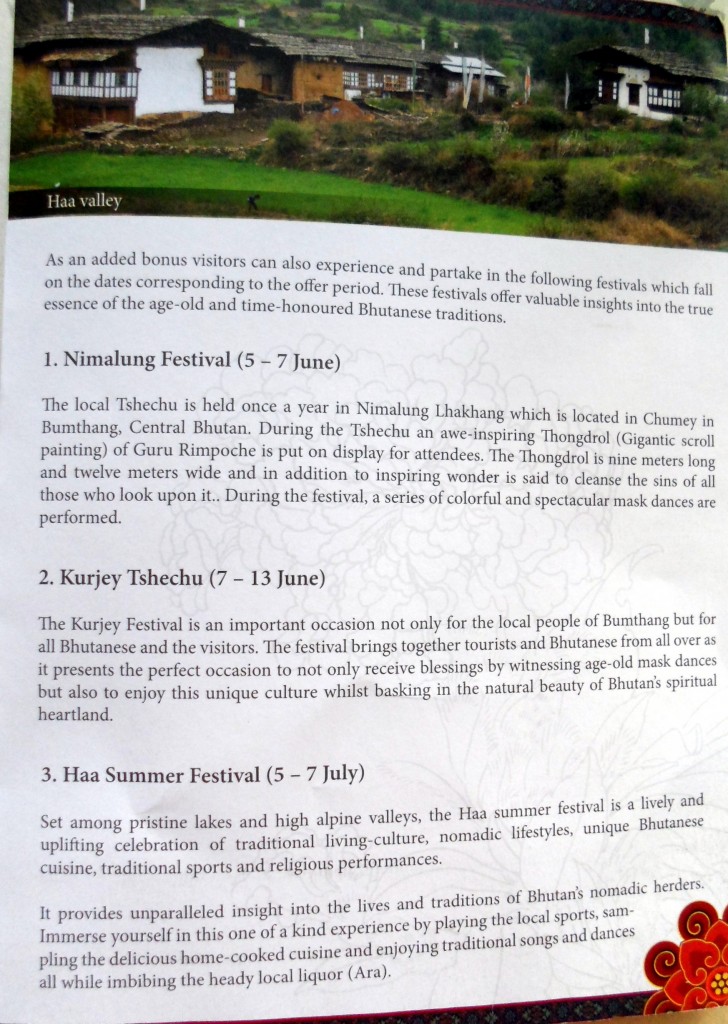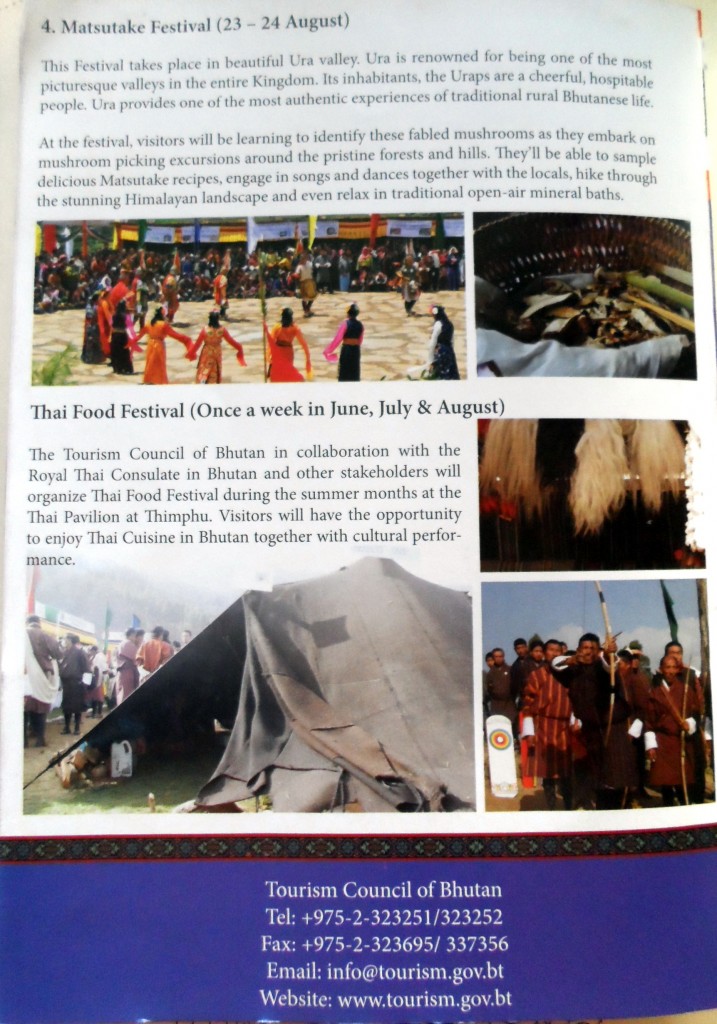 At the function officiated by Prince Jigyel Ugyen Wangchuck, the Tourism Council of Bhutan launched the Bhutan-Thailand Friendship Offer, a first of its kind initiative directed especially at Thais and expatriate residents of Thailand. It offers 50% discounts on airfares and hotels, valid only June-August, but does not waive payment of the daily royalty.
The reception was attended by about 200 people representing the Thai inbound and outbound travel trade, diplomats, the Bhutanese community in Thailand and Bhutanese delegates to the Thailand International Travel Fair, under way at the Queen Sirikit National Convention Centre until Feb 23. The speeches at the occasion lauded the bilateral relations "built on a foundation of shared spiritual heritage, respect for the institutions of the Monarchy, the reverence for culture and traditions."
They also lauded the positive influence of Bhutan's Gross National Happiness as a way of life for the kingdom.
After the reception, Bhutanese Ambassador to Thailand Kesang Wangdi, a former Director-General of the Tourism Council of Bhutan, organised a media interview with the Prince. He did not make an opening statement but opened the floor to questions.
The first two were about his own personal favourite place in Bhutan (he does not have one) and visa-restricted limits on visitor arrivals to Bhutan (there are no such official limits, but numbers get automatically restricted by limited airline and hotel capacity).
The third question was from this editor: Drawing upon Bhutan's GNH philosophy, what advice would he like to offer to Thailand as a way out of its present state of unhappiness?
The Prince, who studied history at Oxford, initially replied that it is not his job to give advice. He said that people as a rule don't like to get advice from anyone either, and usually don't follow it when they get it.
However, prodded to "give it his best shot," he said that at the risk of being politically incorrect, he would venture to say that many countries of the world had lost their cultures and traditions. However, he believed that Thailand was an exception and still had a strong culture rooted in the common Buddhist tradition.
He then elaborated on the principles of the GNH philosophy which he said was founded on the principles of social and economic justice and sustainability, with good corporate governance playing a major role. Yes, he indicated but very indirectly, perhaps some of that could apply in Thailand today.
Asked as a follow-up if he was aware of Thai King Bhumibhol's sufficiency economy and whether a partnership between that and GNH would be a good socio-economic development option for Asia at large, the prince replied, "Yes, certainly." He is aware of the sufficiency economy concept and admires it.
Ultimately, he said, it's all about how to find a balance and the pursuit of the Buddhist middle path. "If we are able to find the right balance, I am quite confident that any objective, any goal can be fulfilled and a lot of good can be done."
He added, "I hope that answers your question."