24 Jan, 2014
Kuching, Sarawak, Malaysia — A 49-year-old Thai Buddhist monk wowed the ASEAN Tourism Forum Travel Exchange here this week with free "Punch-Line" bone therapy massages that saw dozens of participants walking away refreshed and energetic. Indeed, the surprise first-time presence by the Thai Tradition Alternative Medical Centre has paved the way for a significant broadening of the exhibitor profile at travel trade shows. That, in turn, will attract a whole new set of buyers and allow small and medium sized trade events to maintain their competitive advantage over big-boy trade shows such as the WTMs and ITBs.
All pictures by Imtiaz Muqbil. Not to be copied or reproduced without permission.
ATF Organising committee member Boris Chang having a foot problem checked out.
===============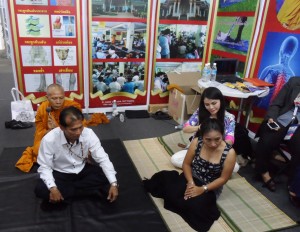 ===============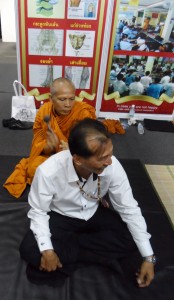 ===============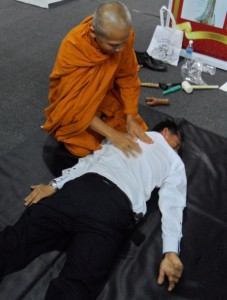 ===============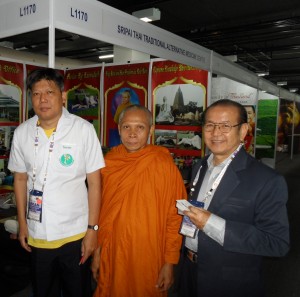 The Venerable Sripai Abhadharo with Information and Project Manager Mr Piyasobhak Kasemsant (left) and Mr Wiroon Rachatawas, Media Manager.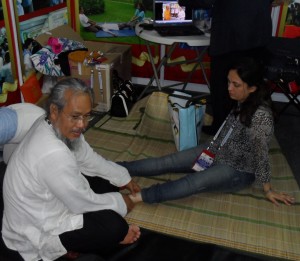 ===============
 ===============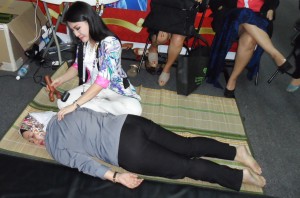 Capitalising on the popularity of health & wellness travel, and the rapid emergence of the holistic prevention-rather-than-cure as a lifestyle trend, the centre's participation was planned by its Information and Project Manager Mr Piyasobhak Kasemsanta, a former Thai travel industry executive, who saw a clear opportunity for buyers to send their clients to the centre either for treatment or training, or avail of the therapies themselves.
All of those strategies bore fruit. From the opening bell, queues began to form at the booth, first out of curiosity and then, as word spread, for personal treatment as well as potential business prospects. Although the brief treatments were free, people were happy to make a donation, and pretty sizable ones, from what this editor could see.
Located in the suburbs of Bangkok, the Centre was set up by the Venerable Sripai Abhadharo who himself overcame 40 years of ailments and then decided to share the benefits. Mr Piyasobhak, who designed the marketing plan, said he chose the ATF for the centre's foreign launch because it was relatively cost-effective and within the framework of ASEAN integration. He said other local and regional marts are under consideration, but the next presence would be at the PATA Travel Mart in September in Cambodia where two free booths have been offered.
As is now almost a norm, traditional massage was available at both the Thai and Malaysian ATF pavilions. However, this was arguably the first time that a saffron-robed monk had joined a travel trade show. In addition to the many buyers, several sellers left their booths to avail of the opportunity. Even security guards queued up. Rightly anticipating the demand, Mr Piyasobhak said that in addition to the monk, two other therapists had been flown in, along with a translator, media manager and himself.
In spite of the huge level of interest it attracted, neither of the two ATF daily newspapers gave the centre's booth any coverage.
I spent a good deal of time at the booth watching the proceedings. The monk would basically just feel the "soft spot" of each visitor. "That's it?" I asked. He replied, "Yes, I don't need any X-rays. I know what the problem is." He then went to work with a mallet and an assortment of wooden chisels, one of which looked like a small catapult, followed by his hands and feet. The visitors grimaced as the hammer pummelled vertebrae, tendons and muscles. Ten to 15 minutes later, just about everyone I could see walked away feeling and looking more flexible, alert and energetic.
One Indian buyer, Mr Tushar Vasu of Tushar Travels, Mumbai, had a 10-minute session for a leg problem. Although the monk told him that the problem was too deep to be fixed in one short session, he did admit feeling better. Several buyers and tour operators said their clients would be keen to visit the centre in Bangkok, both as a tourist spot as well as for treatments. It also offers training courses of various durations.
According to the website, Bone Massage Therapy or the "punch line" technique, is one component of a wider collection of Buddhist wisdom, medical science, indigenous knowledge and experiences of scholars dating back 2,600 years. Referred to as "holistic healing", it is designed to treat the root cause of various ailments via a combination of physical, emotional, mental, economic, environmental, social, family and spiritual therapies. The bone therapy specifically stimulates abnormal meridians, tendons, nerves or muscles, helps improve blood circulation, and arrests deterioration of the cardiovascular system, bones and muscles. The entire package is designed to tap the wisdom of the Buddhist middle path, and restore the balance.
Since it was set up, the center claims to have treated over 300,000 patients, of whom about 10,000 have specifically sought the bone massage therapy. The centre's website says that 70% get virtually instant results, about 25% need a second treatment and 5% need more. The effectiveness of the results depends on the age, gender and how chronic the ailment is.
Although there is pain when the various "sore spots" are pummelled and kneaded, such pain goes with the territory in any form of treatment, especially surgery. The gain follows the pain; indeed, this alternative healing method is designed to help patients minimise both the physical and financial pain by avoiding surgery entirely.
The centre also helps patients pinpoint the root cause of ailments. It says ill health is mostly self-inflicted thanks to bad habits, poor diet, lack of exercise, stress, pressures of life and unhealthy environments. Some ailments can be treated by medication, others by dietary or behavioural changes, still others by massage or attitudinal changes such as curbing egotism, selfishness and ill-temper.
In a clear jab at today's competitiveness-driven societies and economies, the website says, "Some diseases require gemstone therapy, which means that people who believe they can only get rid of their sadness, exhaustion and misery by acquiring more gemstones, jewelry or gold."
The website makes it clear that medication treats the symptoms but meditation treats the cause. It says, "Happiness is a drug because it causes the brain to release endorphins.This will help balancing blood and produce more white blood cells, immunization and immunity which helps protect you from illness."
Venerable Sripai Abhadharo describes a childhood full of ailments marked by numerous hospital trips. This ill-health continued well into adulthood, for up to 40 years. Then, in 2006, one of his meditations took him deep into the subconscious, which in turn took him even further into his past and present karma. He then realised that his ill-health was attributable to the bad karma of his past life.
Then followed another 22 days of meditation, after which "all the sickness that I had been with for 40 years are gone. So, I realized that our mind is the most wonderful doctor. I took some time to consider the practices that had been done and understood that this meditation was healing body, feeling, mind and mental phenomena; so called Sathipatthana or four foundations of mindfulness."
He adds, "However, human being is not an engine, each organ does not working separately but all together. Every piece of the human body is connected. Whatever impacts the mind also impacts the body and vice versa. Whatever happens inside your body, mind, spiritual or consciousness will change everything all together. Machine is only a combination of its various components, but what makes human being different is the spirit inside each of us. The spirit is in every molecule, and every change sends vibration of every single molecules in you."
As nothing succeeds like success, the vibrations emitted by the Centre at the ATF are set to revolutionise the profile of exhibitors at travel marts beyond the usual mix of hotels, tour operators, airlines and NTOs. That is long overdue. Asian trade shows need to put the "Asia" back into their events and create more opportunities for showcasing small and medium-sized enterprises and products that reflect indigenous wisdom, culture and heritage. Although hospitals, spas and other wellness centres are now regular trade-show participants, the arrival of the Thai Tradition Alternative Medical Centre raises the bar to a new level.
It is one of the many emerging signs of a rising Asian Century. More is to come. Travel Impact Newswire takes great pride in reporting these tsunamis of change sweeping through Asia.
For contact details of the Centre, click here: www.sripai.com