26 Jan, 2014
Washington, DC (PRWEB) January 24, 2014 – A new study of meditation confirms that this ancient practice aimed at achieving wellbeing can also reduce symptoms of anxiety, depression and even pain. The research, conducted at the Johns Hopkins University School of Medicine, was published January 6 in JAMA Internal Medicine.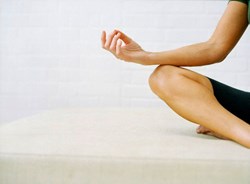 "The findings are very encouraging for those of use who believe in integrating the best of modern and traditional medicine to relieve pain. It's clear that some patients experience a clinical benefit from the inner peace that comes from meditation," says pain management specialist Reza Ghorbani, MD, ABIPP, FIPP.
While meditation is widely used as an alternative therapy, the technique hasn't been applied as a treatment in modern medicine. However, the Johns Hopkins researchers say practicing meditation just 30 minutes a day can make a real difference.
"Meditation appeared to provide as much relief from anxiety and depression symptoms as what other studies have found from antidepressants," says Madhav Goyal, MD, MPH, the lead investigator. It also benefits those suffering from insomnia, fibromyalgia and other pain symptoms.
Specifically, the study looked at what's called "mindfulness meditation". This is a Buddhist approach that involves suspending judgment and focusing attention on the moment.
While it's not clear how meditation works, Dr. Goyal says that mindfulness programs may dampen the body's response to negative emotions. On the other hand, meditation isn't known to cause side effects and can be combined with other treatments.
An 8-week mindful meditation course ranges from $200 to $500.
The study evaluated 47 clinical trials of 3,515 participants over a period of 3 weeks to 5.4 years. They used meditation for a variety of conditions including anxiety, heart disease and chronic pain. Those who meditated over an eight-week span showed a moderate health boost compared to a similar group that didn't use the technique.
"It may seem surprising to many that a special form of contemplation could have a real medical effect. However, meditation in one form or another has been used for centuries to enhance the mind and body. It's only now that scientists are able to quantify that effect," says Dr. Ghorbani.
The study was funded by the US Agency for Healthcare Research and Quality.
STUDY ABSTRACT
Importance
Many people meditate to reduce psychological stress and stress-related health problems. To counsel people appropriately, clinicians need to know what the evidence says about the health benefits of meditation.
Objective
To determine the efficacy of meditation programs in improving stress-related outcomes (anxiety, depression, stress/distress, positive mood, mental health–related quality of life, attention, substance use, eating habits, sleep, pain, and weight) in diverse adult clinical populations.
Evidence Review
We identified randomized clinical trials with active controls for placebo effects through November 2012 from MEDLINE, PsycINFO, EMBASE, PsycArticles, Scopus, CINAHL, AMED, the Cochrane Library, and hand searches. Two independent reviewers screened citations and extracted data. We graded the strength of evidence using 4 domains (risk of bias, precision, directness, and consistency) and determined the magnitude and direction of effect by calculating the relative difference between groups in change from baseline. When possible, we conducted meta-analyses using standardized mean differences to obtain aggregate estimates of effect size with 95% confidence intervals.
Findings
After reviewing 18 753 citations, we included 47 trials with 3515 participants. Mindfulness meditation programs had moderate evidence of improved anxiety (effect size, 0.38 [95% CI, 0.12-0.64] at 8 weeks and 0.22 [0.02-0.43] at 3-6 months), depression (0.30 [0.00-0.59] at 8 weeks and 0.23 [0.05-0.42] at 3-6 months), and pain (0.33 [0.03- 0.62]) and low evidence of improved stress/distress and mental health–related quality of life. We found low evidence of no effect or insufficient evidence of any effect of meditation programs on positive mood, attention, substance use, eating habits, sleep, and weight. We found no evidence that meditation programs were better than any active treatment (ie, drugs, exercise, and other behavioral therapies).
Conclusions and Relevance
Clinicians should be aware that meditation programs can result in small to moderate reductions of multiple negative dimensions of psychological stress. Thus, clinicians should be prepared to talk with their patients about the role that a meditation program could have in addressing psychological stress. Stronger study designs are needed to determine the effects of meditation programs in improving the positive dimensions of mental health and stress-related behavior.