7 Jul, 2013
Shanghai, 1 July, 2013 (UNEP Media release) – A major poster campaign aimed at sensitizing the public to the true cost of illegal wildlife products such as ivory and rhino horn is reaching millions of travellers on the Shanghai metro system each day.
The recent spike in elephant killings in Africa, now at their highest levels in around a decade, is threatening the future of some elephant populations and the livelihoods of millions of people linked to tourism.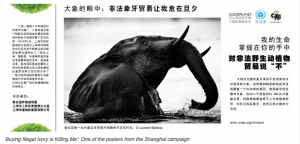 Data from the Convention on International Trade in Endangered Species (CITES) monitoring programme Monitoring the Illegal Killing of Elephants (MIKE), shows that 17,000 elephants were illegally killed in 2011. This figure is believed to be a significant underestimation.
Demand for illegal ivory remains highest in the rapidly growing economies of Asia, particularly China. Large-scale seizures of ivory destined for Asia have doubled since 2009. Weak governance in source, transit and destination countries is also contributing to the problem.
Shanghai, one of China's most-populous cities with an estimated 24 million inhabitants, in February pledged use its resources to sensitize the public to the work of the UN Environment Programme (UNEP).
As part of the agreement, the city agreed to use its large-screen displays in the city centre and posters in stations of the extensive Shanghai Metro rail network to demonstrate UNEP's prioritized themes, including the campaign for wildlife protection being run in conjunction with CITES and the GoodPlanet Foundation.
There are now twenty posters in five different stations, and they will remain there until late December. The Shanghai metro is one of the busiest in the world, carrying almost 2.3 billion passengers in 2012.
"I would like to thank Shanghai and the city's Metro operator alongside the GoodPlanet Foundation and the artists and photographers concerned for making this powerful exhibition possible," said Nick Nuttall, Director of UNEP's Division of Communications and Public Information. "Public awareness was a key factor behind the reduction in the demand for ivory in North America and Europe in the 20th century, and it can play its part in reducing the illegal wildlife trade today as demand moves to emerging markets."
"The fact is that many consumers in places like Asia are simply unaware that products like illegally sourced ivory and rhino horn come at a terrible price to the species and communities concerned," he added. "This exhibition is about education and awareness-raising on the reality behind many of the carvings and materials sourced from the wild animals concerned, which in turn can catalyze the power of the consumer to change the future at this crucial juncture."
Actress Li Bingbing, one of China's most-popular celebrities and a rising Hollywood star, is a major advocate of the UNEP campaign and has urged greater effort by governments and consumers to combat illegal wildlife trade.
Speaking during a visit to Kenya in May, her first overseas engagement in her role as Goodwill Ambassador for UNEP, Li Bingbing said citizens and the business community in Asia can play a crucial role in preventing the illegal killing of elephants in Africa by saying 'no' to ivory products.
"The current poaching crisis raises major concerns about the survival of elephants and rhinos here in Kenya," she said. "But there are also other, far-reaching impacts. Illegal killings of elephants are being linked to organized crime and the funding of armed militia groups. Many consumers in Asia do not realize that by buying ivory, they are playing a role in the illegal wildlife trade and its serious consequences."
A regular on red carpets from Hollywood to Cannes, Li Bingbing counts over 20 million followers on Chinese social media networks among her many fans. She has starred in a number of high-profile English-language films, including the most recent installment of the hit 'Resident Evil' series and 'The Forbidden Kingdom' with Jackie Chan and Jet Li.
Li BingBing managed to mobilize 1.5 million people to join her campaign against the illegal wildlife trade. Her blog and photo gallery from the Kenya trip is available on the UNEP Goodwill Ambassadors page.
Shanghai has also signaled its intention to mobilize its youth to take part in UNEP's Tunza process, organize a Youth Green Economy exhibition, and create animations from the top eight paintings in UNEP's International Children's Painting competition to inspire youth and children to act on Sustainable Development Issues.