15 Jul, 2013
Beijing, 13 July 2013 (China Daily) – Trade remedy investigations against China are at a peak this year. So Chinese companies should safeguard their interests by actively defending themselves through effective measures, a commerce official said.
Zhou Dalin, deputy director-general of the bureau of fair trade for imports and exports of the Ministry of Commerce, said on Friday that in the first half, the number of trade friction cases launched against China totaled 39, with 17 from developed economies. The number was 40 percent higher than a year earlier, the ministry said.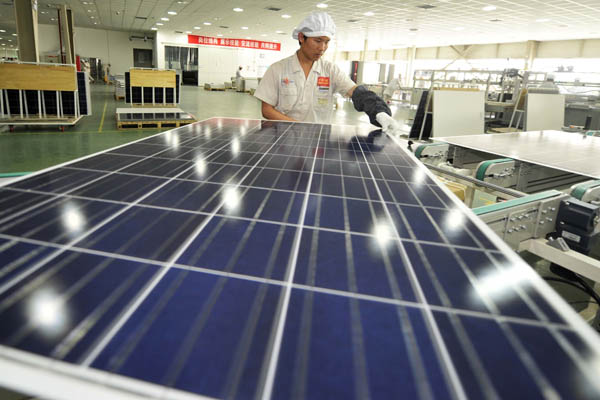 A worker assembles solar panels at a Yingli Green Energy Holding Co Ltd factory in Tianjin. The European Union said on June 4 it would impose a temporary punitive duty of 11.8 percent on imports of all Chinese solar panel products from June 6, and the rate could rise to 47.6 percent after Aug 6 if the two sides fail to reach an agreement. Yue Yuewei / Xinhua
One of the biggest cases has been the trade dispute between China and the European Union over Chinese solar panels.
The EU said in June that it would impose a punitive duty of 11.8 percent on imports of all Chinese solar panel products, including panels, cells and wafers.
The tariff took effect on June 6, and it was scheduled to rise to an average of 47.6 percent within two months if the two sides failed to reach an agreement.
"Bilateral negotiations aiming to (deal with) the trade dispute in the photovoltaic industry are continuing," said Zhou.
Some 80 percent of China's solar panel products are exported to Europe, and this has boosted the development of the industry chain in Europe.
China has purchased manufacturing equipment worth 18 billion yuan ($2.9 billion) from European countries, including Germany and Switzerland, stimulating the upstream and downstream growth of the solar industry.
The solar industry employs about 300,000 people in Europe.
A settlement may center on a price undertaking under which Chinese exporters would agree in lieu of paying duties not to sell their goods in the EU below an agreed minimum price, according to the Financial Times.
"Chinese enterprises should try to reduce the negative effects to a minimum when confronting rising trade friction," said Zhou, adding that as the world's largest exporter of manufactured goods, China should tackle the problem with "a sense of balance".
In 2012, China was the subject of 77 trade remedy investigations, and the amount involved totaled $27.7 billion, up 11.6 percent and 369 percent, respectively.
To defend Chinese companies that are involved in trade disputes, the ministry has established a working mechanism with the involvement of four sectors: companies, industry associations, intermediaries and the ministry itself.
During a news conference on Thursday, Yao Jian, spokesman for the ministry, said that rising trade protectionism is a crucial factor in the current "severe" foreign trade situation.
Exports in June dropped 3.1 percent year-on-year to $174.32 billion, the most since October 2009, while imports edged down 0.7 percent to $147.19 billion, the General Administration of Customs said on Wednesday.
Overall foreign trade shrank 2 percent year-on-year to $321.51 billion in June, with a trade surplus of $27.13 billion.