3 Apr, 2013
Singapore (PRWEB) April 03, 2013 – Agoda.com, part of Nasdaq-listed Priceline Group (Nasdaq:PCLN), is offering new deals on the striking island of Sri Lanka to celebrate the Sinhalese New Year, a major event for the ethnic population and the biggest holiday of the year.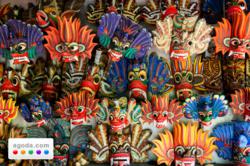 Similar to other astrologically-determined New Year celebrations in Southeast Asia, such as Thailand's Songkran or Vietnam's Tết, New Year celebrations in Sri Lanka are boisterous and noisy, full of color and commotion and a perfect time to see the best that the island has to offer. This year, the holiday takes place on April 14.
The celebration is heavily influenced by astrology and the Buddhist calendar, traditionally marking the end of the dry season. In fact, the exact movement of the celestial bodies plays such a large role that the actual start of the New Year is timed down to the minute, and often occurs hours after the previous New Year 'ends.' In addition, many of the tasks associated with Sinhalese New Year are planned out in advance to begin at auspicious times.
In many cultures around the world the New Year is seen as a time of renewal and in Sri Lanka it is no different. Houses are thoroughly cleaned and ritual lanterns are lit. Music is played using a traditional raban drum made from goat's hide, temples are full to bursting with people making offerings and receiving blessings from monks, and almost every family, rich or poor, small or large, makes sure that the first meal of the New Year is kiribath, a sweet dish made with rice and coconut milk.
Firecrackers are a huge part of the celebration. One can hear sharp cracks and bangs everywhere they go – sometimes alarmingly loud – from every direction.  There are various other customs and rituals that depend largely on where in Sri Lanka the celebration is being held, but they all follow the same basic themes. Sri Lankans are very friendly people and will often welcome strangers into the middle of a celebration or game that's completely unfamiliar.
To get the most out of Sri Lanka during this festive time, take a look at some of the great hotels deals Agoda.com is offering below.
Colombo Courtyard, Colombo 5*
Stay before June 30, 2013 and receive 25% off.
Casa Colombo Hotel, Colombo 5*
Stay before June 30, 2013 and receive 30% off.
Mountview Holiday Inn, Ella 2*
Stay before June 30, 2013 and receive 25% off.
Ishiran Holiday Home, Ella
Stay before November 30, 2013 and receive 20% off.
Dunes Unawatuna Hotel, Galle 2*
Stay before July 31, 2013 and receive 60% off.
Leynbaan Villa, Galle 1*
Stay before September 1, 2013 and receive 51% off.
Bungalow by Amaya, Kandy 4*
Stay before December 23, 2013 and receive 25% off.
Randholee Resorts, Kandy 4*
Stay before October 31, 2013 and receive 20% off.
To connect with Agoda.com for special deals on hotels worldwide, please click http://www.agoda.com.