23 Feb, 2013
(PRWEB UK) 22 February 2013 – Spending more hours in the office is leading to a rise in affairs in the workplace according to a recent study by Notatwork.co.uk and married dating site IllicitEncounters.com. The research revealed that people who regularly worked over 45 hours a week are almost 5 times more likely to embark on an extra marital affair.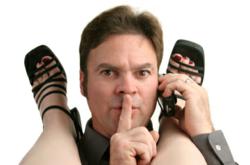 It estimated that more than seven million people a year in the UK work unpaid extra hours to hold on to their jobs. The study revealed that employees that regularly do more that 50+ hours a week are those working in the Video games industry, financial sector, medicine, journalism, and the emergency services. With all of them having a much higher than average number of work-based affairs.
The most common reason the respondents gave for working longer hours was that workload has increased in recent years and they fear for their jobs, so they work longer hours to make sure they are secure. The video games industry has long had a reputation of having to work long hours with developers doing 12 to 16 hours a day for three to four months at a time, without extra pay due to the belief if they don't they will be replaced by younger cheaper talent.
Spokesperson for IllicitEncounters.com, Mike Taylor, said, "Working longer hours without additional pay or benefits can push people into making bad relationship decisions. Workers can find themselves in the office late at night, exhausted and feeling low and take comfort with a co-worker in the same situation, this can then develop as they spend more time with each other than they are with their spouses. Over 54% of all workers admitted that at some-point in their career they have considered engaging in a work-based affair and this study shows the likelihood of them doing so increases exponentially when working hours are increased."
Unemployment fell to 2.5 million between October and December last year and there are 580,000 more people in work than a year ago, but staff are being squeezed into working longer hours whilst taking home less, with average earnings growth slowing to just 1.4%, below the 2.7% inflation rate.
Employers need to recognise that squeezing more hours out of their workers is counter-productive in more ways than one. It affects their workers' morale, their physical and mental well being and as this study has shown, can also be detrimental to their personal relationships. None of those is going to be of any long term benefit to any business.
Data Supplied by NotAtWork.co.uk in partnership with IllicitEncounters.com