12 Feb, 2013
BANGKOK – Pakistani national Mr Mahmood Futehally, 98, was presented with a Tourism Authority of Thailand award for being "Thailand's Oldest Tourist." A committed environmentalist with a passion for organic agriculture, Mr Futehally has been visiting his Thailand-resident family since 1951. He lives in Karachi.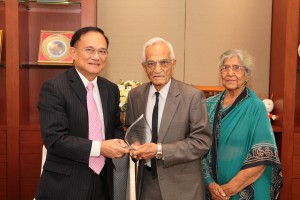 Conferring the award on 7 February 2013, TAT Governor Suraphon Svetasreni said, "We are very happy to recognise Mr Futehally for his repeated visits to Thailand over the past 60 years. As the world's demographic patterns shift towards ageing societies, we expect to see more senior-citizen visitors coming to Thailand. The fact that Mr Futehally is remarkably fit and mobile at his age is also worth noting. We wish him a long and healthy life."
In response, Mr Futehally commented, "I applaud the Royal Thai government for the easy visa facilities that makes it possible for me to visit my family in Bangkok at regular intervals. I am also impressed with the significant improvements being made in Thailand to cater to elderly travellers.
"Finally, I am a great admirer of Thailand's long-standing agricultural traditions, especially His Majesty the King's concept of the Sufficiency Economy and the organic agriculture practised at various Royal Projects, some of which I am privileged to have visited over the years. I wish HM the King a long and healthy life, and the people of Thailand all success and prosperity."
Mr Futehally, who was born in July 1915, has also authored a 10-point Guide to Longevity and said he would be happy to share it at any future conference on Health and Wellness in Thailand. Here they are in summary:
10 Ways to Stretch Your Life, and be Physically and Mentally Fit
by Mahmood Futehally

1)   Liquefy food in the mouth by chewing thoroughly before swallowing.
2)   Never fill the stomach – stop eating when you have some appetite still left.
3)   Do not drink water or other liquids with food. Your digestive juices in the body will suffice to liquefy your food intake for thorough digestion.
4)   Complete your food intake at least one hour before going to bed.
5)   Generate positive thoughts and emotions when you go to sleep – absolutely avoid negative thoughts at that time.
6)   When walking or running, let the weight of the body come on the balls of the feet, never on the heels.
7)   Avoid anger and bitterness.
8)   Cultivate an erect posture at all times.
9)   Undertake regular manual work, even household chores are good.
10)  Get plenty of physical exercise in fresh air. Maintain a closeness to nature, and to soil.
Mr Futehally last visited Thailand between 12 January 2013 to 9 February 2013. He can be contacted at m.futehally@gmail.com.