27 Feb, 2013
(PRWEB) February 26, 2013 – In early February, relationship expert and management consultant Hellen Chen completed a workshop advising CEOs and executives on how to increase the quality of their life outside the workplace – namely their social life.
For years as a business management consultant, Chen had traveled around the world and been invited to government agencies, small and large corporations, organizations and colleges around the world to give solutions on boosting productivity and improving leadership qualities. "In every lecture that I give, the answers to better work results always end up with the areas of 'are you being a good spouse or parent in the first place?' or 'how do you treat your loved ones at home?'" said Chen.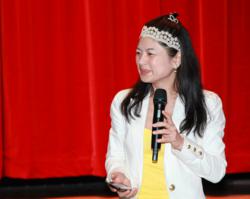 Chen, whose passion is also in helping couples to get together, has played matchmaker to over 100 single men and women. Her latest bestselling book "The Matchmaker of the Century" which covers real-life stories of couples who turned their lives around despite marriage problems, devotes a whole chapter on how management of one's intimate relationships affects the success of a person in life.
Chen wrote about how a good CEO would have the best of results in leading his or her company if he or she would also learn how to be a better spouse. "It is the 'training' which people do not think of. People ask me: you mean, if I learn how to be a better spouse, I would do better in my career? Answer is yes." smiled Chen.
A 2012 US Census Bureau statistics show that married men and women are earning higher salaries than their single counterparts.
However, the question remains on how one could keep a marriage together if the statistics of divorces is just as high.
In a Fox TV interview, Chen talked about the pitfalls of the dating culture – critically analyzing another person's qualification based on their wealth or lack of, and critically scrutinizing every weaknesses of the other person so that 'one does not make a mistake in marrying the wrong person.'
"That is the biggest mistake." said Chen "People can change. If all you are going after is a stagnant 'perfection,' you'll end up with a decline that is inevitable."
As part of a series of workshops to help adults learn how to get into the right relationships and maintain a lasting meaningful marriage, Chen will be holding a West Coast marriage seminar on May 4th 2013 in Los Angeles.
(More information can be found on http://Matchmakerofthecentury.com )