27 Feb, 2013
Beijing, 2013-02-26 (China Daily) – In a perfect demand and supply arrangement, energy-rich Russia agreed to provide an annual supply of 38 billion cubic meters of natural gas to energy-thirsty China. The deal was struck during a high-level meeting in Beijing on Monday and comes ahead of an expected visit by Party leader Xi Jinping to Moscow after the National People's Congress in early March.
Gas was not the only energy source discussed by the two countries. A consensus on cooperation regarding oil, nuclear and coal was also reached.
"China and Russia need each other in energy cooperation, and they have their own advantages in resources, markets and technology," said Vice-Premier Wang Qishan during his meeting with the Russian Deputy Prime Minister Arkady Dvorkovich. "There are complementarities, necessities and possibilities for us to strengthen energy cooperation, and more than that, the cooperation has strategic significance," he said.
Russian officials agreed at the meeting to guarantee the annual supply of natural gas through the east pipeline to China. And both countries will continue to study the possibility of supplying China with liquefied natural gas through the east pipeline and natural gas through the west pipeline.
Negotiations on increasing oil supplies to the world's largest energy consumer were not finalized, but Wang said the countries should "accelerate consultations and wrap up the agreements".
The two countries also agreed to advance wide cooperation in the non-traditional energy sectors including nuclear, coal, electric power, renewable energy as well as aluminum. A trade target of $100 billion by the end of 2015 was set.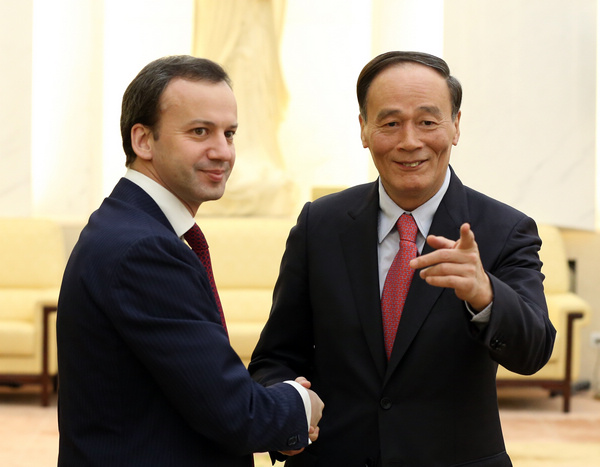 Vice-Premier Wang Qishan meets his Russian counterpart, Deputy Prime Minister Arkady Dvorkovich, at the Great Hall of the People in Beijing on Monday. They held talks on energy cooperation between the two countries. [WU ZHIYI / CHINA DAILY]
According to the General Administration of Customs, China-Russia trade for 2012 jumped by 11.2 percent from a year earlier to $88.2 billion, compared with 6.2 percent growth for China's foreign trade.
The European Union's diversification away from Russian energy resources and the enhanced efforts by the United States to developing shale gas are forcing Russia to shift its focus from the West to the East.
"Now is a very good time for the two countries to enhance energy cooperation" especially given the new opportunities presented by the new governments of the two nations, said Liao Na, vice-president of ICIS C1 Energy, a Shanghai-based energy consultancy.
According to Pang Changwei, director of the Institute for International Oil Politics at the China University of Petroleum in Beijing, the shale gas revolution in the US has changed the global energy market, which is also a key factor leading to Russia's growing interest in China's market. "It's a good and smart choice," he said.
Russia and its European neighbors have been in energy disputes and the Russian President Vladimir Putin retaliated by saying Moscow would divert more oil and gas to Asia.
Reuters said recently that Russia is seeking to borrow up to $30 billion from China in exchange for possibly doubling oil supplies, making the world's second-largest economy the largest consumer of Russian oil.
In 2009, China and Russia reached a framework agreement that the latter will deliver about 70 billion cubic meters of natural gas to China annually for 30 years starting from 2014.
China consumed 145 billion cubic meters of natural gas last year. China will import 78.5 billion cubic meters of natural gas in 2014, according to data from ICIS C1 Energy.
Echoing his Chinese counterpart Wang Qishan, Dvorkovich also called for further cooperation in the energy sectors between the two countries. "It is necessary and possible for Russia to increase the oil supply to China," he said.
He also emphasized that "natural gas is the priority and focus" of the two-way energy cooperation, and "we expect to unswervingly push forward the natural gas and LNG projects."
Concerning the nuclear sector, Dvorkovich said "we should care for each other's concerns, launching cooperative agreements when the time is opportune".
According to Liao, China and Russia have huge potential for cooperation in the non-traditional energy sectors. "Russia may become the next big supplier of coal for China," said Liao.
But experts warned of the obstacles to the future negotiations. Energy relations between China and Russia have been complicated by disputes over oil shipping tariffs along the existing pipeline. Sources said it would take time before a final deal was reached.
China and Russia agreed to set up an oil refinery project in Tianjin in 2007, and the refinery, when it comes into operation, will have an annual capacity of 13 million metric tons, or 260,000 barrels a day. "However, I am not very optimistic about the progress," Liao said.