25 Dec, 2012
Sydney, Australia (PRWEB) December 24, 2012 – Think Big Online ran an online marketing survey from November to the first week of December in an effort to understand how businesses are using online marketing. The results of the survey have now been collected and compiled into the 2012 Online Marketing Survey & 2013 Predications Report.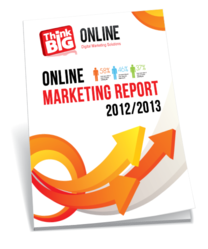 "This report is the only report I know of that focuses solely on Australian businesses selling business to business and business to consumer. One of the most interesting stats I discovered through this survey was that 33% of survey respondents stated Social Media Marketing was giving them their biggest impact on their objectives," said Mr Junghenn. Social media sites are gaining thousands of new users every day, and social media in your marketing plan is a "must have" for any business wishing to reach new clients and maintain relationships with current ones.
The report is an 18 page compilation which covers all of the research findings and is available for free download at: http://www.thinkbigonline.com/2012-online-marketing-survey-2013-predictions/. In an interesting idea for free distribution with a fair exchange, readers are first asked to click on a "like" or "share" link to access the free report.
Some key findings included in this report:
Where The Easy Money Is
Businesses Main Goals For Online Marketing 
Which Social Media Works Best 
How To Get A Great ROI     
Biggest Problems With Online Marketing
How To Measure Results                          
What Makes The Biggest Impact          
What's Happening in 2013
Biggest Frustrations
Most Satisfying Results
"We hope by sharing our insights publicly with businesses we can help them to shape their 2013 marketing plans to produce a successful result. One of the things we saw in the report was the major concern of business owners was how to get a positive ROI, hopefully this report helps solve that problem," said Mr Junghenn.
The report comes complete with the survey results, tips, survey summary and 2013 predictions that business owners can use to enhance their 2013 marketing plans. With the new year approaching, there has never been a better time to understand how to align your marketing in 2013 for the trends of the marketplace in order to meet your client needs.