3 Oct, 2012
Irvine, CA (PRWEB) October 02, 2012 – "During the last two years a stream of over 50 poems came through me reflecting the Universal Truth," explains author and poet Ozay Oktay. Now, having the opportunity to reach out to others with his inspiring prose, Oktay comes forth with his new book, "ONENESS: Awakening of the Universal Truth through Poetry" (published by Balboa Press).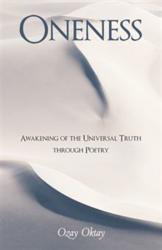 "This book will appeal to readers because it speaks of who they really are," explains Oktay. "Every poem in this book as well as every conversation point to one thing and one thing only: that is the oneness of everybody and everything."
"ONENESS" is a unique book of spiritual poetry and conversations to help readers along a journey of self-realization. One example:
AWAKENING
"The cocoon is the silkworm's world—
A world in which to die,
Unless one day, it gives up
And just breaks out to fly.
The human is in the same boat.
He too is cocooned—
Woven by his little mind
That puts him out of tune.
Need to be in tune with Oneness
So freedom can take hold.
Need to let the Love to flow
In order to break the mold."
Ozay Oktay was born in Turkey, where he lived until his graduation with a bachelor's degree in electrical engineering. He then moved to the United States to study for a master's degree in 1980 and has been living and working in Southern California since. In his early 20s, Oktay met a spiritual teacher who introduced him to "the Universal Truth of Oneness." As a manifestation of his intense spiritual deepening, a stream of about 50 poems emerged through him during the last two years, many of which are included in this new collection.