1 Aug, 2012
Colorado Springs, CO (PRWEB) July 31, 2012 — What should parents and caregivers say to children who are worried about someone coming into their community and shooting people, just like the mass shooting at a Colorado movie theater? Kidpower, a non-profit leader in child safety education, offers tips for talking with kids and helping address their worries in the wake of tragedy or a disaster — which may be necessary even well after the initial crisis response and news coverage has tapered off.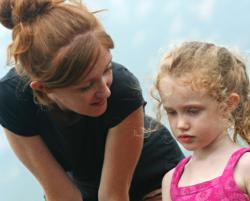 Reassure kids and take extra time to listen if they are worried or have anxiety. (Photo Credit: © Derrick Neill | Dreamstime.com)
After watching the news about the Colorado shootings and seeing scary images of the movie theater, Eileen DiFranco says that her pre-teen daughter was unable to sleep. "When I asked what was wrong she told me she was afraid someone would do something similar at her summer camp (at a local community college several states away from Colorado), 'since it has so many people, like a theater.'"
"My first instinct was to tell her that would never happen, but I realized it just wasn't the truth," says DiFranco, mother of two school age children. "Instead, I used several suggestions from Kidpower's article about regaining emotional safety after a tragedy. We talked about and practiced how she would find safety if she ever found herself in a similar situation and, most important, we made sure to control the amount of media content she was exposed to about the shooting. Having a plan and practicing made her feel more in control and she was able to attend camp."
"Time and again after events like mass shootings or the Colorado wildfire disaster, we hear from families with children who have heard the news and need help talking with their kids to help them regain a sense of emotional safety," says Irene van der Zande, Executive Director of Kidpower.
"Dealing with upsetting experiences is a process that can involve many feelings over a long time," says van der Zande. Her article, Helping Children Regain Their Emotional Safety After a Tragedy advises, "Children often need us to help them understand and work through their feelings… Listen when kids talk, even if they say the same things over and over. Give reassuring answers to worried questions."
Parents and other caregivers can use the following tips and find more resources on Kidpower.org, which has a free library with more than 100 articles on child safety issues:
Stay Calm
Take Charge of What Children Hear and See from the Media
Explain What Happened in a Calm, Age-Appropriate Way
Help Young People Express Their Feelings Without Making Them Take Care of Your Feelings
Give Young People Positive Ways to Feel in Control
Give Extra Support and Reassurance
Be Aware of and Prepared for Behavioral Changes
Be a Good Role Model for Handling Conflict
Show Children How to Recover from a Bad Situation
"Even when a traumatic event is over for those not directly involved and the crisis response has decreased, children may have ongoing questions or concerns," says Meredith Henry, a clinical social worker and senior instructor with Kidpower of Colorado in Colorado Springs. "The Kidpower.org article has suggestions that are applicable both in the immediate aftermath of an event and as children continue to process their thoughts and feelings in the weeks following."
A simple way for parents to help make these conversations with kids a bit easier is to "find time on a regular basis when you can ask your child in a calm and reassuring way: 'Is there anything you are wondering about, or are worried about, that you haven't told me?" says van der Zande. "If kids know you are ready to listen, they will be better able to tell you about their worries earlier, and get the help they need."
Irene van der Zande has been featured as a child safety expert by USA Today, CNN, and The Wall Street Journal and is the author of several books, including The Kidpower Book for Caring Adults and Bullying: What Adults Need to Know and Do To Keep Kids Safe. She is also the founder of Kidpower.org, a non-profit leader in personal safety skills education, which has helped to protect more than two million young people from abuse, bullying and kidnapping since 1989.