27 Mar, 2012
At first glance one may presume that Palestine has a booming tourism sector; the vast majority of sites important to Christian pilgrims are located in the area and to the naked eye, places such as Bethlehem are brimming with tourists much of the year round. However, there are many things misleading about this first impression.
Editor's Comment
This article has been reproduced from "Faith Under Occupation", a publication released last week by the World Council of Churches to help promote a truthful global awareness of the plight of Indigenous Christians in the Holy Land.
The authors are known as Ecumenical Accompaniers (EAs) who provide a protective presence to vulnerable communities, monitor and report human rights abuses and support Palestinians and Israelis working together for peace.
When they return home, EAs campaign for a just and peaceful resolution to the Israeli/Palestinian conflict through an end to the occupation, respect for international law and implementation of UN resolutions.
The full publication can be downloaded by clicking here.
Tourism throughout Israel and Palestine, has, like so much of life and industry in the region become part of the political battlefield. Israel's famous one-eyed General, and one-time Prime Minister, Moshe Dayan reportedly said that he would license Palestinians to be fighter pilots before giving them licenses to be tour guides. And he does not seem to be the only one with that opinion, as no Palestinian tour guides were licensed between 1967 and 1995, and no Palestinian investment in tourism was even permitted for this period.
As of 1995, the situation began to improve; Bethlehem was given permission to invest in tourism. Donned the "Bethlehem 2000" project, millions of dollars were spent investing in Street sculptures and infrastructure in anticipation of a big tourist boom at the end of the millennium. This ray of light however proved to be short lived as on 2April 2002 the people of Bethlehem awoke to the sounds of tanks entering the Old City and guns blaring beneath the whirring of over flying Apache helicopters.
Tanks scraped along the walls of the Old city as they attempted to push through its narrow streets. The Lutheran Christmas Church compound along with many homes in the heart of the city were raided and damaged. A group of Palestinian men shot back with rifles against trained soldiers with automatic weaponry and armored vehicles in an attempt to protect the city. The fighting lasted just 13 hours before they were overpowered. They then retreated to Manger Square and sought sanctuary with others in the Church of the Nativity, which marked the beginning of nearly 4 months of curfews imposed on the city and a 40-day siege of those who were in the Church of the Nativity.
Forty days being trapped in the Church of the Nativity was not at all what those seeking refuge there – nor the monks who welcomed them – had expected, all believing that the churches sanctity and its historical significance marking Jesus' birthplace would command some respect from the Israeli military. Instead, Israeli soldiers surrounded the church, taking over Manger Square and used the International Peace Centre as their command post. The church was riddled with bullet holes and the inside was damaged from having 200 people trapped inside for such a long period of time without clothes, food or first-aid supplies. The International Peace Centre had many artworks from their gallery destroyed or stolen, including pieces from their exhibition focusing on the nativity scene. The city in general was damaged or destroyed.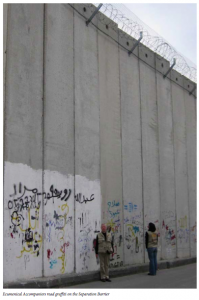 The economic ramifications as a result of the siege were harsh and long lasting, especially for the tourism sector, which is largely run by Palestinian Christians. Tourists were afraid of travelling in the West Bank and governments around the world encouraged their citizens to keep their distance. Thus, those working in hotels, souvenir shops, travel agencies, restaurants and cafés lost their livelihoods. The lack of money flowing in from tourism then caused virtually every other sector in the Bethlehem area to crash; thus, almost everyone who worked in the private sector lost his or her source of income.
For years after the siege, the Church of the Nativity that had previously hosted thousands of tourists a day was more like a ghost town. Thankfully this reality has started to change, but now the people of Palestine are fighting another battle. Though tourists have begun to return to the area the tourism industry has in many ways become monopolized by Israel to the detriment of the Palestinian community. Of the three million visitors to Israel and Palestine during 2008, an estimated 38% came as pilgrims and only 12% came on business or to attend conferences.3 With few exceptions, most of the tourist sites of interest to Christian pilgrims visiting Israel-Palestine are located in the West Bank. Yet, 97% of tourism income goes to Israel, and only 3% to Palestine.
Rami Kassis from the Alternative Tourism Group (ATG) laments, "Tour buses that clog and pollute the streets of Bethlehem contribute nothing to the economy. Our biggest challenge is to bring open-minded visitors to see for themselves." Most tourists who come to the West Bank stay in Israeli hotels and do not meet Palestinians or eat Palestinian food. To attract business, the curio shops in Bethlehem usually have to pay huge kickbacks to tour operators. Of the 300-400 Palestinians, both Christian and Muslim who are trained as tour guides, only 42 have permits to work within Israel, whilst current policies allow all Israeli tour guides to work throughout the West Bank. Moreover, in October of 2010, a bill was put forth in the Knesset (the Israeli Parliament) calling for all Arab tour guides from East Jerusalem to be stripped of their licenses on grounds that they do not present the Israeli viewpoint to visitors.
If all of these barriers are not enough, some of the few industries that may attract an income from tourists are being suffocated. For instance, last year's olive harvest produced too little oil for the local market, making it impossible to sell oil to tourists – a direct result of trees being destroyed, land being confiscated and Palestinian farmers being refused access to their land to tend their trees.
A number of creative responses have been developed in an attempt to undercut these discriminative policies. One has been the move to Internet tourism, based on the belief that 'if the tourists could not come to Palestine, then Palestine would have to reach out to tourists. These projects are a simple form of e-commerce, a way of selling souvenirs and locally produced goods to a broader market than those who come to Palestine.
Another response has been the Palestinian Initiative for Responsible Tourism (PIRT – www.pirt.ps), which is a network of organizations, associations and public bodies committed to work for responsible tourism to the Holy Land and to act as advocates for this approach to tourism.
PIRT is committed to transforming the current tourism patterns in the Holy Land by encouraging pilgrims and tourists via their 'Code of Conduct for Tourism in the Holy Land' to include Palestinian cities and towns in their itineraries, in order to achieve a more equal distribution of tourism revenues for all people in region.