16 Feb, 2012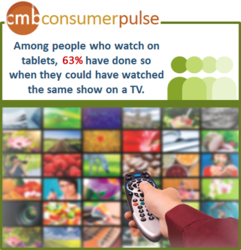 Boston, MA (PRWEB) February 15, 2012 — A new study of over 1,400 consumers, from market research firm Chadwick Martin Bailey, uncovers major changes in how people are watching TV and movies, and the choices they make when it comes to the content they watch online.
Once the domain of early adopters, more than half (54%) of all consumers have already tried alternatives to pay TV (i.e. Netflix, Apple TV, or a network's website). An even greater shift is expected, with 16% of all pay TV customers saying they are likely to reduce their level of pay TV service in the next year. In addition to the notable findings below, a summary report is available for download from Chadwick Martin Bailey's website (registration required).
This study finds consumers of all stripes would adopt online TV viewing more broadly once providers develop a simple, reliable, and cost effective solution. According to this study, many of the prerequisites for this shift are already in place.
The biggest screen doesn't always win, even at home. Core viewing behaviors are changing; 63% of people who recently watched TV on a tablet say they used a tablet even though they had access to a television with the very same content available.
Streaming content is not only acceptable, it's preferred. If mainstream consumers had an attachment to physically owning their content, they're losing it. Respondents found streaming video twice as appealing as downloading and storing content on their own devices.
All of this is happening in the midst of a cost-cutting consumer mindset. Cost concerns came up again and again in the findings, as the main reason for dropping pay TV, for cutting back on pay TV, and for never signing up for pay TV in the first place. Even 1 in 5 of pay TV's most valuable subscribers (highest ARPU) say they are likely to cut back in the year ahead.
Online viewing is already more common than one might think. Over half of all consumers, not just early adopters, have gotten a taste of viewing TV and/or movies online via services like Netflix, Apple TV, Hulu, or a network website.
"These findings show every part of the consumer TV and movie watching experience is up for grabs," says Jon Giegengack, Director at Chadwick Martin Bailey. "In the digital music revolution, the primary shift was in how music was bought and stored. When it comes to TV and movies, everything has the potential to change: whom consumers buy from; how much they pay (if they pay at all); and the range of times and places offering viewing opportunities."
"Consumers are ready to embrace a new method of accessing TV content," agrees Peter Fondulas, CMB's co-author on the project. "They've got motive, they've got interest, and a majority have already begun kicking the tires. What's missing now is the right platform and offer—something easy to use, understandable, reliable, and affordable. Various players are working hard to come up with that solution; as we learned from the music industry, the first one to offer it effectively will be in an extremely strong position."
This study was done as part of Chadwick Martin Bailey's self-funded CMB Consumer Pulse program. Data was collected from 1,493 U.S. residents (aged 16-75 who have high speed internet access at home and watch at least two hours of television programming per week), via a nationally representative online survey questionnaire within the United States. The survey was conducted in December of 2011.