12 Feb, 2012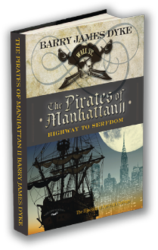 (PRWEB) February 09, 2012 — Barry James Dyke, author, speaker and
financial consultant
  has released the sequel to his first best-selling book, The Pirates of Manhattan is being released as of February 7, 2012 off the author's website,
http://www.thepiratesofmanhattan.com
. The sequel, The Pirates of Manhattan II: Highway to Serfdom, The Hijacking of America's Savings is being released after four years of concentrated in-depth research.
The author gained significant credibility as he warned of the economic meltdown before it happened in May 2007 and promises that this book will be an eye opener to readers. Major points in the new book that Dyke discussed include:
America is an empire in decline like the Roman Empire. In addition to a military industrial complex, today America is controlled by an asset management industrial complex which controls most of the savings and credit in America. This enriches Wall Street, mutual funds, hedge funds private equity, which the author calls the asset management industrial complex.
Congress no longer makes regulations. Lawmakers delegate financial regulation to regulators, and regulators are controlled by lobbyists.
Two key financial watchdogs, the SEC and Finra are impotent to protect consumers. In reality, they are in bed with the industry they are supposed to supervise.
Media giants Bloomberg, CNBC/NBC/Comcast, Disney, The Tribune Company, CBS, NPR, News Corp, Marketplace Money, and PBS have a co-dependent love affair with banking and Wall Street.
Elites, the Federal Reserve, the Federal Government, Finra, do not speculate with savings. They use financial products with guarantees.
Major companies in America including IBM, CBS, News Corp, Apple, CSX, Best Buy, Raytheon, Disney, Kodak, Fluor and hundreds more are throwing rank and file employees into the casino abyss of Wall Street speculation with target-date mutual funds, which are simple in comparison to other Wall Street products such as collateralized debt obligations. Yet through lobbying, these products, which not one person in a thousand can understand, are the most favored designated retirement product to fund 401(k) accounts.
It is now available for sale exclusively off of the author's website. Dyke argues that America's financial retirement system is in a meltdown mode for most Americans, and is a must read in order to understand what the Federal Reserve, Wall Street and the asset management industrial complex is doing. Book orders and additional information can be found at: http://www.thepiratesofmanhattan.com.
For further inquiries, please email the author at castleassetmgmt@comcast.net