4 May, 2016
Dubai, 26 April 2016, (ATM Press Release) – YouGov has unveiled the results of its latest Travel Booking Trends study for the Middle East, North Africa and South Asia (MENASA) region today (26 April), day two of ATM 2016, with one of the key findings highlighting that 51% of respondents claim the concept of virtual reality in their travel booking process is very appealing.
Scott Booth, Research Director & Head of Travel, Tourism and Leisure at YouGov ME presented the research results as part of an interactive panel discussion held at the new Global Stage arena today (26 April), under the theme 'The Role of Big Data and Immersive Technologies in the Future Travel Booking Experience.
The study sought opinion from over 10,000 travellers across 21 countries in the MENASA region and was designed to understand the latest reaction to different aspects of the travel booking experience. In particular, it sought attitudes towards peer-to-peer services, the rise of travel planning services that use predictive technology to help develop itineraries and virtual reality 'try before you buy' technology.
"One of the most exciting areas where technology is influencing consumer behavior and online activity is the emergence of virtual reality tools in the travel sphere. This kind of immersive experience gives you the chance to try before you buy, and there are examples of this live on the exhibition floor this week," said Nadege Noblet-Segers, Exhibition Manager, Arabian Travel Market.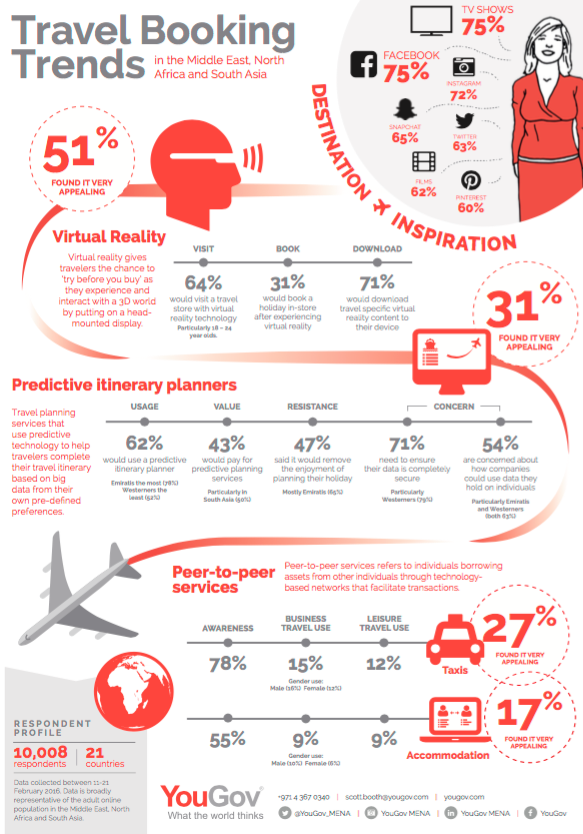 Over half of respondents in the study found the concept of virtual reality very appealing, making it the most appealing technological concept to aid their travel planning and booking process. Many also indicated their interest in virtual reality as adding value to the decision-making experience with 64% willing to visit a travel store with the technology and 71% prepared to download travel specific virtual reality content to their devices. One-third also confirmed that they would book their next holiday following a positive in-store virtual reality experience.
Scott Booth commented, "While the outcome remains uncertain, this study demonstrates content is king—whoever has the best, most accessible virtual reality content the soonest will stand to benefit most directly from the technology.  Over time, we would expect immersive virtual reality content to become the norm, and consumers becoming accustomed to making decisions on the basis of this highly enriched content."
When it comes to predictive itinerary planners, 62% of survey respondents claimed they would use predictive itinerary planning services, particularly Emiratis. In addition 43% claimed they would pay to use them, which was particularly voiced amongst respondents in South Asia. That said, 47% resisted the notion saying it would remove some of the joy of planning their next holiday, interestingly this was also particularly prevalent amongst Emiratis (65%). 71% also expressed concerns about ensuring their data was completely secure before using the concept, which was particularly voiced amongst Westerners (79%). Others were concerned about how online travel companies would use their stored data (54%), with Westerners and Emiratis the most concerned.
Booth continues, "Certain travellers particularly enjoy planning personal holidays.  There is a sense of pride in pulling together and experiencing exactly the right trip for them and their companions.  While predictive planners in a sense represent a loss of control in planning, there is immense potential for a service that can dramatically reduce the burden of planning and maintain or even elevate the quality and value of holidays experienced."
"With 62% of respondents claiming they would use a predictive itinerary planner, with Emiratis the keenest (78%), followed by Westerners (52%). It appears that within the next 12 months even more MENASA travellers will get the online travel bug," said Noblet-Segers.
Indeed, YouGov's 2015 Travel Oracle report for the MENASA region found that 38% of travellers booked all their travel online in 2015 because they found more options available online. Over the last 12 months 25% of leisure travellers used an online travel agent to book flights, with 19% booking online direct and just 11% booking via an offline travel agent. The report also found that 57% of travellers claimed that technology had made their travel planning and booking more spontaneous.
Peer-to-peer services, which are technology-based networks related to the hospitality/tourism industry but offering services from individuals and sold through a technology-based platform and include car booking services like Uber and online accommodation portals like Airbnb, was another area highlighted by the YouGov Travel Trends report.
Over three-quarters of respondents were aware of peer-to-peer services for booking transportation, yet current usage statistics for business and leisure travel are still fairly low, at just 15% and 12% respectively. However, when it comes to accommodation, only 55% of respondents were aware of the concept with just 9% currently using it for business or leisure purposes. On the plus side, 27% said they found the idea of using peer-to-peer taxi services very appealing, with 17% finding peer-to-peer accommodation services very appealing.
Now in its 23rd year, ATM 2016 will build on the success of this year's edition with the announcement of an additional hall as Reed Travel Exhibitions looks to add to its record-breaking achievements earlier this year. ATM 2015 witnessed a year-on-year visitor attendance increase of 15% to over 26,000, with exhibiting companies increasing by 5% to 2,873. Business deals worth more than US$2.5 billion were signed over the four days.