12 Oct, 2013
Beijing, 2013-10-10 (China Daily) – China's top entrepreneurs, who have achieved extraordinary business success in the past decades, are moving away from their core businesses to become more involved in investment, a ranking of the wealthiest investors in the world's second-largest economy showed on Wednesday.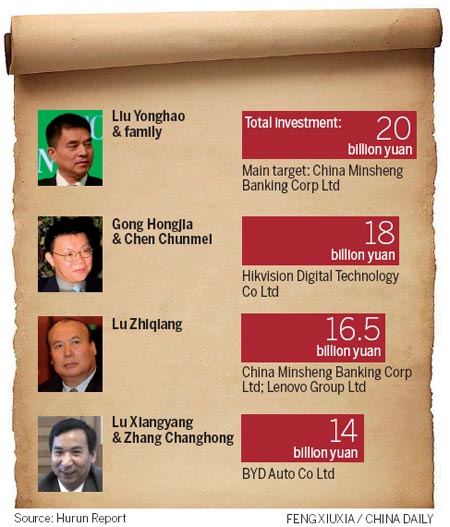 "It is a clear trend that many entrepreneurs are shifting from their traditional core industries looking for other investment opportunities," said Rupert Hoogewerf, chairman and the chief researcher of the
Hurun Report
, a luxury magazine publisher.
"They have changed their businesses, because China's economy is evolving," he said.
The list of China's richest investors, which is a sub-list of the Hurun China Rich List 2013, an annual ranking of China's 1,000 wealthiest people, named Liu Yonghao, 62, board chairman of New Hope Group, as the richest investor with total investment of 20 billion yuan ($3.27 billion) in the finance sector.
Gong Hongjia and wife Chen Chunmei, leading angel investors in the Chinese technology sector, ranked second with wealth from investment of 18 billion yuan.
"Though Liu's core business is still pig feed, his investment in the finance sector has become an important part of his wealth portfolio," Hoogewerf, a former chartered accountant at Arthur Andersen, said.
Liu holds 6.7 percent of China Minsheng Banking Corp Ltd's shares. That makes him the largest shareholder of the bank, and his New Hope Group retains extensive interests in animal feed, property, logistics and dairy products.
The threshold for being one of China's richest investors this year was 5 billion yuan. There were 22 entrepreneurs who made the grade, with a total wealth from investment of 212 billion yuan.
The most popular investment sectors were information technology and finance, the list showed.
Oliver Barron, head of the Beijing branch of North Square Blue Oak, a United Kingdom-based investment bank, said rising alternative investment by entrepreneurs is a natural part of China's evolution.
"High net worth individuals around the world have long recognized the benefits of asset diversification in terms of wealth preservation," he said. "As large-scale overseas investments are more difficult owing to capital controls, the next best option for diversification is investment in new emerging sectors in China."
Hoogewerf said investment is the third-largest source of wealth after real estate and manufacturing, which is a good sign for the Chinese economy.
"It is another form of finance. One of the big troubles that these entrepreneurs had in the earlier days is that they couldn't get access to the capital from bank loans if they didn't have land or assets.
"But alternative sources of financing such as private equity, venture capital or even angel capital are very good ways to get a lot of potentially strong businesses off the ground and help speed up the growth of your companies.
"Potentially this will do good to the economy as a whole."
Barron agreed, saying that Chinese banks' inability to price risk has restricted their lending to smaller companies, which remain starved for credit.