20 Jan, 2013
2013-01-18 (China Daily) – China will cement its lead as the world's largest smartphone market in 2013 as the nation is expected to sell 240 million smartphones, nearly one-third of global shipments, industry analysis firm Canalys said on Thursday.
Analysts said Chinese manufacturers will dominate the domestic market and are well positioned to enter overseas markets.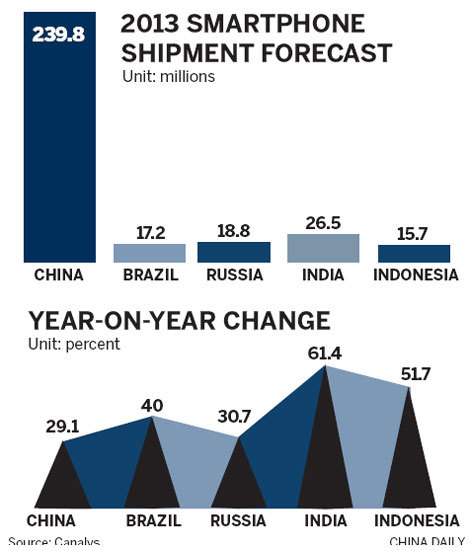 China will register up to 29 percent of the 837 million smartphones projected to be sold this year.
The United States, the world's second-largest smartphone market, is likely to absorb another 125 million units during the same period, it said.
Total shipments hit 224 million in 2012 in China, making the country the world's No 1 smartphone manufacturer, Xinhua News Agency reported, citing industry insiders.
Sales of smartphones in developed economies will see robust growth despite the faltering economies, but the major market drivers are developing economies such as China, according to Canalys.
"In total, developing markets will contribute 70 to 80 percent of the growth this year," it added.
In addition, national brands will vigorously compete with international players, especially in smaller cities.
Domestic vendors are rapidly moving their businesses toward smartphones and winning consumers with their competitively priced devices. Such moves will continue to put "significant pressure" on international vendors this year, according to Nicole Peng, research director at Canalys' China office in Shanghai.
"With smartphones starting to penetrate lower-tier Chinese cities, international brands lack real competitive advantages in those areas," Peng said.
Chinese makers, such as Lenovo Group, ZTE Corp and Huawei Technologies Co, have released a series of low-end handsets priced at around 1,000 yuan ($160), targeting buyers with lower incomes.
The US research company Gartner said in November that Lenovo will become China's top smartphone maker before the end of this year.
"Lenovo is positioned at the mid-to-lower end, which will drive much of its future growth, and this is where global brands are less competitive," said Gartner.
Low-cost smartphones have drastically accelerated the decline of feature phones in China, and a similar trend is expected to be seen in other emerging markets in the next three years, Canalys predicted, adding Chinese companies will be given an opportunity to copy their business model to more emerging markets.
Lenovo announced its plans for international expansion in September, following in the footsteps of other national companies such as Huawei, ZTE and TCL-Alcatel.
"Only very few Chinese smartphone makers have comprehensive or long-term international expansion plans in place," said Wang Jingwen, an analyst with Canalys.
"Their goals are straightforward: to grow economies of scale or fulfill production capacity and to increase profit margins as pricing pressure is lower in overseas markets."