15 May, 2012
CHIANG MAI – The sufficiency economy concept of Thailand's King Bhumibhol Adulyadej gained further prominence on the global tourism development agenda last week with a visit to the Huai Hong Khrai Royal Development Centre being included on the technical-tour programme of a regional UN World Tourism Organisation conference.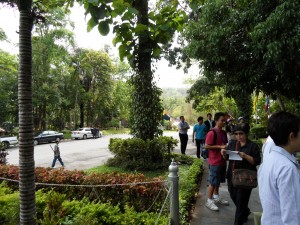 The May 4 visit was an eye-opening experience for many of the Asia-Pacific travel & tourism officials and executives attending the UNWTO Asia-Pacific commission meetings, most of whom were making their first visit to Chiang Mai and had no idea that such indigenous-wisdom examples of forest conservation and preservation existed.
Mrs. Thanitta Savetsila Maneechote, Deputy Permanent Secretary, Ministry of Tourism and Sports, said she had proposed Chiang Mai as part of efforts to give further exposure to the attractions of North Thailand.
The main meetings took place at a major hotel in downtown Chiang Mai but the technical visits took delegates into the countryside, offering a choice of Huai Hong Khrai or the Thai Elephant Conservation Centre, under Royal patronage. Although most chose the elephant centre, about 30 delegates opted for Huai Hong Khrai.
Located in Doi Saket District, about 45 minutes drive from downtown Chiang Mai city, the 1,360-hectare, lushly-forested natural reserve area is one of the most important Royal development centres in North Thailand.
After a 45-minute briefing on its concepts and development philosophy by Mr. Pradab Kladkempetch, Director of the Centre, and Prof Chuntana Suwanthada, a botanist and retired professor from the Faculty of Agriculture, Chiang Mai University, delegates took a quick walk down one of the nature trails.
Many questions emerged about facilities for tourists and funding of the entire reserve. Delegates were shocked to hear that accommodation costs only about 100 baht per person per night. Camping facilities are available but those seeking more comfortable accommodation have to stay outside the protected areas.
Mr Aboobacker Jaufer, President Chamber of Tourism & Industry, Sri Lanka, said the development project was perfect example of how to rebuild the Eastern coast of his country, which had been devastated by both the December 2004 tsunami as well as the 20-year civil war. "There is a lot we can learn from this centre," he said.
Mr. Wardiyatmo, Secretary-General Ministry of Tourism and Creative Economy, Indonesia, said it was in line with the best practices that Indonesia could pursue as part of its future development strategy, which is focussed on promoting new destinations such as Lombok, East and West Nusa Tenggara and western Java.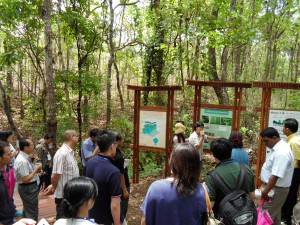 Mr. Ignacio de las Cuevas, who is studying for a doctorate on a thesis of "volunteer tourism" said he had originally wanted to visit the elephant park but was very happy to have switched at the last minute. "I have learnt a lot here. It was a very useful visit for my research purposes."
Mr. Keiichi Tamaki, Senior Urban Development Specialist, Asian Development Bank agreed that although the project was good for ensuring environmental sustainability, he wondered how it would be financially sustainable, especially if it has to continue to rely on government budgets.
The centre has recently received researchers from Timor Leste, who came for a three-month course to study ways of combatting deforestation and renewing degraded forests, and returned home thoroughly inspired, according to Prof Chuntana.
News of that visit came as a pleasant surprise to one of the Timor Leste delegates in the group, Mr. Antonio Xim
enes, National Director of the Ministry of Tourism, Commerce and Industry.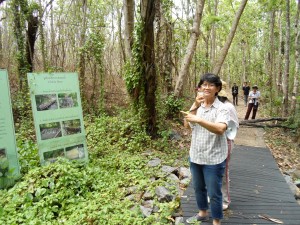 Other research and study groups have come from Nepal. The Thai Ministry of Foreign Affairs is also providing scholarships for visitors from neighbouring countries.  One of the popular groups is an annual visit by birdwatchers from Singapore. Small numbers of tourists also cycle up to the centre from Chiang Mai as part of a biking tour.
Prof Chuntana said, "We are slowly getting famous for tourism. We are not offering the activities of the centre (for commercial gain) but now have come to the stage of showing that we have developed our forests from their previously very deteriorated condition. For those who are keen on conservation, this is the place to come."
She said students are welcome but for study rather than recreation. The visit has to be within the scope of the king's natural resource conservation efforts.
This park is neither intended nor designed for commercial activities, she said. "Its original concept was to help the local people alleviate poverty by better taking care of their degraded natural forests and developing a sustainable livelihood. It is intended to be an education, research and knowledge centre."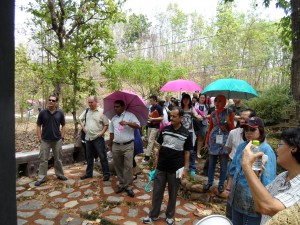 Asked if global warming is impacting the reserve in any way, Prof Chuntana said that recent research had clearly shown a two-degree temperature difference between the city and the park. "It's much cooler here, and you can clearly notice the difference, especially during this period of hot and dry weather."