16 Feb, 2012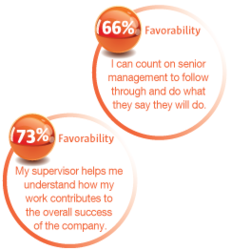 Chicago, IL (PRWEB) February 15, 2012 — Recent global research conducted by TNS Employee Insights names four guiding principles to improving an organization's chance of success in times of change. Based on the notion of "moving the needle" in engagement, their findings maintain that employees must understand how engagement relates to bringing about change. Change, therefore, can only come by looking at where you are, where you want to go, and involving and engaging people throughout the process.
The metaphor of moving the needle seems to be a test of whether or not action should be taken. By unleashing productive energy, an organization has a greater chance of engaging employees and stimulating change. This can range from providing exceptional service to customers and producing superior work, to taking ownership for one's responsibilities. According to Senior Consultants at TNS, the basic process of change should include three questions:
What? – Ask what an organization looks like at the present time and determine what stage of engagement employees are in.
So What? – Take the information identified in the "what" question, and understand what this means. Focus on how it will be possible to bring about change, and what is needed to get there.
Now What? – People embrace change when they control it. Identify how each individual can impact the organization, and develop a plan to attain those goals.
Together, these questions can construct an assessment of the company's strategy, structure, systems, and people and culture. Productive action can then be directed at improving specific areas in the organizational structure, which should lead to improved performance.
TNS research states that 73 percent of employees feel that their supervisor helps them to understand how their work contributes to the overall success of the company. Such findings illustrate that there is value in having inspirational leaders help remove barriers and roadblocks to achievement.
"Part of moving the needle means understanding how engagement relates to bringing about change," senior consultants at TNS Employee Insights maintain. "Change begins with an identification of how people and processes influence the overall success of the organization."
In order to improve levels of engagement, cultivate optimum organizational health, and retain key employees, TNS has developed four principles to consider:
1.    People support what they help create: A person needs to sense that they will be positively involved in the change they are experiencing in order to be willing to engage. Focus on helping employees understand how their work directly impacts the organization.
2.    Positive energy: Energy is the life force of change. Although it is difficult to "push" people into changing, they can be "pulled" if the right methods are used. Give employees a voice to issues affecting them, encourage teamwork, and give appropriate feedback on employee's performance; use reward and recognition techniques to reinforce desired behaviors.
3.    Leverage: Leaders can facilitate and leverage positive energy by removing obstacles, providing support and acknowledging employees' efforts. Theresa Amabile, a psychologist at Harvard, recently wrote about the value of "small wins" that occur during the course of the work day, noting "when people feel better about their work they are more happily engaged."
4.    Equifinality: Maintains that a desired end state can be reached by various means. This involves a direct cause and effect relationship between the initial conditions and the end result, and realizing how to achieve the overall goals.
The concept of moving the needle involves improving decision-making, ramping up innovation and creativity, detecting and preventing errors, and reducing costs. In order to bring about change, people have to understand what the issue is and how they can change it. Give employees an end state, a goal; give them the information they need to reach their goal; then involve and engage them in solving the problems related to achieving that end goal, and they will achieve it.