15 May, 2011
BANGKOK – It's not often that American writers take to Arab/Islamic culture and write sympathetically about it. But a new book, "Siamese Arabesques: Tales Of The Islamic World With Thai Twists", strives to do exactly that, painting a fascinating mosaic of the cultures and cuisines, trials and tribulations of people from all over the Arab/Islamic world who now call Thailand home.
From Somali refugees to Iranian restaurateurs, Thai-Muslims from Pattani to "farangs" (Western expatriates) working for Palestinian freedom, "Siamese Arabesques" comprises a series of easy-to-read, human interest stories as told by Carleton Cole, who describes himself as an "atypically quiet American who never really fit into US society."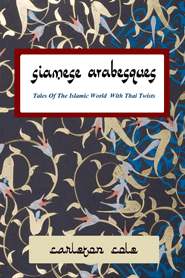 Such stories were waiting to be told. Bangkok abounds with numerous restaurants, carpet-shops, places of worship and other such trappings of Arab/Islamic culture about which little is known and even less understood.
Desperate to escape the monotony of America's first planned community, and confronted by the seriously limited employment options open to the holder of a liberal-arts bachelor's degree, Cole says he set about transplanting himself to a country he had avidly read about.
"I came to Thailand thinking I would spend a year teaching English here in 1995, but wound up in the journalism field, found my wife Mai, bought a river-view Bangkok condo and ended up settling in the Land of Smiles for good. I have enjoyed writing about Asian culture — travel, features, restaurants, refugees, artisans, etc — in various local media for the last decade."
His extensive travels throughout Asia included a seven-month stint working in Kathmandu for a few NGOs last year.
Says Cole: "My love for East Asia over the years naturally expanded to South Asia and then to the Middle East. I found a lack of cultural articles on local angles on the Middle East in English-language Thai newspapers, so I felt the need to carve out a niche of my own, and over the years one story led to another and before long I found that I had created enough for a full book of Bangkok- and Phuket-based Middle-Eastern vignettes."
Says the book's preface: "Thai-Middle-Eastern links are varied and fascinating. Down through the centuries there has been cultural overlapping in politics, business, culture and cuisine, to name a few fields.
"The allure of the exotic Far East continues to fascinate Arabs and Middle Easterners today. What's more, while admiring Thai society, they have also contributed to it, leaving an indelible mark in selling products of all kinds, from Arabic perfume to Cambodian and Thai silk to Afghan jewellery.
"They continue to prepare delicious mezze dishes and kebabs and other dishes of their homelands, which are eagerly devoured by guests in Little Arabia on Bangkok's lower Sukhumvit Road.
"And today Thailand deserves a good reputation for providing Middle-Eastern refugees and economic migrants with a second start, helping them along in terms of granting work opportunities and a shot at UN recognition as refugee that can help them find resettlement in the West.
"Furthermore, despite the ongoing uprising in Thailand's three southernmost provinces, there are signs indicating where Buddhist Thais and Thai and Malay Muslims in the region can get along, make a living and live together peaceably."
In coming across all the creative, lively, energetic and knowledegable people he writes about, Cole also developed an appreciation for Islam and some scepticism about the stereotypical spoonfeeding by the conventional media.
His book, he said, is designed "to help dispel the unhelpful, untrue stereotyping of Islam as a violent religion, which only exacerbates mistrust and ill feelings.
"If my native US could only see just how dangerous and destructive its grossly pro-Israel bias is, and take action to genuinely support Palestine, a lot of good could be done in terms of improving relations between the US and the Muslim world. In my book I try to suggest solutions and positivity in regards to these two key areas."
Cole notes that "the Middle East has been a hot issue over the last decade in general and last few months in particular. I write keeping in mind the commonalties between the Muslim world and the West, and how if we all reach out and strive to get to know and respect one another, the world will be a safer place.
"This book is written in the spirit that a clash of civilisations is hardly inevitable, and what's more that there can be greater reconciliation between all religions and races."
The cast of characters is fascinating. Says the book's introduction: "With its evocative music and muezzins' cries, to its curvaceous, dazzling architectural detail, hearty fare, world-leading scientific advances and proud tradition of hospitality born out of the harshness of the desert, in which if you don't offer food to guests, they might not live, the Middle East has fascinated outsiders—including the author—through the millennia."
Read about Ali, a refugee who endured a forced tour of duty in the Iran-Iraq War, survived three years of imprisonment in his native Iraq, and ultimately escaped his country, to find himself adrift in Bangkok with nowhere to go.
There's Sharif Liban Suleiman, who was released in late 2009 from Bangkok's Immigration Detention Centre (IDC) after a two-year incarceration there. Fluent in Arabic and English as well as his native Somali, he was looking for work at the time of writing, possibly helping Arab medical tourists with translation.
Master tea artisan Yim Wongwai, a Muslim native of Pattani province, was interviewed displaying his special skills at a festival in Phuket that focuses on products from southern Thailand.
One essay tells the story of the Lebanese Cedar restaurant whose owner Rafic Salhany assumed proprietorship from his father Xavier in the early 1990s.
The first, and only real, Iranian restaurant in Thailand, "Noor", ('Light' in Arabic) is run by Mohammed Hossein Abdollahi, an affable Tehran native, who first came to Thailand in the early 1990s, and describes the concept behind the restaurant's name: "Light is what somebody in the darkness needs when they don't know where to go."
No-one familiar with Arab/Islamic culture can disassociate themselves from the Palestinian cause. In Thailand, Cole interviews two farangs who are trying to raise awareness of this cause.
"Nowhere in the world over the last sixty years has there been so much continual suffering," the book quotes Sune Larsson, a former member of the Green Party in Sweden and the secretary of the Palestinian Solidarity Campaign (PSC) Thailand. "We want to bring about awareness of this in Thailand."
Adds PSC Thailand chairman Stuart Ward, "Why start a group? Because there wasn't one here. I want to help Palestine."
There are no visuals in the entire book but Cole's relaxed, uncluttered and jargon-free words more than make up for it. Even Americans may benefit from discovering some fascinating facets of Islamic/Arab culture and traditions – right here in Thailand itself.