13 Mar, 2019
Luang Prabang – Appalled by the mountains of garbage and waste being generated by tourists and local citizens, emerging young leaders from Southeast Asian countries ended a five-day workshop in this UNESCO World Heritage City by pitching a broad range of reduce-reuse-recycle solutions designed to cutback everything from household waste and street trash to plastic containers and bags.
Alarming statistics displayed by the young leaders showed the darker side of the "growth" the travel & tourism industry loves to brag about. Conveniently swept under the carpet for decades, the public emergence of these shock-horror stats proves that while travel & tourism has been a part of the solution in terms of economic development, it has also been a major part of the problem in terms of global environmental degradation.
The challenge was prominently featured at a Young Southeast Asian Leaders Initiative (YSEALI) workshop which brought together 50 emerging leaders from the 10 ASEAN countries and Timor Leste. It was organised by the Asia Foundation with funding from the U.S. State Department. Launched in 2013, YSEALI features educational exchanges and regional workshops to strengthen youth leadership and networking across Southeast Asia.
Focussing on the topic of Eco & Sustainable Tourism, this year's workshop was held in the UNESCO Heritage City of Luang Prabang where rapidly growing tourism is helping to generate jobs, alleviate poverty and create opportunities for hundreds of Small and Medium Sized Enterprises. The U.S. embassy in Laos, which hosted the workshop, saw it as a means of building on the momentum generated by the Lao Government's "Visit Lao Year 2018". At a broader level, it gelled with the cause of enhancing ASEAN economic and socio-cultural integration. A pitching competition of creative ecotourism projects was won by Vietnam whose young leaders flagged an "EcoHub" app to connect eco-travellers to eco-initiatives.
The 50 participants, including 37 women, were selected from amongst nearly 700 A-grade applicants (click here for the full list). Aged between 21-35, they included university students and lecturers, divers, environmental scientists, organic farmers, tour guides, educators, architects, social entrepreneurs, bloggers, graphic designers, aquaculturists, and more. They reflected a rich educational, ethnic and religious diversity, speaking a collective total of nearly 20 languages. Two came from Karen and Hmong hilltribe families. The real stars were those who came from countries such as Indonesia, Thailand, Vietnam, Myanmar, Cambodia and Laos where English is not commonly spoken. All clearly have worked hard over the years to master this second language.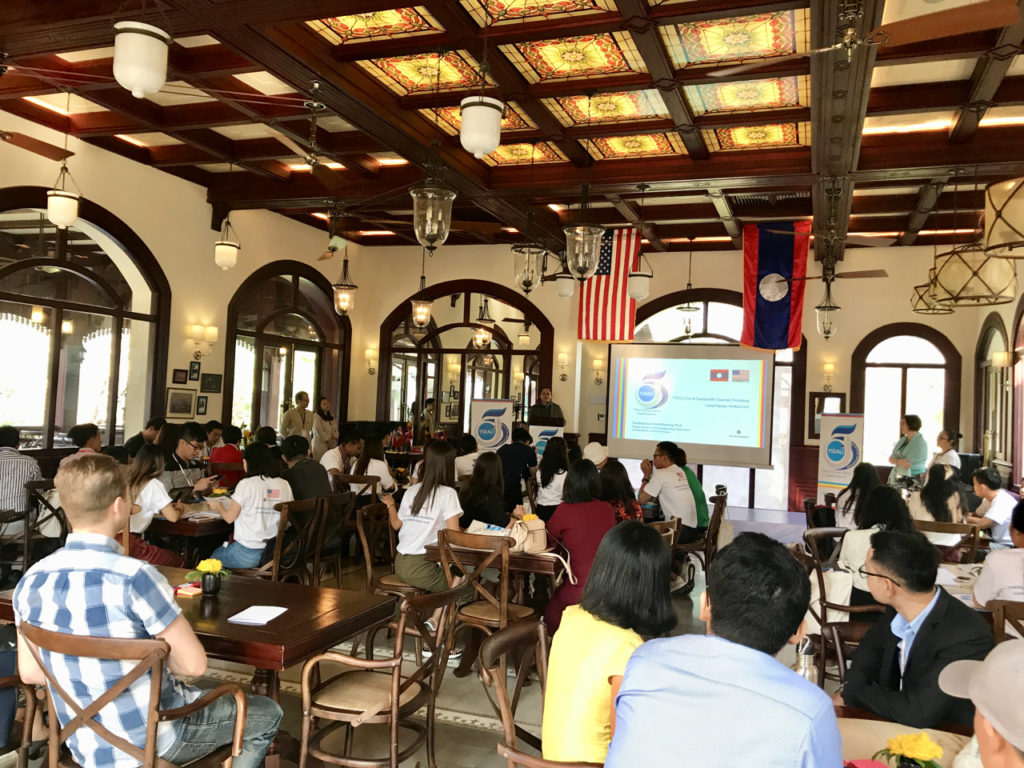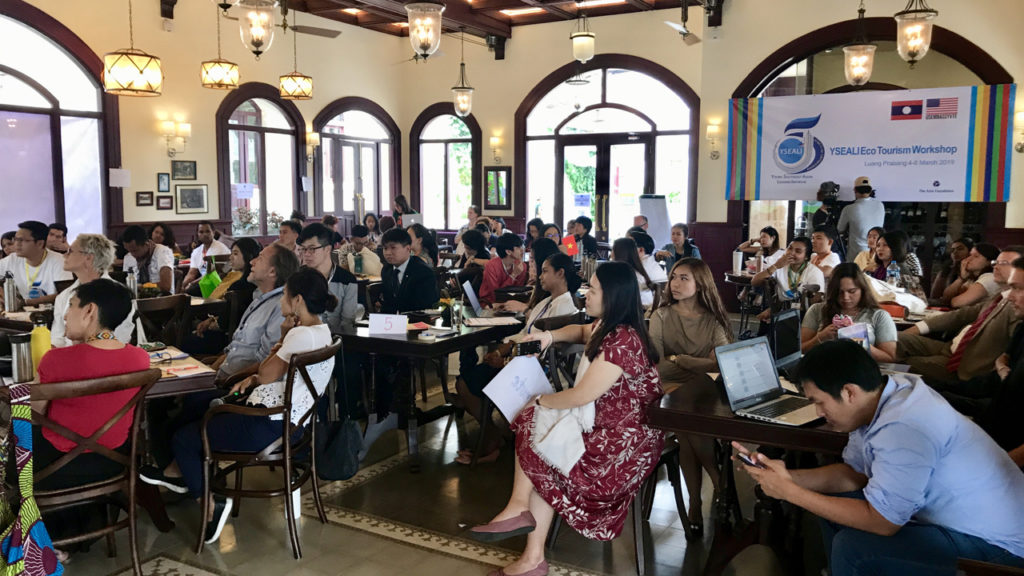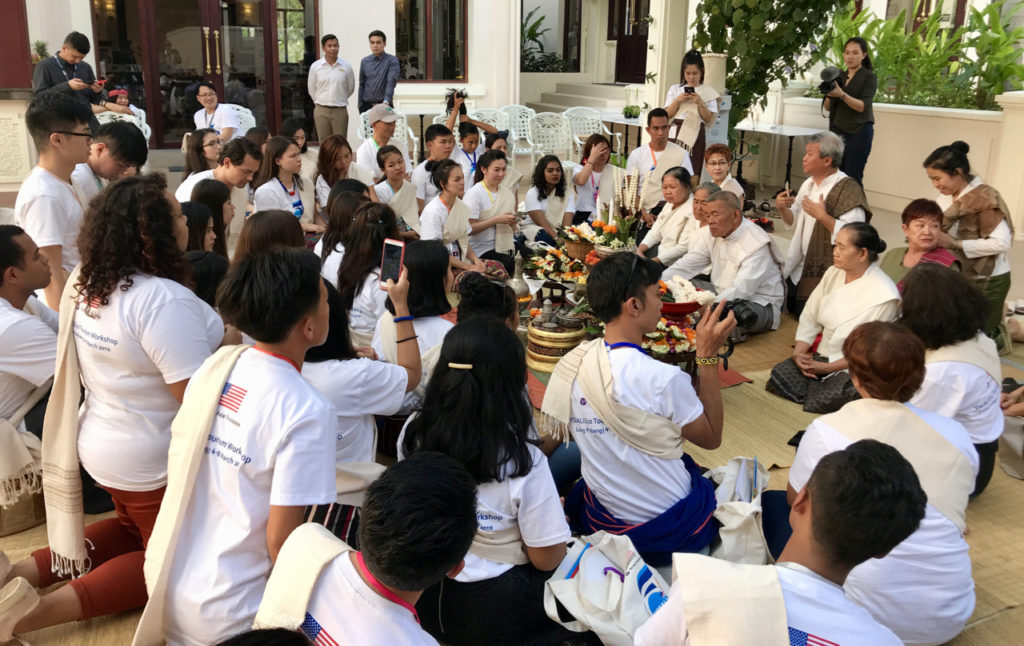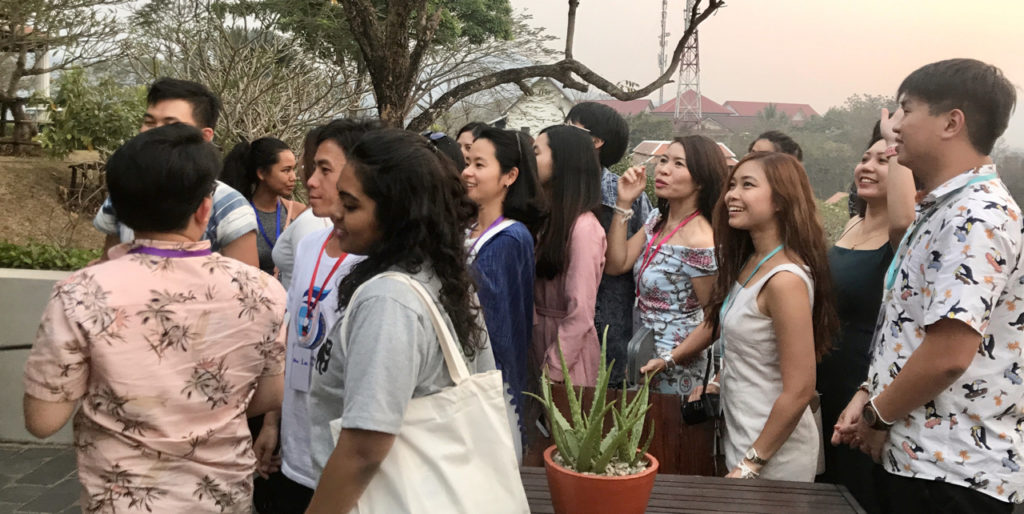 This melting pot of energy, ideas and creativity was harnessed for a cause they were all passionate about. Organised and operated with clockwork precision and sharp focus, the workshop was short on speeches and long on extensive brainstorming designed to learn and share. From the first day, participants were split up into groups which were then mixed and matched by countries and sectors. There were only a handful of brief presentations by industry experts, two by journalists (veteran travel writer Joe Cummings and this editor), two branding and social media experts, two local Lao entrepreneurs, including one organic farmer, and one conservationist from Cambodia.
Three of the five mornings were occupied with field visits to heritage, cultural and natural wildlife sites in and around Luang Prabang, such as the Ock Pop Tok Traditional Arts and Ethnology Centre, Living Crafts Centre, Vat (temple) Xieng Thong, a Pottery House, a buffalo dairy, Butterfly Park and local village, jungle park and, of course, the Mekong river. That exposed them to Lao entrepreneurs in the fields of ethnic textiles, ethical wildlife conservation areas and environmentally friendly adventure tours. The visits certainly provided valuable feedstock for the brainstorming sessions, as follows: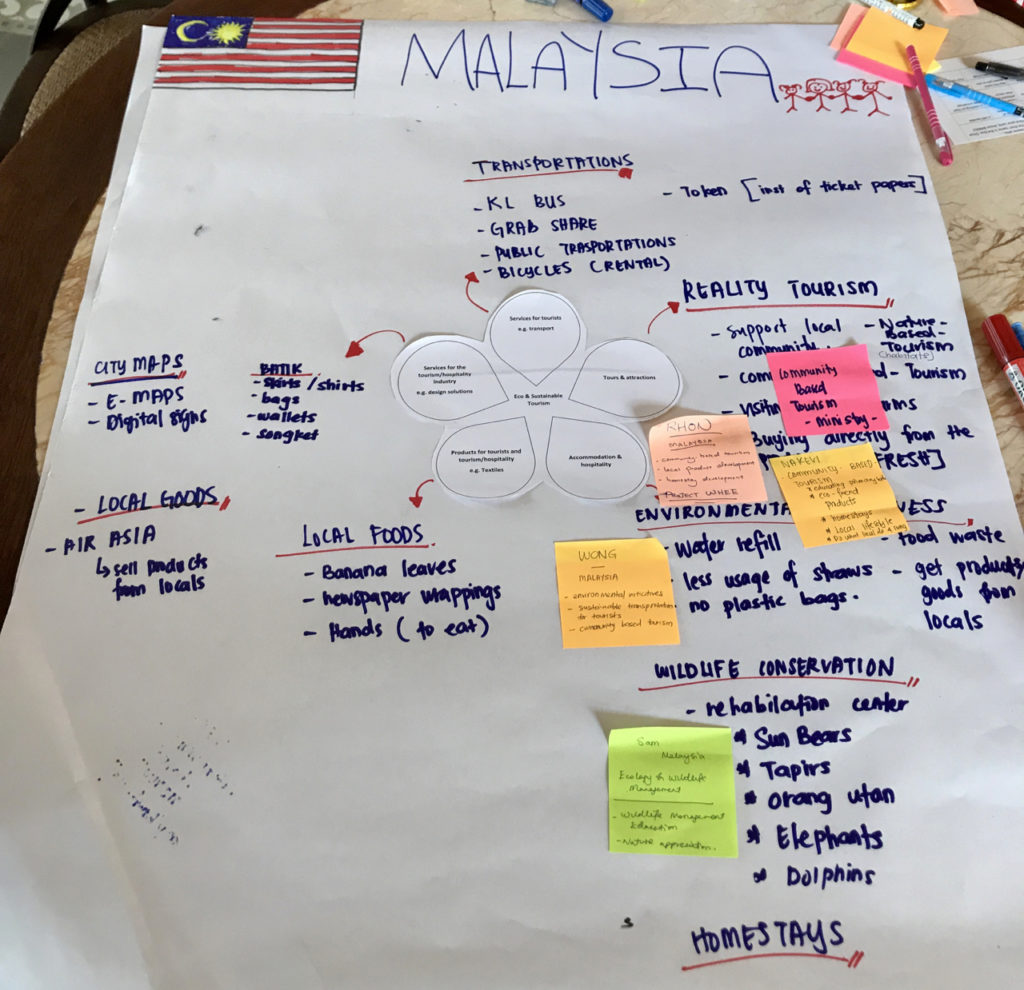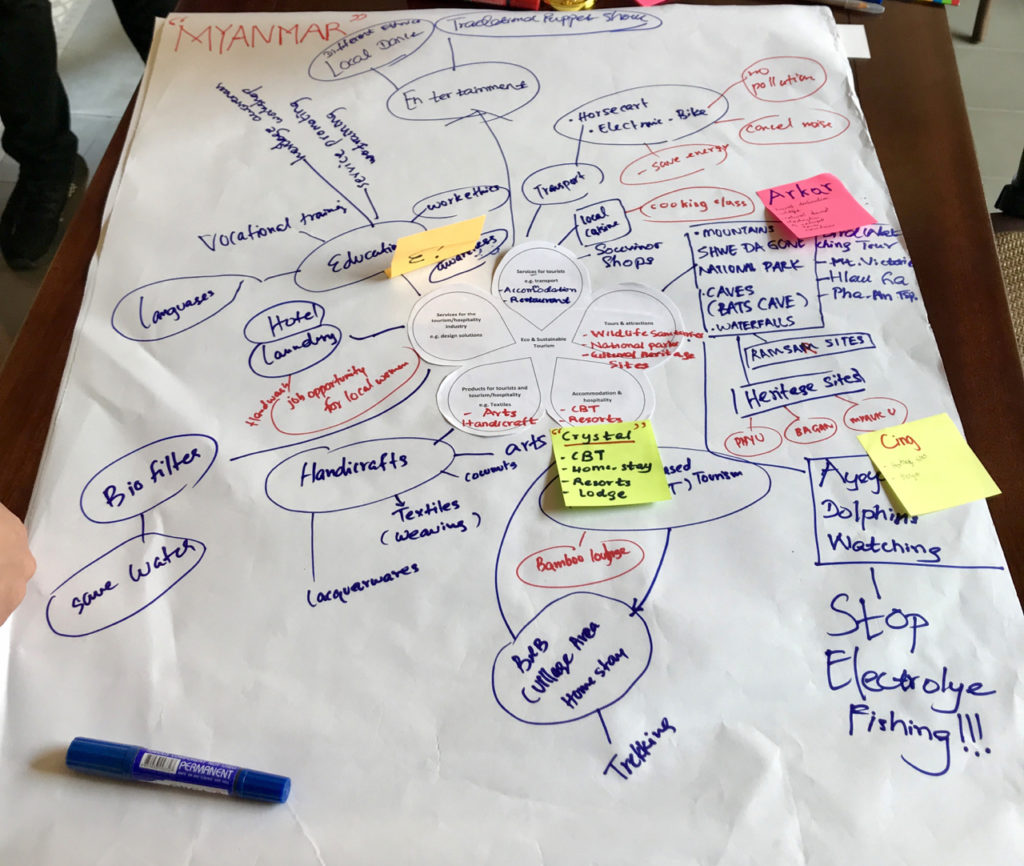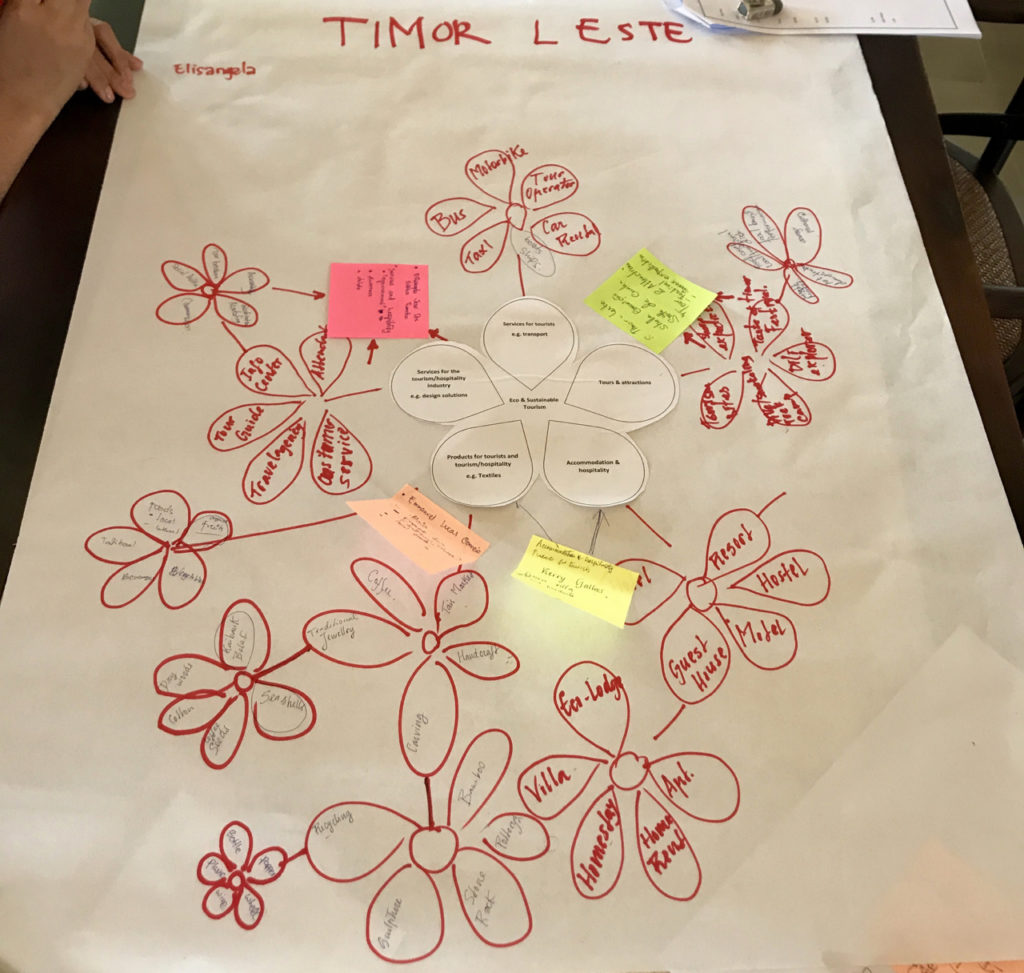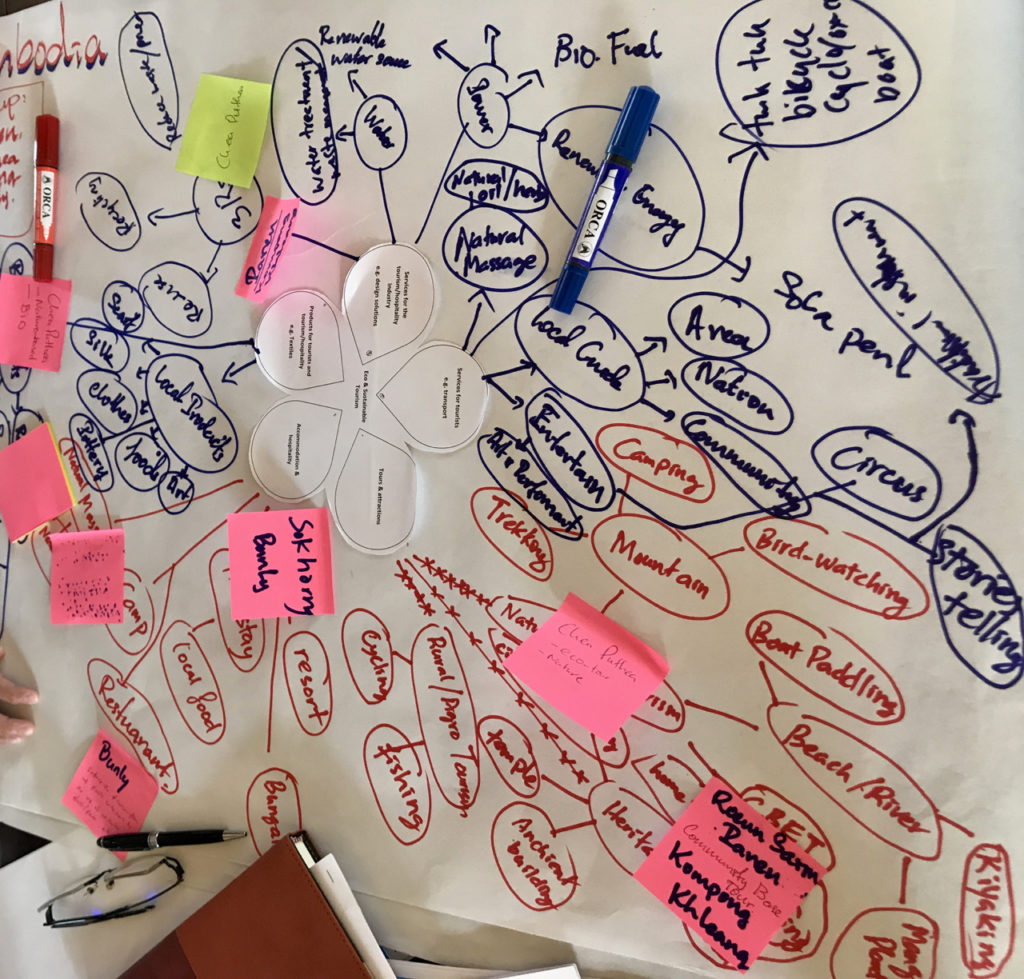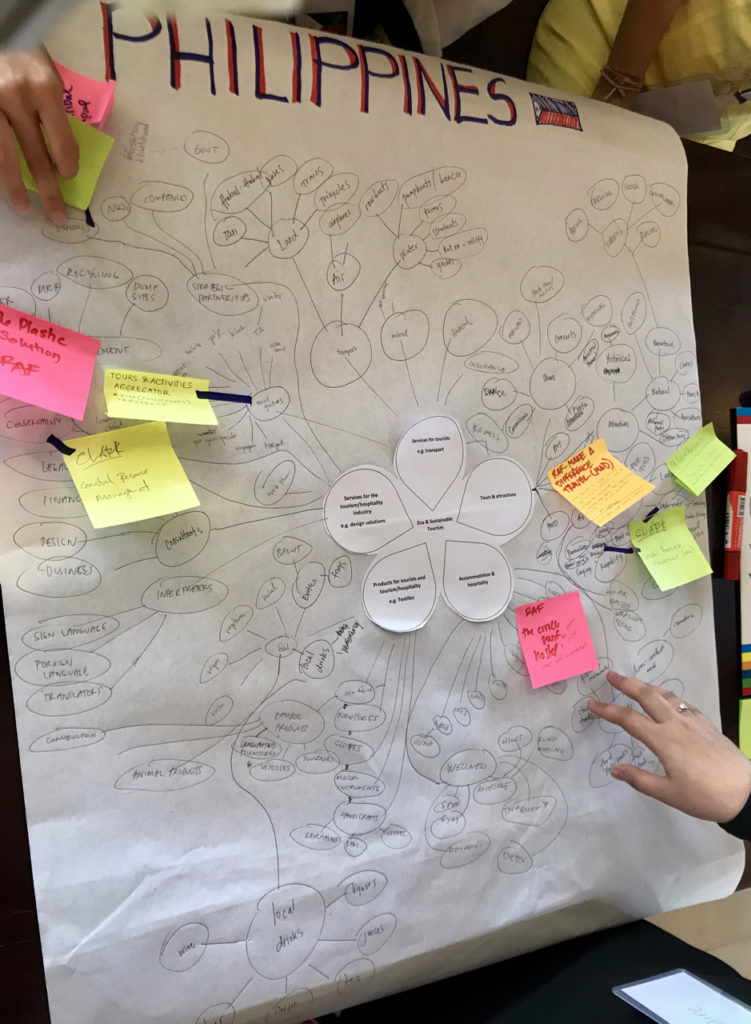 The discussions were held within the broader context of shared challenges across ASEAN and Timor Leste. Tourism is surging globally, but against a precarious backdrop of ageing populations, lifestyle pressures, technological upheavals, slow disappearance of local communities, cultures, habitats, ways of life, indigenous wisdom, languages and traditions. Low agricultural products prices are leading farming communities to abandon their lands. In several countries, deforestation is continuing unabated, thanks to concessions being given to oil plantation and logging companies.
Eco & Sustainable Tourism is seen as a partial answer to help rural communities safeguard their ancestral lands and preserve their languages, cultures and traditions. However, as the lure of fresh air and Mother Nature draws millions of city-slickers out of their concrete-jungle traps, the corollary side-effect is more garbage and waste in the host destinations. Of the 11 final pitch presentations made at the workshop, six dealt with this challenge.
One of the speakers, Gregorio Rojas, a Colombian who runs an elephant conservation centre in Laos, set the ball rolling by noting that while the U.S. has 4% of the world's population, it generates 17% of the world's trash. Another stark statistic was highlighted by the Singaporeans: Hotels are estimated to be generating four kilos of garbage per room per day, putting their land-scarce island nation under massive garbage disposal pressure.
The Cambodian young leader said that Phnom Penh has roughly 300 baristas, all serving coffee in plastic containers. If each serves 100 customers a day, that is 30,000 containers. Per month, multiplied by 30, that would be 900,000 containers, or a monstrous 10.8 million annually. Local citizenry is also part of the problem. The Timor-Leste young leader showed several pictures of piles of roadside trash strewn in a country of just over one million people.
Having identified the problem, they also came up with solutions.
The Laotian young leader cited the rapidly emerging tourist destination of Vang Vieng where a campaign is under way to get both tourists and shopowners to replace all plastic from bags to coffee containers with natural, biodegradable products using banana leaves, straw and bamboos. Ditto with the Cambodian young leader who is campaigning to replace the plastic coffee containers with glass.
The Thai young leader is part of a group www.pakdone.org which sells inexpensive composting units to households to cut waste. The Timorese young leader highlighted a Rescue My City initiative to make simple trash cans from used plastic and wood, and encourage people to use refillable water bottles rather than buy the plastic ones. Singaporean young leaders, too, are campaigning to get hotels to halve their waste output.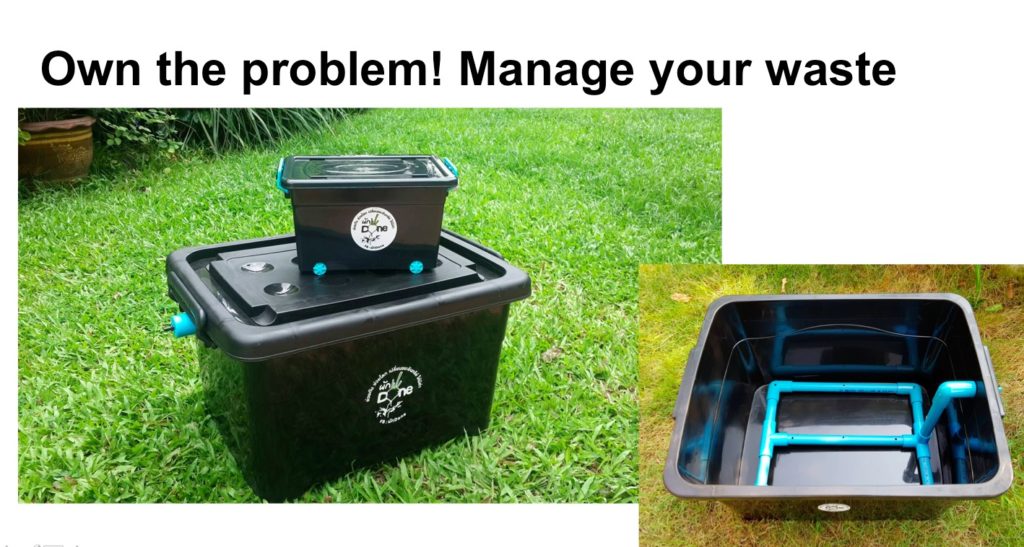 The other presentations were different, but unique in their own ways. The Bruneians pitched a project to inculcate greater awareness of marine life amongst children. The Indonesian project focussed on using ecotourism to uplift the livelihoods of fishing communities in Northern Bali, which gets barely any visitors compared to the popular beaches to the south. The Malaysian and Myanmar projects cited the potential use of ecotourism to promote local communities. The Philippines project promoted tours on bikes made of bamboos.
The winner from Vietnam, however, reflected the traditional industry mindset – an app called EcoHub to link eco-travellers to eco-initiatives. As it usually does, the marketing idea won out over the management.
The workshop field visits also shone a light on the host city of Luang Prabang. Two of the local speakers flagged the indigenous activities under way in the Heritage City. Mr. Ken Phistapheng spent five years as a Buddhist novice and now heads a successful organic produce farm. Ms. Tara Gujadhur, a 15-year resident of Luang Prabang, runs the Ock Pop Tok Traditional Arts and Ethnology Centre, Laos' only independent museum and handicrafts organisation. Another two presentations by Ms. Dominique La Roux and Mr. Ketsada Koulabouth focussed on branding and social media, especially the robust eyeball-attracting use of Facebook by the U.S. embassy in Vientiane. The Cambodian speaker was Ms Sao Sotheary, a policy manager at the Wildlife Conservation Society.
Getting somewhat less attention than it deserved was the marketing vs management crossroads at which Luang Prabang itself stands today.
From the hilltop Luang Prabang View Hotel, which hosted a dinner, the young leaders saw the expanding borders of a city now big enough to have its own sports stadium with a seating capacity of at least 5,000.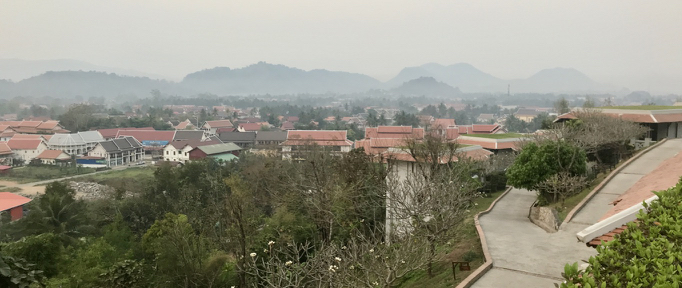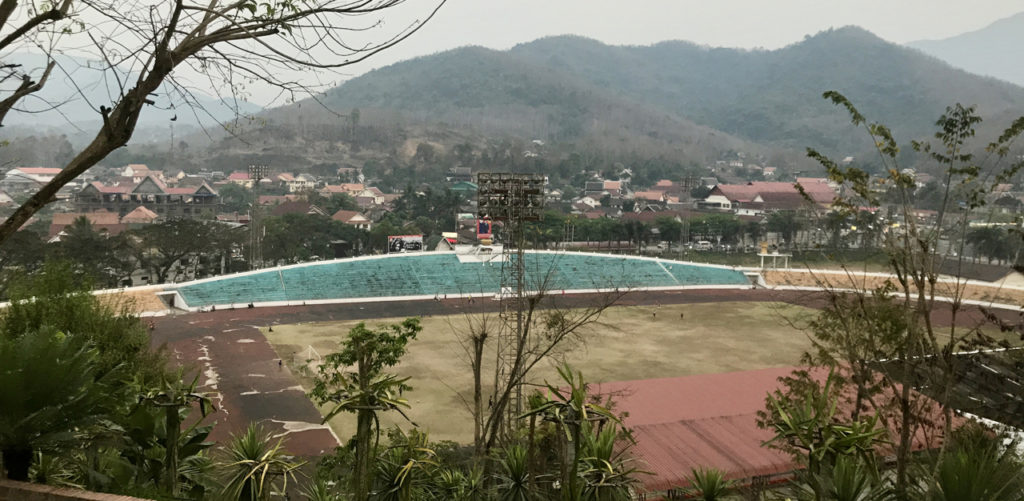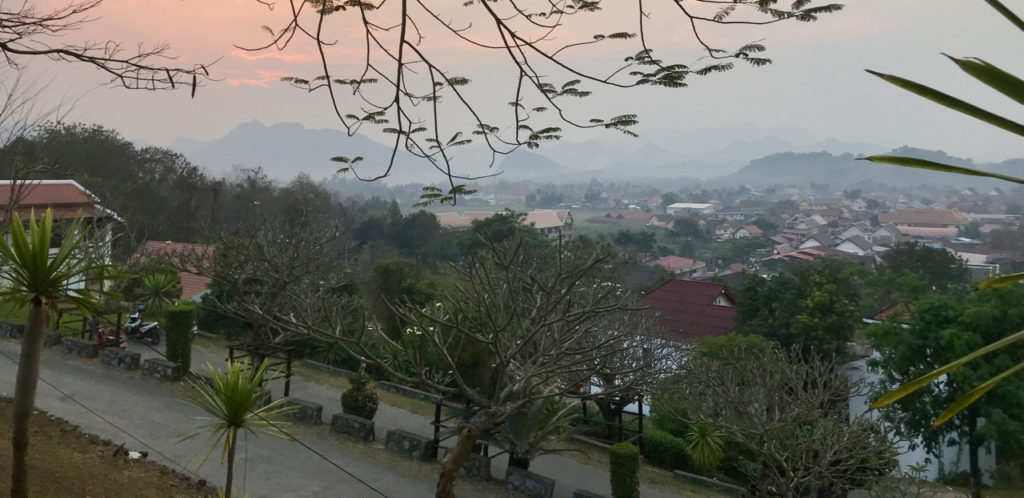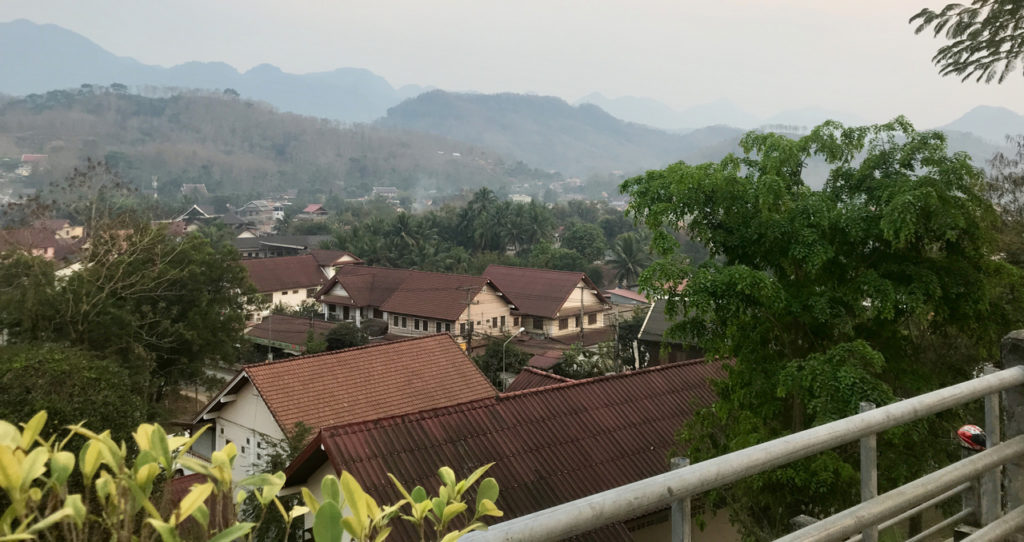 Luang Prabang is the new El Dorado, attracting thousands of job-seekers. As the population grows, so too does the demand for housing, schooling, health, transportation and recreational facilities. All this puts pressure on municipal services and the environment, leading to a Jekyll and Hyde split personality in the look-and-feel quality of the town.
This was more than apparent in the Le Bel Air hotel, where the workshop was held. The hotel grounds are well-landscaped and maintained. Immediately outside, the road is full of motorcycles and ramshackle, unkempt local businesses that do not reflect the ambiance of a Heritage City. As there are no carrying capacity curbs, the river-bank is dotted with hotels, restaurants and shacks, all hurting the environment to varying degrees. Meanwhile, urban expansion continues. It is only a matter of time before the first shopping mall pops up.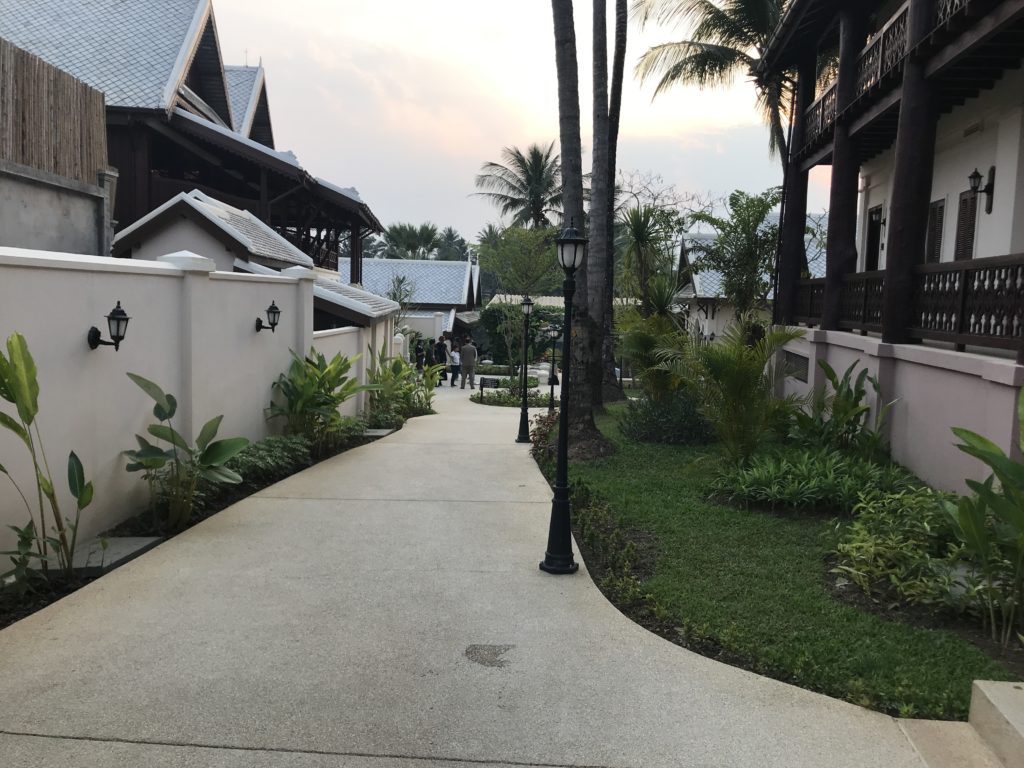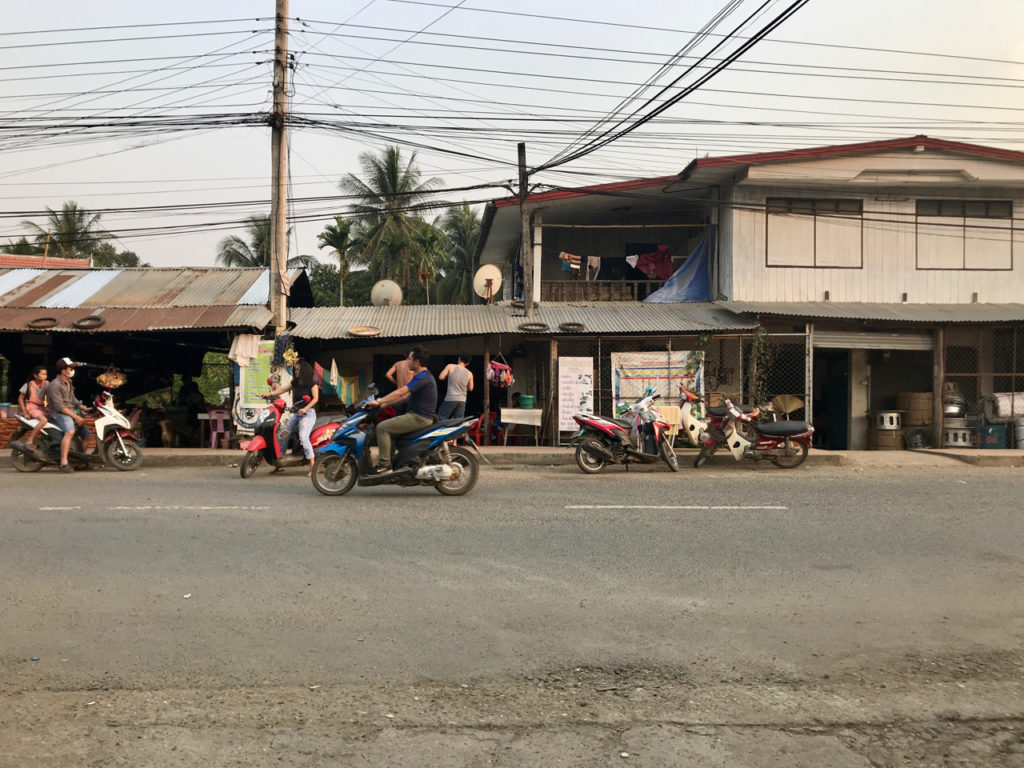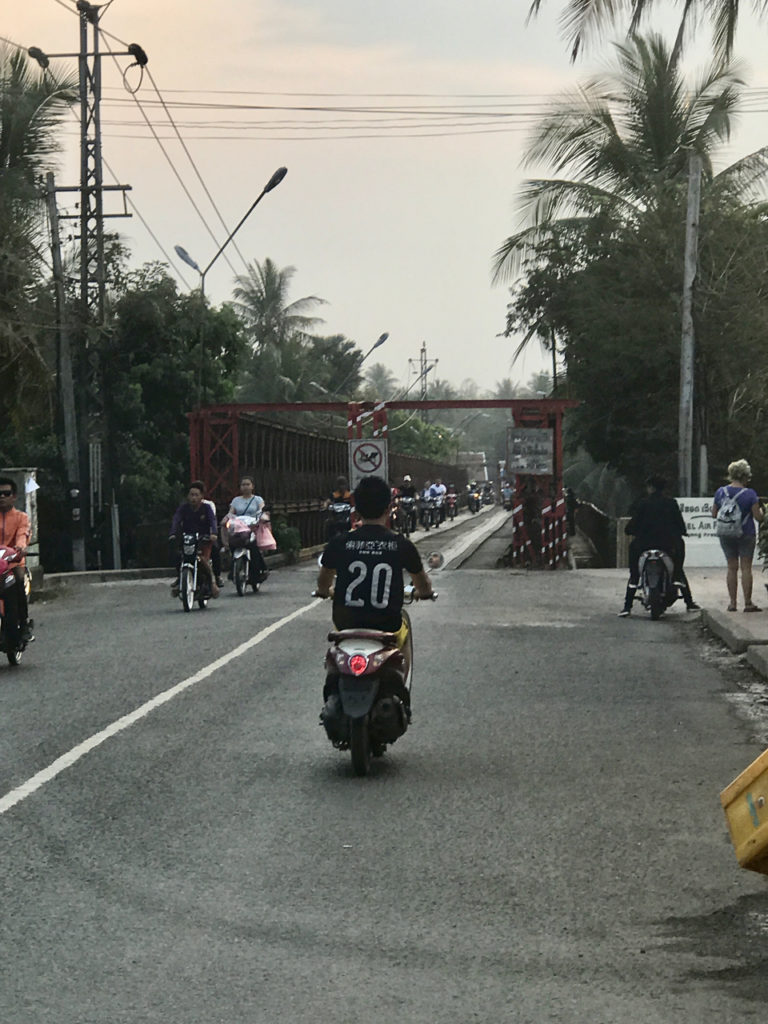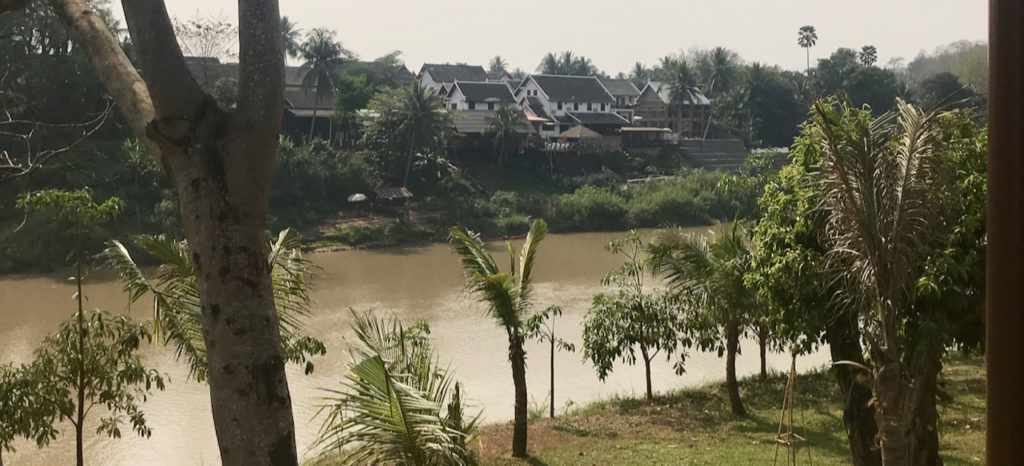 It is the story of life all around Asia – no shortage of forums, conferences and workshops on Sustainable Tourism, but no serious attempt to learn from past mistakes. History just repeating itself in destination after destination.
Two important history-lesson contributions came from the two journalists – Joe Cummings and myself. Neither of us had a PowerPoint – we spoke from the heart and delivered some very pointed messages.
Delivering the keynote address, Mr. Cummings said he would like to call it "Architecture vs Nature". He decried the flawed room designs of hotels located on beaches and other pristine areas. Instead of designing them in ways by which guests can get some fresh air and listen to the sounds of waves, birds and crickets, even for a few hours a day, architects seal off the rooms with air-conditioning. The smaller, cheaper guest-houses in turn don't put netting screens so the rooms are swarming with mosquitoes and insects.
Mr. Cummings asked, "So how is it that resorts built in the tropics typically use designs that don't take the best advantage of the climate and geography? You might think architects would have plenty of experience designing proper resorts in the tropical belt, since it covers the biggest landmass in the world, including large areas of Southeast Asia, India, Africa and parts of North and South America. I'm guessing it is because most architects working anywhere in the world were trained at universities dominated by European architectural vision. As a result, most architecture in the tropics today comprise adulterated transplants from temperate countries, justified in the name of "International Style."
In turn, my talk complemented Mr. Cummings' criticism of flawed designs at the micro-level by citing the flawed designs at the macro level. The entire build-first, fix-later business model on which tourism has been designed, developed and marketed needs to be jettisoned. While a lot of the development has gone past the point of no return, I urged the young leaders to put the UN Sustainable Development Goals at the core of their future tourism plans and strategies. I was thrilled to see my words and mentoring being picked up by nearly all the young leaders, and prominently featured in their pitch presentations, as can be seen below.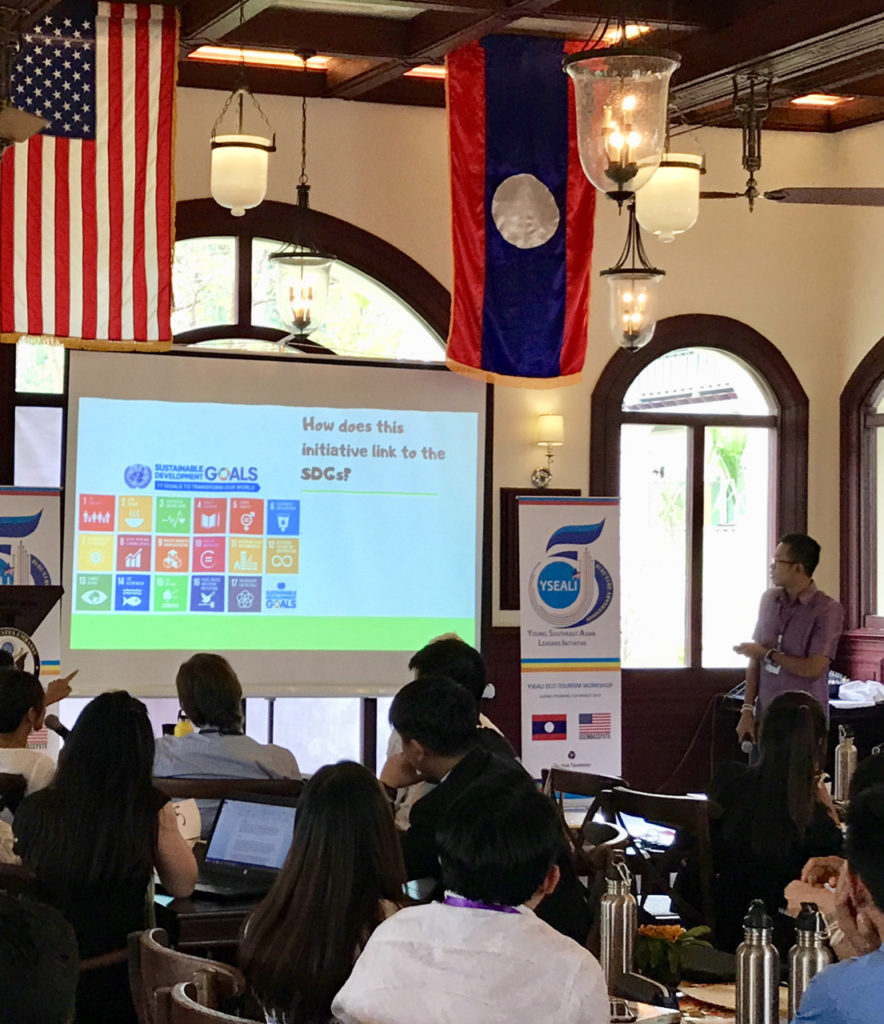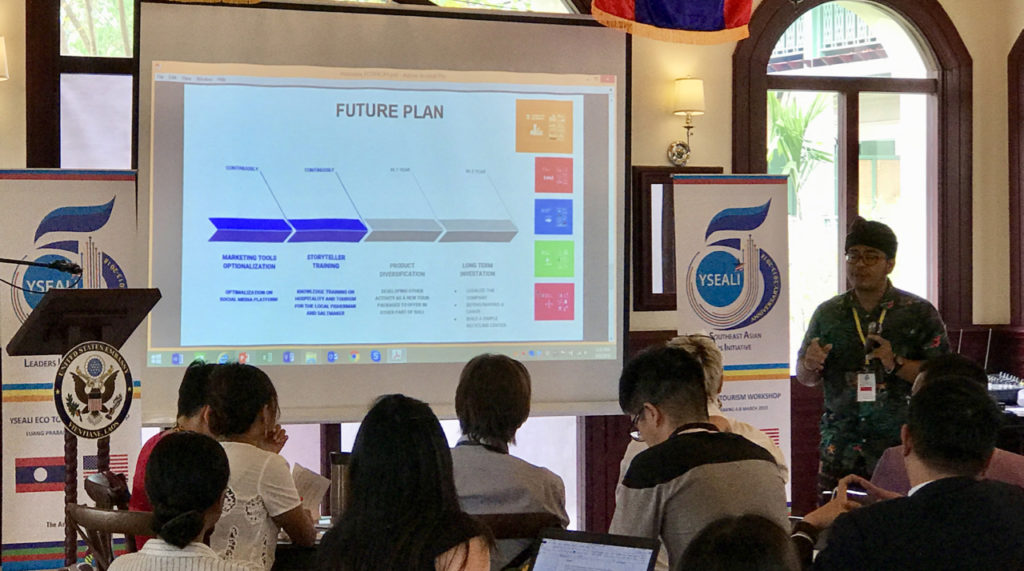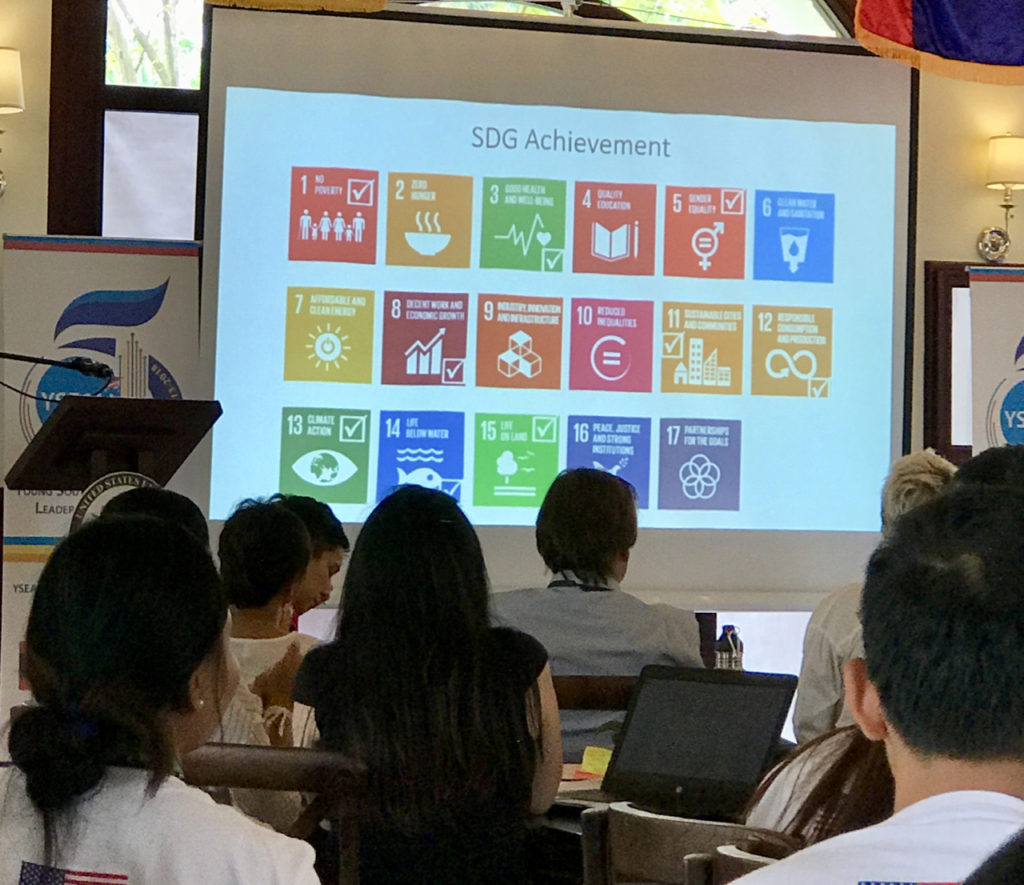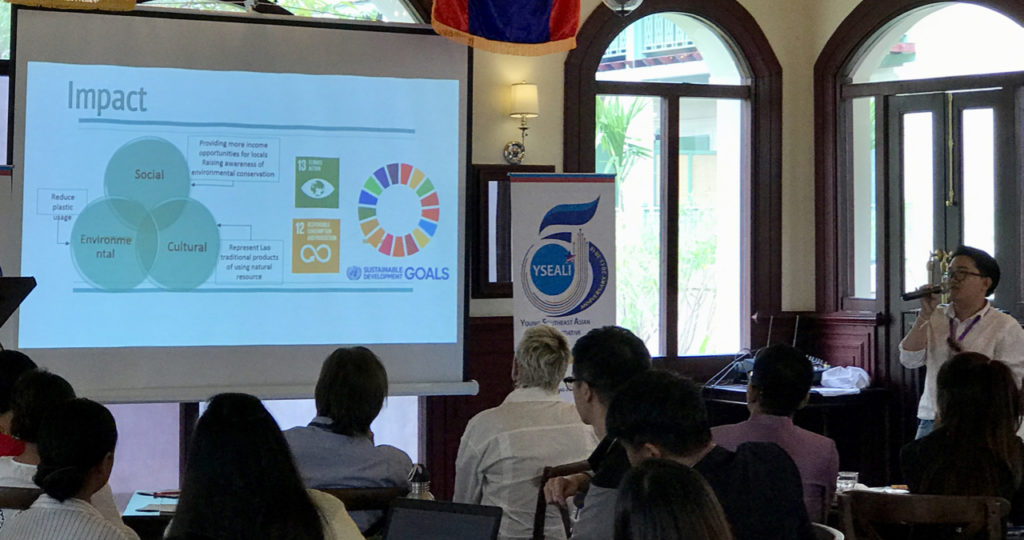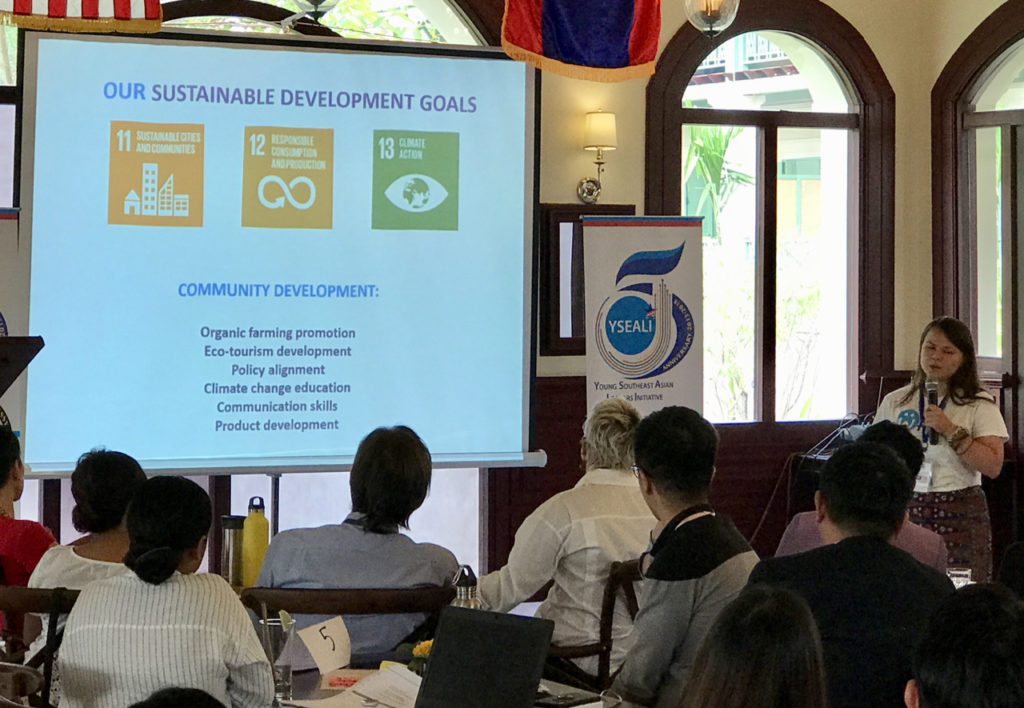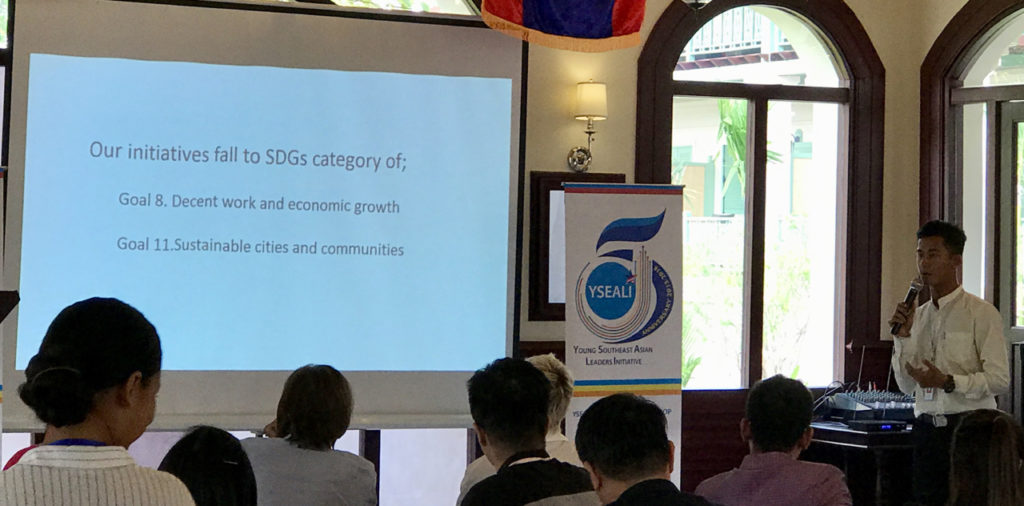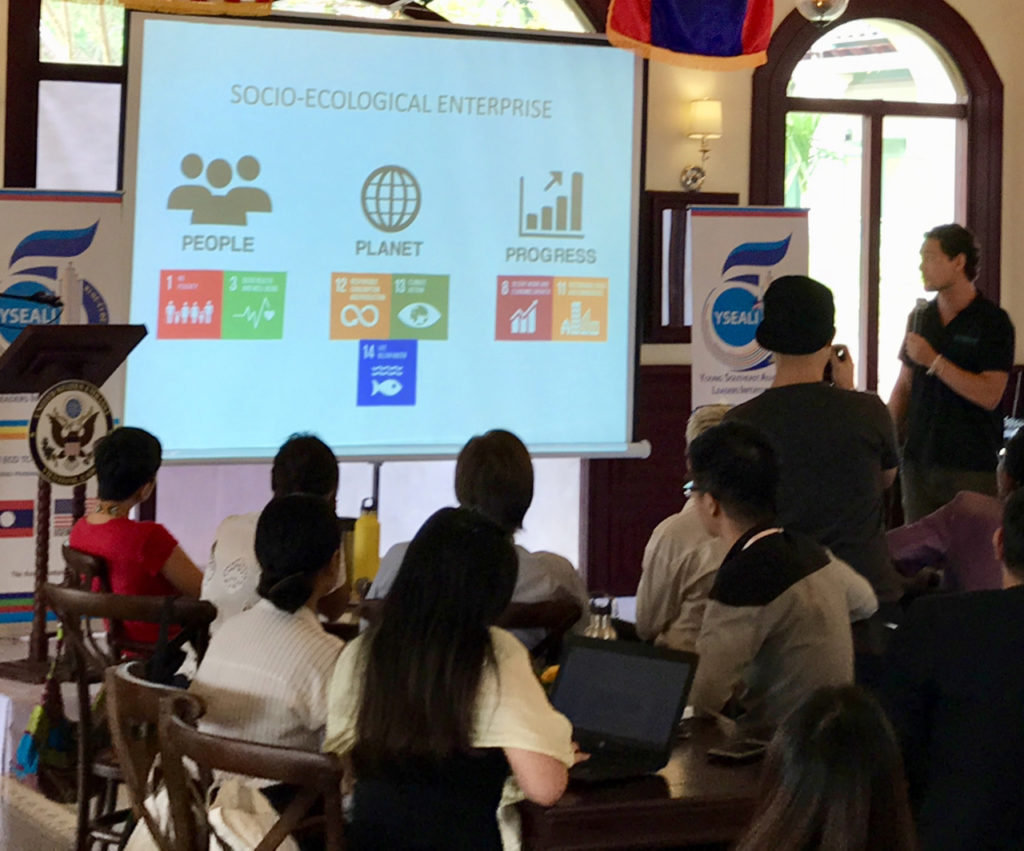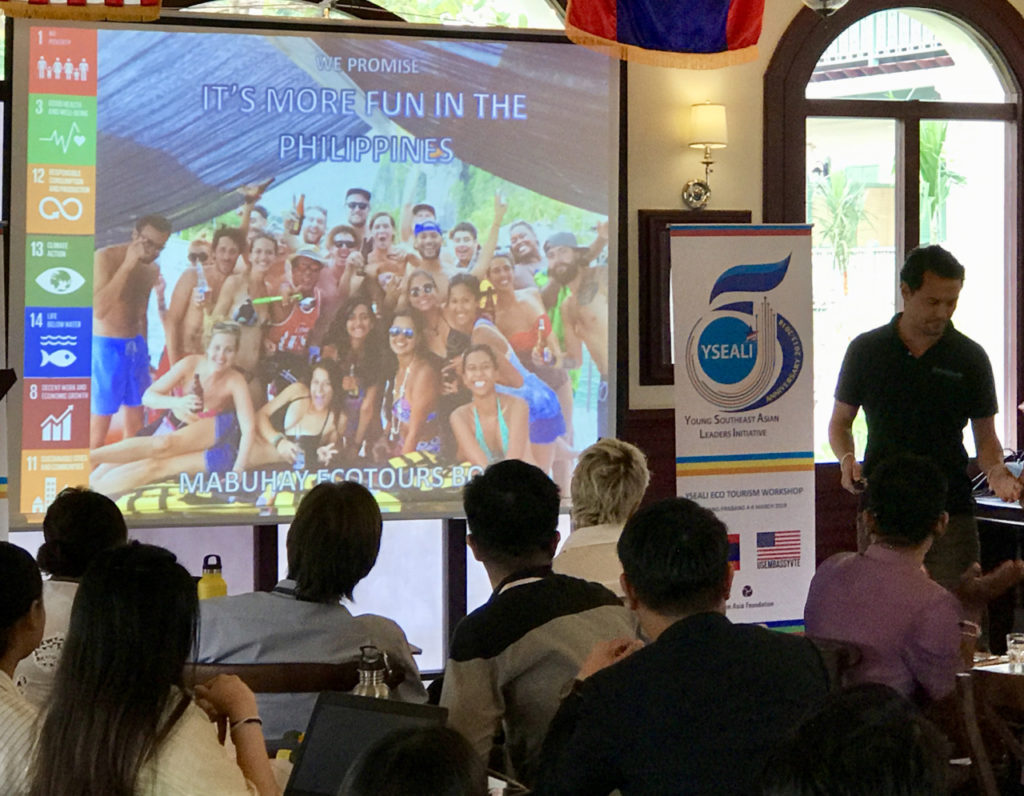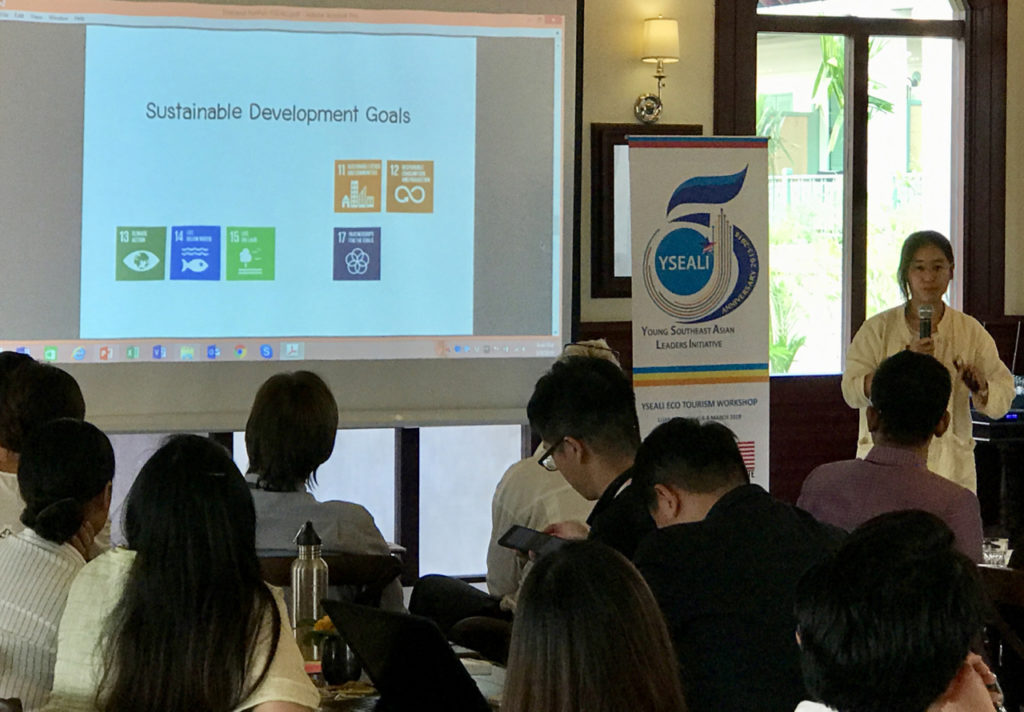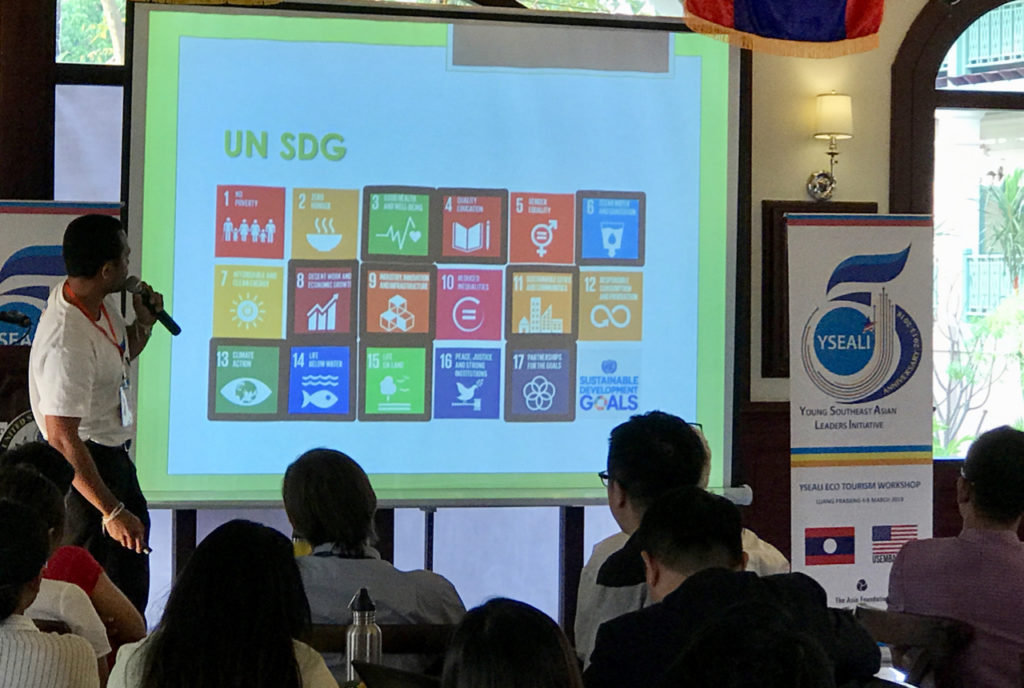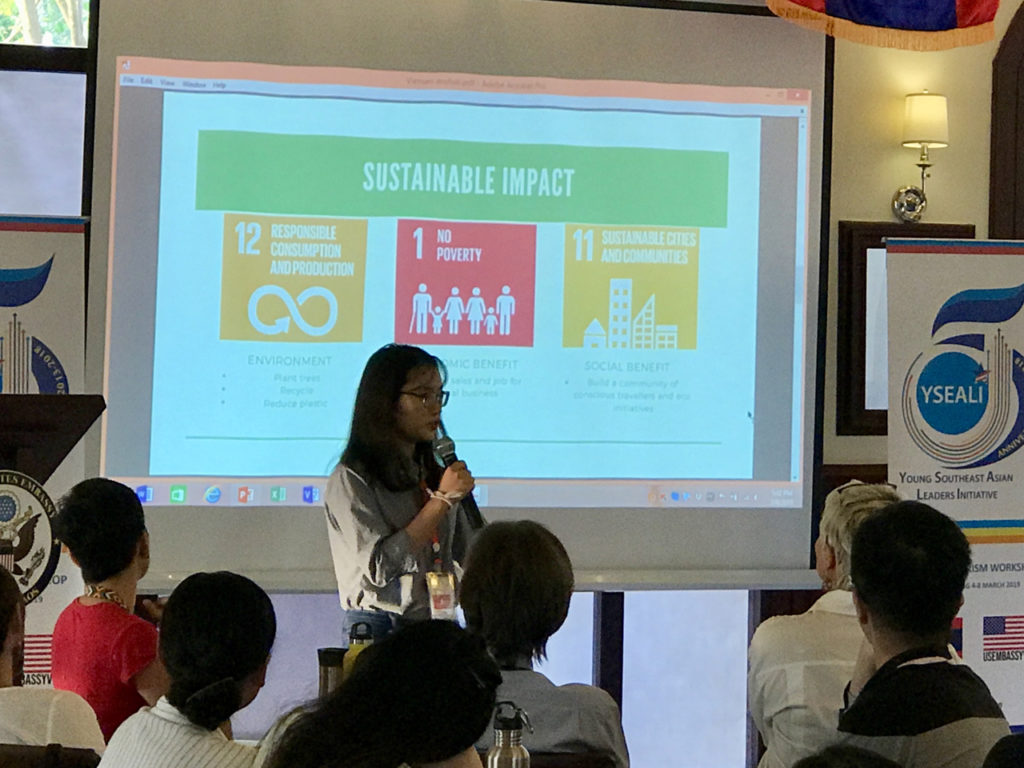 All in all, the young leaders left for home on a high note, with new friendships and relationships, and lots to think about. The beauty of the workshop was that the words "competitive advantage" were never mentioned once. It's all about cooperation and collaboration in pursuit of a common cause. While their politicians, business leaders and bureaucrats back home battle it out over parochial issues, these young leaders have got more important issues on the agenda – trying to fix the mess they are about to inherit from the current baby-boomer generation. There's a long way to go, and the YSEALI workshop was certainly an important one step forward.