23 May, 2018
Gangneung, Gangwon Province, South Korea – Delivering a powerful message to the global travel industry, former UN Secretary-General Ban Ki-Moon told delegates at the PATA annual summit here on January 18 that the world needs "global leaders" and "global citizens" to "stem the alarming rise in racism and xenophobia."
In his keynote address, Mr. Ban hailed travel & tourism as an "important vehicle for cultural and mutual understanding, peace, reconciliation, tolerance and mutual respect, which is extremely relevant today as we work to stem the alarming rise in racism and xenophobia worldwide."
He saluted the delicate détente process initiated by the leaders of North and South Korea and the important role travel and tourism could play "in providing an opportunity for prosperity and peace, not just on the peninsula, but around the world."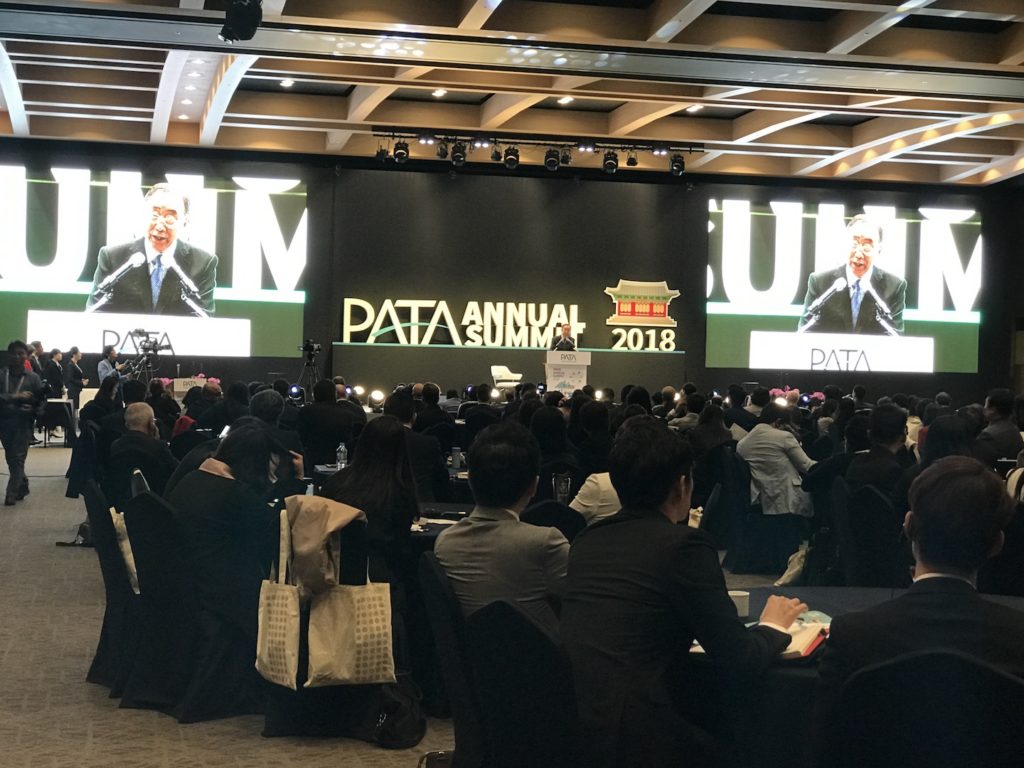 Mr. Ban's presence at the PATA summit was made possible by Dr. Mario Hardy, the PATA CEO, who proposed the idea after meeting Mr. Ban last year, and Madame Young-shim Dho, Chairperson of the UNWTO's Sustainable Tourism for Eliminating Poverty (ST-EP) Foundation, who processed it through the internal channels.
Mr. Ban's biodata circulated by PATA stressed his role in advancing the cause of the UN Sustainable Development Goals, combatting climate change, promoting gender equality and several other global initiatives on the UN agenda during his term from January 2007 to December 2016. In view of the North-South Korean rapprochement, he turned out to be the right keynote speaker at the right time.
Mr. Ban began his speech by deviating from his prepared remarks. He said the Korean peace process had generated "strong motivation and passion" amongst both (North and South) Koreans. "It is in the hands of all the world's people to seek reconciliation, stability and security on the Korean peninsula. Once the border line is gone, you can imagine how much rush tourism can happen, especially in the northern part."
While his prepared remarks were more politically correct, he reinforced them with some powerful, less diplomatic messages in the post-speech interview with BBC World News presenter Sharanjit Leyle
In his prepared speech, he said, "During my ten years at the UN, I witnessed how interconnected we are, and saw the great potential and positive benefits of being open to new ideas, people and cultures, as the well as the power of extending an open hand and building bridges. When we work together in unison, the opportunities are endless."
He said that the historic summit between the leaders of North and South Korea was a perfect example of this interconnectivity.
"With a pledge for greater communication between the two leaders, there is now greater hope for millions of Koreans for a unified, nuclear-free Korea. Travel and tourism can play an important role in providing an opportunity for prosperity and peace, not just on the peninsula, but around the world.
"I would also like to say, as a personal citizen of the Republic of Korea, thank you for coming to Korea during a year of great accomplishments and change, from hosting the highly successful 2018 Winter Olympics and Paralympic games to the recent historic Inter-Korean Summit, you are witnessing a new sense of hope for a better future. Take this opportunity to explore and experience Korea, its culture, its beauty, it people and its food."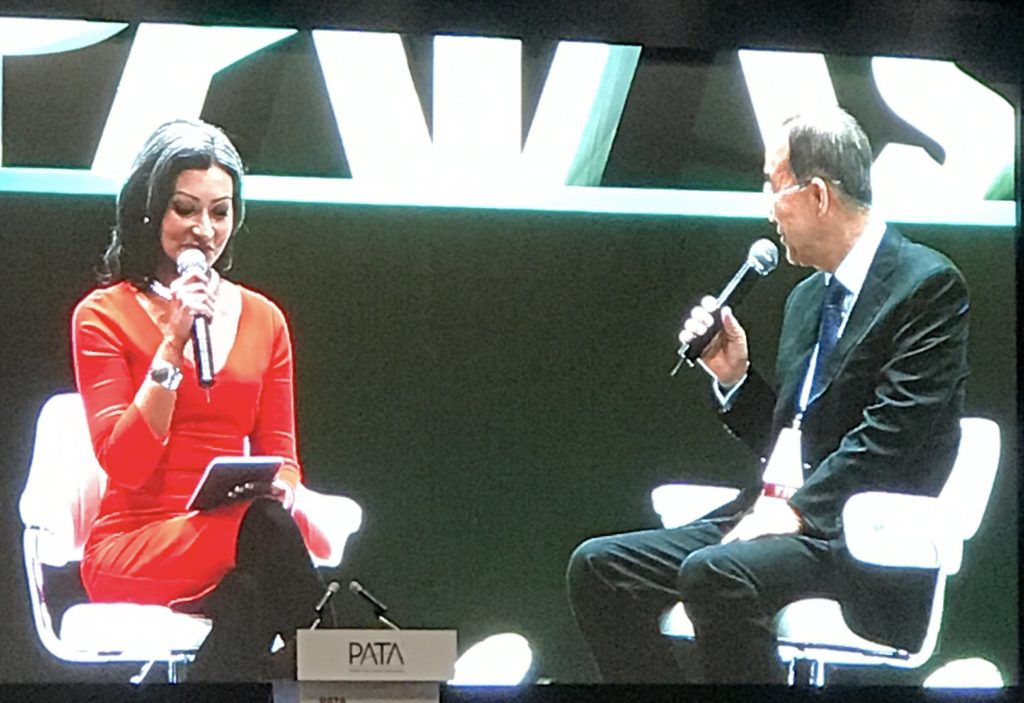 Interviewed after the formal speech, Mr. Ban was asked what his greatest disappointment was during his 10-year tenure. Now that he is longer the UN Secretary-General, he answered that question unfettered by the constraints of diplomatic niceties. His greatest disappointment, he said, was national leaders who deliver lofty speeches at the UN and then go back home to deliver nothing.
He said, "My disappointment is that the world leaders do not act as leaders (gets a round of applause). Many leaders come to the United Nations. When they meet in international conferences, they always talk big as if they are going to solve the problems of the world. 'I will do this for humanity. This is a promise for humanity, for the world.' When they fly out of JFK airport, they become national leaders. It is very difficult at this time to find global leaders, not national leaders."
He said he understood that the two are inter-related, and that leaders have to cater to their local electorates.
"Votes may be important. They have to work for their own people. (But) in a broader sense they have to act as global leaders. That is what is most required, a global citizenship (to combat) all this increasing isolationalism, terrorism, nationalism. I also want leaders to please preach peace, build bridges."
Mr. Ban also saluted the role of tourism as "a force for good."
He said, "North Korea would have changed long time ago if it had open borders. That is the genuine power of tourism. It's not just sightseeing, (but) appreciating culture, heritage, much more broader issues. You can be part of a global citizenry. If the Koreans can travel to each other's country, that's a way of changing societies."
Noting that the first steps towards North-South rapprochement had been taken during the Winter Olympics, he said, "that's why I have been working with many people in the sports committees. Sports and tourism go together. Let's hope for the best. This PATA conference can play a role."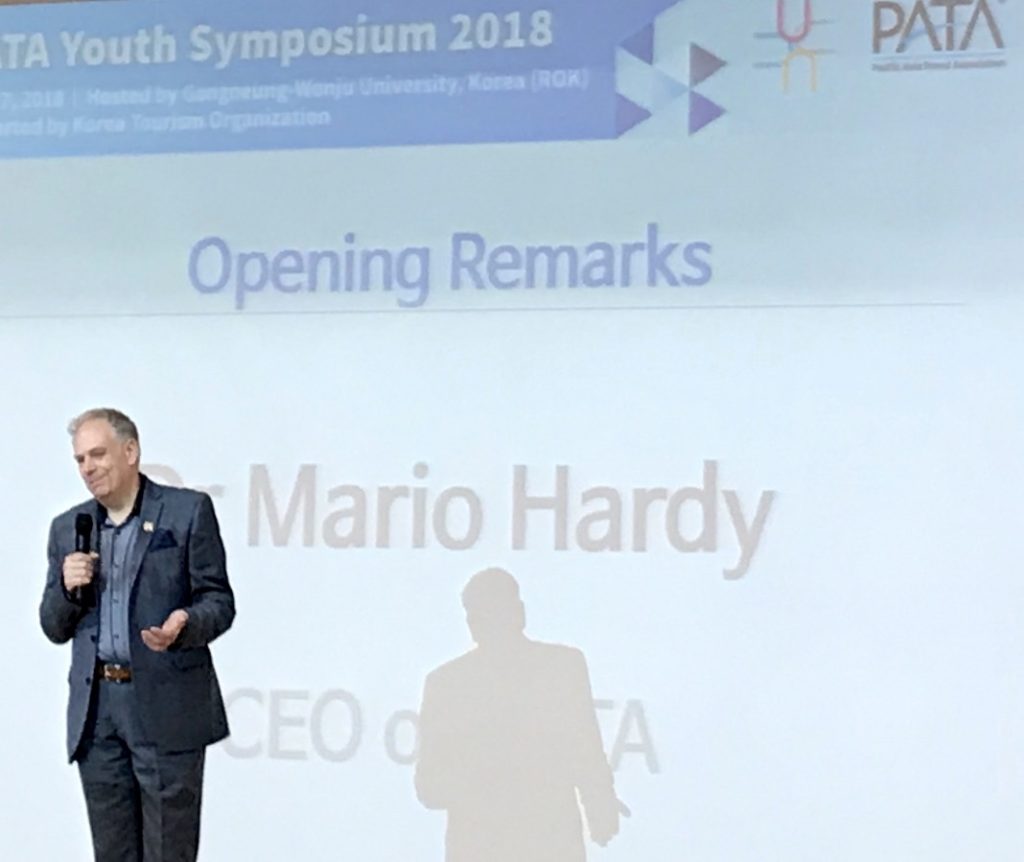 Earlier, in his very first remarks at the PATA Youth Symposium on the opening day, PATA CEO Mr. Mario Hardy told the gathering of students, "This is a very unique time. We all have dreams and hopes that June 12 (Singapore summit between the North Korean leader Kim Jong Un and U.S. President Donald Trump) will happen and that things will move in the right direction. The opportunities for tourism between South and North Korea are enormous. The north has been closed for many decades and that relations may be difficult in the beginning. It may be useful to you hear your views about how things might improve."
Former UNWTO Secretary-General Taleb Rifai urged delegates to take a look outside the window and see how Korea itself has changed in just a few decades since emerging from the ravages of war and being dependent on foreign aid. He said that although daily new bulletins may convey a picture of an "incredibly confused and uncertain world that is falling apart," increased communications and globalisation have in fact made the world a better place, as evidenced by the fact that people are travelling in record numbers, creating unprecedented levels of jobs and economic growth, and bringing people together like never before.
He added, "We can acknowledge the past, we cannot change it. We cannot predict the future, but we can shape it." He concluded with his long-standing refrain, that "it is the responsibility of this generation to leave behind a better world for the future generations.
Mr. Choi Moon-soon, Governor of Gangwon Province, who played a major role in preparing the province for the Winter Olympics, said that the peace process would help convert the area "from a zone of conflict to a zone of peace, from a place of hatred to a place of love."
In the press conference, Mr. Man Ho Chung, Vice Governor of Gangwon province, noted that both the North and South Korean teams participated in the Winter Olympics, making them a symbol of peace. It was definitely a historic occasion, he said, stressing that bilateral tourism could resume as inter-Korean relations improve, especially to some of the mountain areas where the Koreas share a joint heritage. In addition to the agreed plans to build two railway lines and other infrastructure, Mr. Man said talks were under way for a joint Korean presence at the Winter Asia Games in 2021.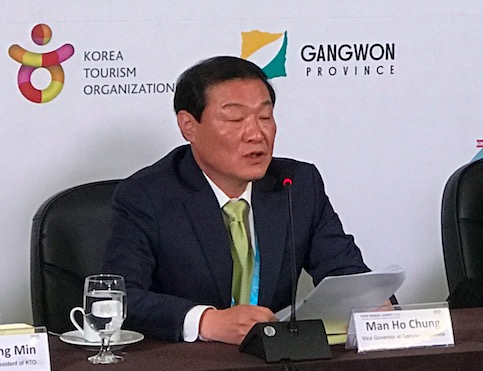 Prof Suk Jong Ham, Chief Professor of Tourism Management Dept, Gangneung-Wonju National University, which hosted the Youth Symposium, noted that many more inter-Korean meetings are planned to keep the peace process going. He said that if peace does transpire, "PATA will have many opportunities to establish and improve its presence in Northeast Asia, especially the Korean Peninsula."
Mr. Marcus Schuckert, Vice Chairperson, Human Capital Development Committee, PATA, and Assistant Professor in the School of Hotel and Tourism Management (SHTM), noted that he comes from Germany, a country which was also divided but has now been united. Having been privileged to travel through both South and North Korea, he said it will be interesting to see how the two countries come together.