3 Jan, 2018
Bravo to the Jakarta Administration and the Antara News Agency. Instead of running the usual hackneyed Press release announcing what a wonderful time thousands of revellers had on New Year's eve, the Indonesian national news agency Antara ran an interview with the head of the Environmental Affairs office of the Jakarta administration reporting that the revelry generated 780 tons of trash, up by 80 tons over the previous year's celebrations.
A quick check on Google found that Jakarta was the only ASEAN capital to make such an environmentally responsible revelation, fully in accordanc with the spirit and letter of the UN Sustainable Development Goals. The full text of the release follows: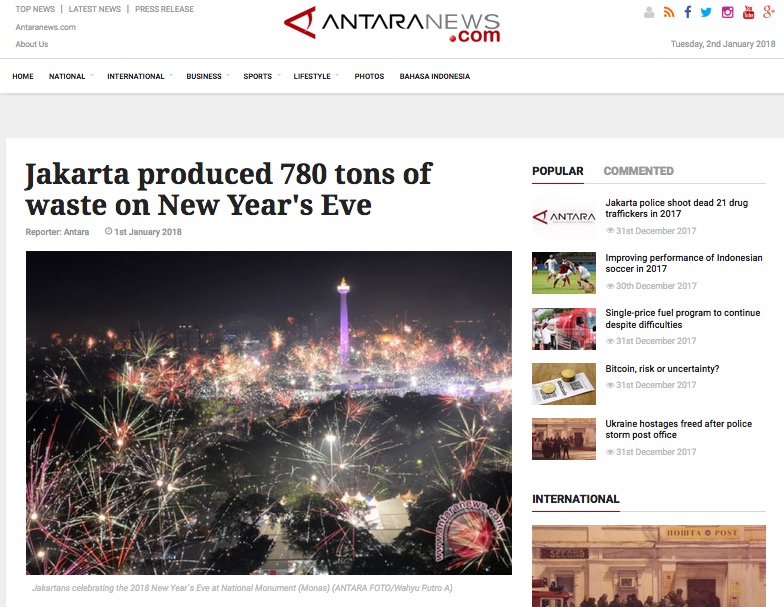 Jakarta (ANTARA News) 1st January 2018 – Jakartans celebrating the 2018 New Year`s Eve on Sunday evening produced a total of 780 tons of trash, an increase from 700 tons as compared to the 2017 New Year`s Eve.
"There is a slight increase as compared to that recorded last year, as this year, the Sudirman-Thamrin avenues were open, and the Ancol area was also open," Isnawa Adji, head of the Environmental Affairs office of the Jakarta administration, noted here, Monday.
Most of the trash comprised plastic bottles and bags as well as styrofoam, he remarked.
Some 10,000 plastic bags were distributed to street vendors and those celebrating the New Year`s Eve to prevent littering.
Jakarta Governor Anies Baswedan is keen that Jakartans play an active role in maintaining cleanliness in the capital city, he stated.
Jakartans flocked to the National Monument (Monas) area in Central Jakarta, Ancol area, and Lake Sunter area in North Jakarta, the Beautiful Indonesia in Miniature Park in East Jakarta, the Hotel Indonesia Circle in Central Jakarta, and Babakan Dam in South Jakarta for the New Year`s Eve celebrations.
Governor Baswedan was present in the Monas area and Deputy Governor Sandiaga Uno was in Ancol when the clock struck midnight.