2 May, 2017
Bangkok – Held under the lofty theme of "Transforming our World", the 17th annual summit of the World Travel & Tourism Council was designed to focus on "Travel & Tourism's power to transform economies, places and lives in line with the 2030 Agenda for Sustainable Development". If the two lead factors "Transforming our World" are ecological and geopolitical global warming, discussions at the summit made it clear that travel & tourism is far better prepared to deal with the former than the latter.
Roughly 75% of the summit's programme focussed on the threat of ecological global warming, aka sustainability. That, in any case, has been on travel & tourism agendas even before the WTTC was set up in 1991. Via inspiring speeches, personal stories, case studies and the Tourism for Tomorrow Awards, the WTTC Summit yielded a phenomenal roster of stories showing that an industry which survives on the Creations of God (aka Mother Nature) is doing more than its fair share to ensure their preservation and conservation.
Where the industry is falling well short, however, is in tackling "the other global warming." The WTTC Summit was the first to be held since the shock-horror Brexit vote and the election of Donald Trump as US President. Both anti-climax geopolitical events, framed within the broader context of the never-ending "War on Terror," gave new meaning to the theme, "Transforming our World." These storm clouds are here to stay. While ecological global warming is progressing at a slower pace, geopolitical global warming is having an immediate impact by disrupting the industry's primary objective: To facilitate safe, secure and seamless travel.
The Summit took some very small steps towards narrowing the level of serious attention being devoted to the two global warmings. But, in line with the words of Chinese philosopher Lao Tzu, "A journey of a thousand miles begins with a single step," the journey has begun.
WTTC President & CEO David Scowsill set the ball rolling in his opening speech: "Governments are calling into question some of the basic freedoms of people movement and trade, upon which all our businesses so depend. The fear engendered by dividing us into races or religions destroys the notion that each human being is unique. I believe wholeheartedly that closed borders lead to closed minds; that travel makes the world a better, more peaceful place, and that human encounters across cultures change us for the better. Travel is not for a privileged few. The world and its astonishing beauties are for everyone. We believe in the fundamental right of anyone to travel, regardless of their nationality, gender, religion, sexual orientation or age. Our sector must be accessible to all."
He added, "This sector plays a vital part in the global quest for a more equal, inclusive and sustainable world. For our sector to continue to thrive we must focus on three elements; people need to be able to travel; we need successful businesses; and we need responsible practices."
UK Prime Minister David Cameron, the lead keynote speaker, picked up on the theme with a speech that was almost entirely focussed on geopolitical global warming. His theme was "Altered States — Has Globalisation had its Day?" He sought to explain the rise of populism and the increasing call for protectionism, the challenges facing global diplomacy as power bases shift to emerging economies, migration, both voluntary and forced, economic growth and globalisation, and the role of governments and business in working towards a more sustainable future.
However, Mr. Cameron will go down in history as a leader who misread the sentiments of his own people and lost a referendum he had called to garner support to keep the UK in the European Union. He got that call wrong, and continued to get it wrong at the WTTC.
In a speech that cost the Thai taxpayer US$250,000 (or roughly US$10,000 a minute or US$166 a second), Mr. Cameron claimed that the "single biggest challenge" facing travel & tourism is the threat of "Islamist extremism". He spent six minutes focussing just on this collateral-damage consequence of geopolitical global warming, and called on the WTTC members to recognise the threat to the industry and support Islamic "moderates" against the "extremists."
His terminology drew a sharp rejoinder from UN Secretary-General Taleb Rifai. Having opened the summit before Mr. Cameron's keynote with another of his deeply reflective speeches about the role of travel & tourism as a conduit for making the world a better place, free of intolerance and prejudice, the first Muslim to hold the UNWTO's top job rebutted Mr. Cameron's claim, in response to a question by session moderator Nick Ross of the BBC.
Mr. Rifai said, "I hope that I am not misunderstood by anybody here. But anybody that (associates) the word terrorism with Islam, whether it's 'Islamist' or 'Islamism' is doing a disfavour to everybody. I know there is a president cross the Atlantic that uses this deliberately. I must say that I wish David Cameron was here to hear me as it is something he has to hear directly. I thought he did it as a slip of the tongue, but then when he explained it, he explained it in a way that made it clear to me that he means what he says. I know that he said at the end that it is not a clash of civilisations, and that it's not this, it's not that. But the very use of (these two words) in one sentence is a big insult to millions and millions of Muslims around the world."
Mr. Ross then challenged Mr. Rifai thus: "If he had said Irish terrorism, and that's shorthand for the IRA (Irish Republic Army) in its various forms….."
Mr. Rifai cut Mr. Ross off: "There is no Irish terrorism. There is no Irish terrorism. there is no Christian terrorism, there is no Muslim terrorism. There is terrorism. Terrorists are against everybody."
Appearing on the same panel, Mr. Scowsill backed Mr. Rifai. Noting that Trump Administration's travel ban has been blocked twice, he said not a single act of terrorism had been committed in the U.S. by citizens of the six Muslim countries included in the Trump travel ban. Compare that, he said, to the thousands of victims of gun violence in the U.S. He said, "The focus is wrong, but when something like that is put out, the impact on the whole industry is severe."
Asked why he was taking such an overtly political stand, Mr. Scowsill said that it's very difficult for the operating companies based in the North America as well as for the U.S. travel organisations to take a high profile stand because they have to deal with the Administration on a daily basis. "It's easier for us to do that, to talk the logic of any given situation and take a stand."
It was the first time that leaders of two of the apex global travel industry organisations had publicly flagged the dangers of geopolitical global warming at the same time. Both, unfortunately, are on their way out. Mr. Scowsill will be leaving his post in June 2017 and Mr. Rifai at the end of this year. Whether their principled stands survives them remains to be seen.
One reason why geopolitical global warming is hitting travel & tourism where it hurts is because the industry largely ignored the warning signs. This was flagged by Arne Sorensen, CEO of Marriott international. Citing what he called the "profound threat" posed to the future of globalisation, free travel and open borders, he said that the way to deal with them was not to ignore the voices but to listen to them and address the concerns.
Speaking on the topic of "Globalists in an Age of Nationalism," Mr. Sorensen sought to explain in just over six minutes why the world is experiencing a desire by many to turn inward and how to navigate this challenge. He was asked to specify what concrete steps can be taken "to reduce the likelihood that nationalism harms our industry and the power it represents to drive economic growth and employment."
Citing the various forces, broadly labeled as nationalists and populists which triggered the Brexit vote and the Trump election, Mr. Sorensen said, "The threats that come from this voice to our industry are as profound today as they have been for the last number of decades. So how do we respond? We don't respond adequately in my view by ignoring those voices. We have to listen to those voices and what they are telling us." He said there was a clear distinction between those who travel for migration and tourism, and called for a speedy implementation of a global trusted traveller programme.
The Summit missed an opportunity to hear more on this issue. Roger Dow, CEO, U.S. Travel Association, was listed on the programme to deliver a talk on "Building Bridges." He no-showed.
One CEO who showed how to build bridges was Tony Fernandes, Group CEO, AirAsia. His high flying airline took root in Malaysia, a Muslim-majority country. He signed the papers for AirAsia on 8 September 2001, just three days before 9/11. Since then, he said, the airline has been hit by every crisis known to mankind. In almost all instances, the response has been the opposite to what conventional wisdoms and "all the learned people" said should be done. After the Bali bombing in October 2002, many airlines cut flights as demand dropped. AirAsia did the opposite, announcing 5,000 free seats, because Mr. Fernandes said, "We're not going let the Balinese down." It worked, and facilitated a quick recovery as all the Malaysians who took advantage of the promotion went back and told thousands of people that Bali was fine.
Another speaker Mr. Gary Chapman, President, Group Services and dnata, Emriates Group, chided the Trump Administration's "slightly confused and at times not particularly logical, not well-thought through responses" to the challenges of airline safety and security, another collateral-damage consequence of geopolitical global warming. He cited the example of flights from Abu Dhabi to the U.S. and the security ban on laptops being carried on the aircraft even though all passengers have gone through pre-clearance. "The governments of the U.S. and U.K., they get a wealth of information from the airlines. They know everything about the passenger. So you are pre-clearing in Abu Dhabi. They are quite happy for you to get on the aircraft but they don't consider your laptop is safe to go with you. I don't understand that. Am I the only one that does not understand that. Where is this connecting up?"
In one of the most powerful comments of the entire summit, Mr. Chapman added each of these illogical actions means the terrorists win. "All the politicians keep saying the terrorists are not going to win this, we will not let them influence our way of life and behaviour. Well, that's bullshit because we are letting them do that big time. It's an issue, a big, big issue."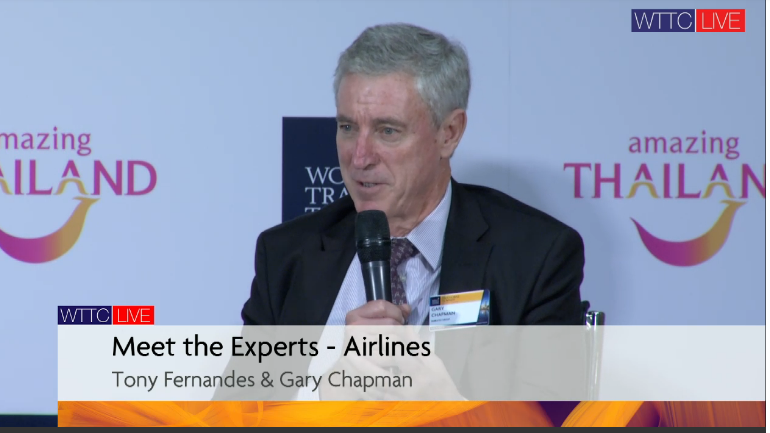 One technological fix that may inject some rationality into the response is that the impact of geopolitical global warming on travel & tourism can now be measured in real time. A Press conference by Forward Keys, the data intelligence gathering company, showed exactly how various destinations such as Paris, London, Istanbul and Brussels are affected when attacks take place, and even when there are other geopolitical tensions such as in the Korean peninsula.
Indeed, one startling statistic produced by the WTTC's own newly-launched statistical Sustainable Development Goals Dashboard said that the chances of a tourist being killed in a terrorist attack is 1.4 million to one, measured by 2015 figures. Moderator Nick Ross said there was a greater chance of a tourist being hit by lightning.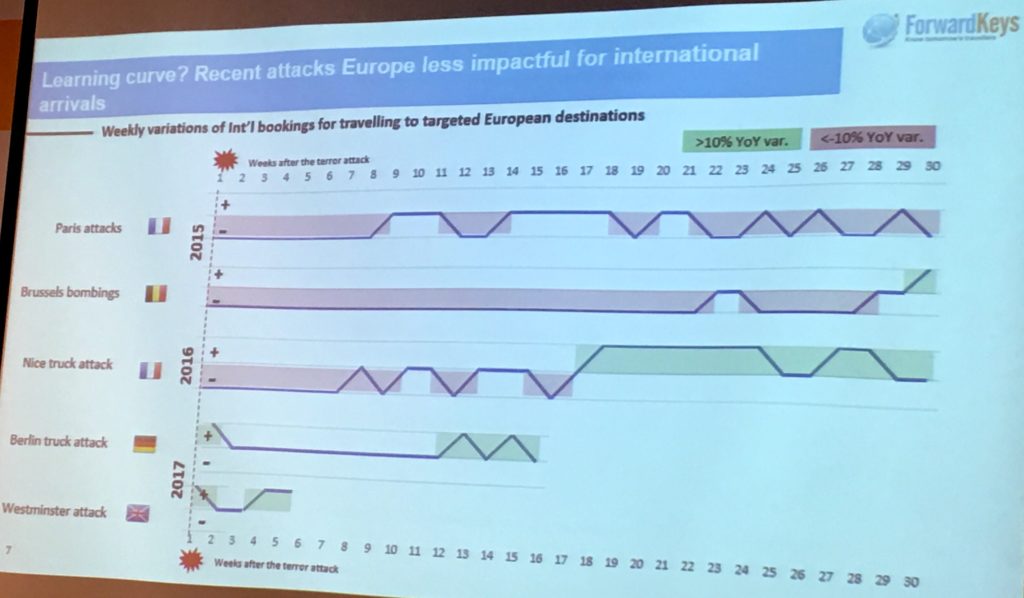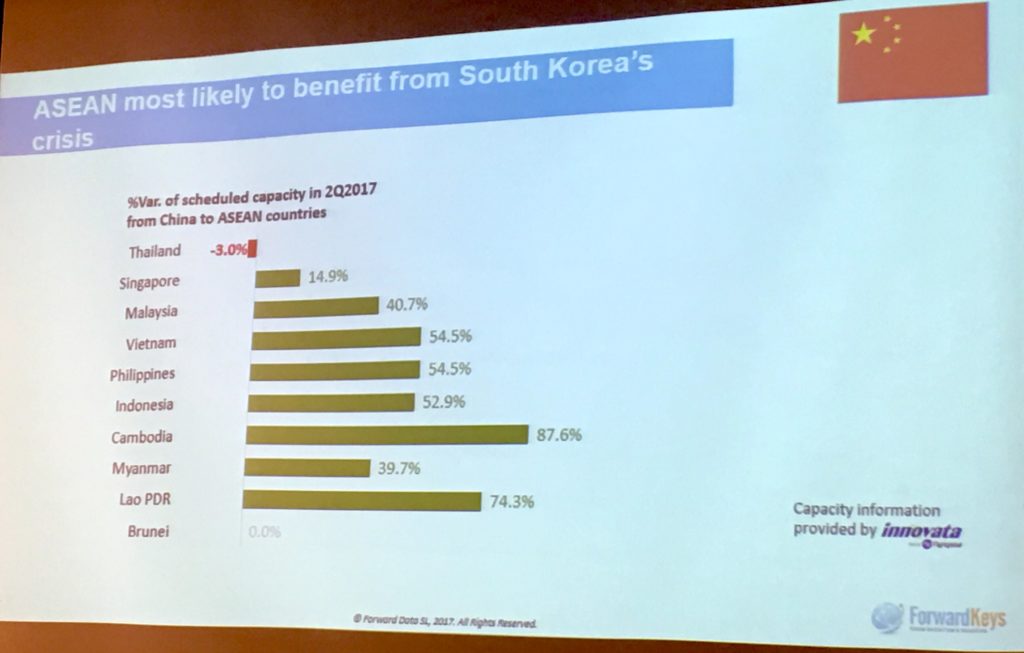 Other factors contributing to an "economic global warming" were mentioned only fleetingly. Ian Goldin, Professor of Globalisation and Development, University of Oxford cited the obscene rich-poor income gap and the January 2017 Oxfam report showing that eight individuals own the equivalent of half the world's wealth. Mr. Cameron himself raised the issue of global companies being accused of not paying their fair share of tax. That was it. There was no further mention of both hot-potato issues during the summit, which is not surprising. It is not what the world's millionaires and heads of major multinational corporations want to focus on.
In terms of prospective solutions, most of the discussions focussed on treating the symptoms rather than the cause. There was no discussion of the trillions of dollars being raked in by the phalanx of security and safety companies, consultants and crisis-management "gurus", for whom geopolitical global warming is a profit-centre, not a crisis. There was no discussion on how to tackle the growing number of extremist politicians in the US, UK, Europe, Australia, India, Israel and elsewhere publicly equating Islam with terrorism. Mr. Cameron blamed "Islamic extremism" but many in the Islamic world would blame his predecessor Tony Blair and US President George W Bush Jr for the deceptive lies about the non-existent "weapons of mass destruction" cited for the 2003 attack on Iraq, an attack from which Iraq, and the world, have never recovered.
Incidentally, Mr. Blair was the keynote speaker at the WTTC Summit in Korea in September 2013.
Racism, xenophobia, populism, nationalism, terrorism are all parts of the same package. They are transforming the world for the worse. By including them on the programme, the WTTC Summit made it clear that ignoring the threats is no longer an option. A more comprehensive debate is long overdue. Will the rest of the industry take the baton and put geopolitical, ecological and economic global warmings more firmly on the agenda?
Time may tell, but it is rapidly running out.