10 May, 2017
By Irfan Ahmed, CEO & Editor in Chief, Irhal Inc.
[Irhal is an Arabic/English travel website and app aimed at the world's 100 million Muslim travelers. It has 90+ city guides with information on tourist attractions, shopping and hotels. It also lists Halal restaurants, mosque locations and prayer timings for each city. 85% of Irhal's 1.5 million users are Arabs from the MENA region – mainly from the GCC. 48% are female.]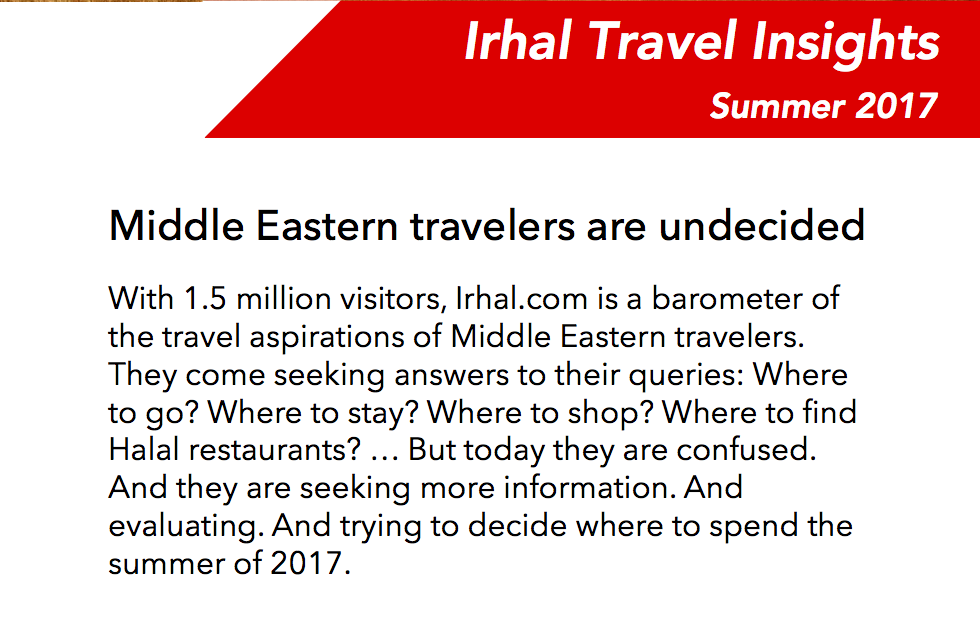 We have just done an analysis of the travel behavior of a sample of 150,000 Irhal visitors from January 1-April 15 2017 and no surprise, the majority of visitors wish to travel to destinations that are a short haul away. Amman, Beirut, Bahrain, Doha and Dubai remain the top 5 cities of interest.
But it is a tale of two regions when it comes to long haul. The trending hashtag #MuslimBan and the policies of US President Donald Trump have had their impact. For the first time in five years, no US city is among the top 25 cities on the Irhal travelers' wish list. Los Angeles, Washington DC and Houston all stand relegated. The world is divided – the US vs the rest-of-the-world.
High spending Middle East travelers who splurge an average of $6,453 per person in the United States – 67% more than European tourists visiting the US – are looking towards Asia. And Africa. And Eastern Europe.
Singapore, Malaysia, Vietnam, South Korea, Thailand, the Philippines and Japan are becoming popular. Nairobi and Dar es Salaam alongside Casablanca and Tunis are also gaining traction.
Prague, Vienna, Budapest, Dubrovnik, Tbilisi and Zell am See (Austria) are the new favorites in Europe. But these are all usually destinations where Middle East travelers do not spend more than a week. So, will the 3 weeks holiday in the US get replaced by multiple short trips?
Athens has retained its spot among the top 10 cities on Irhal, while Paris, Rome, Barcelona, Amsterdam and London alongside Germany – a wellness and nature focused destination – are stil popular and can benefit by attracting some of those who are distancing themselves from the US and haven't quite decided where to go this summer. Scandinavian cities, particularly Helsinki, are also attracting attention.
A surprising long-haul destination with no direct flights from the GCC — Mexico City — is currently generating a lot of interest. And so is Sao Paulo in Brazil. Will South America replace North America?
9 Trending Cities
1. Mexico City
2. Prague
3. Tbilisi
4. Seoul
5. Phuket
6. Dubrovnik
7. Nairobi
8. Cebu
9. Trabzon