18 May, 2017
Colombo – The Pacific Asia Travel Association advanced its transparency agenda at its annual summit this week by publishing its first annual report in decades, including a detailed report on its financial status.
In a move that will pressure other global and regional travel industry to follow suit, PATA CEO Mario Hardy circulated the annual report to PATA members in advance of the annual general meeting and will be uploading it on the PATA website for full public view. It is the first annual report published since PATA moved its headquarters to Bangkok in 1998.
In his introduction, Mr. Hardy said: "Our industry is in a constant state of evolution and we need to anticipate change and evolve accordingly. In 2016 we enhanced our position as one of the world's three most important and influential world tourism organisations whilst securing the Association's future by implementing prudent and effective financial management.
"This was only made possible with the support of the PATA Executive Board and our teams in Bangkok, Beijing, Sydney and London. I pay tribute to them all for their dedication and I also thank our members and industry partners for supporting PATA in 2016."
In his preamble to the financials, Mr. Hardy confirmed what only two travel trade publications (Travel Impact Newswire and TTR Weekly) had accurately reported over the years, rebuffing personal attacks, criticism and cover-up attempts by PATA board members and senior executives before Mr. Hardy took over.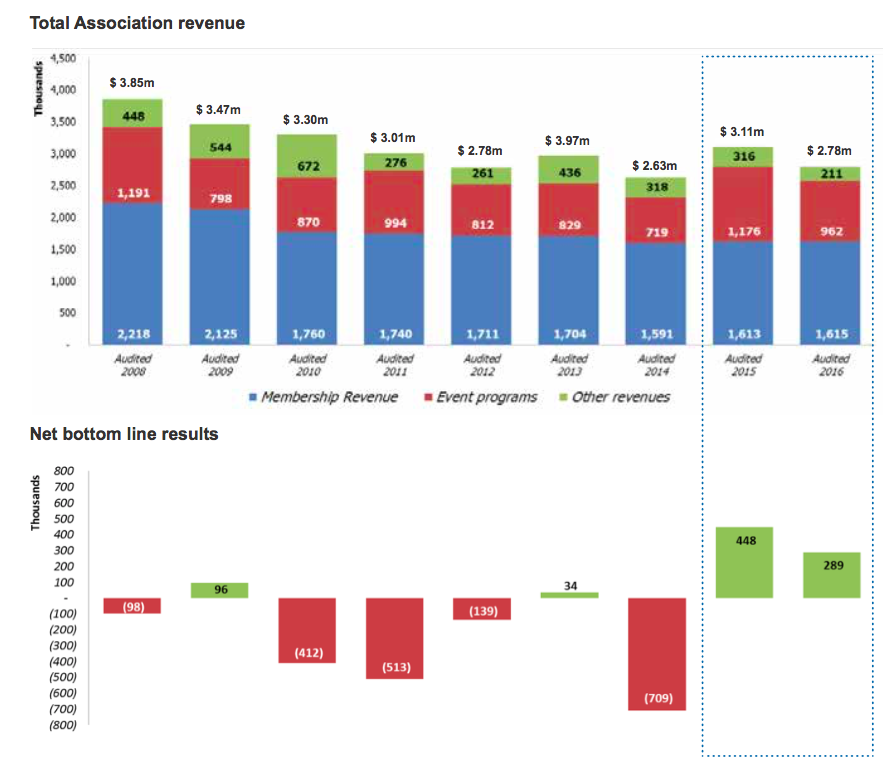 He said: "PATA's overall financial performance had been in decline for 6 consecutive years as a direct consequence of the fall in numbers of paid-up members in the period 2008 – 2014 by 28 percent (equivalent to lost revenue totaling US$ 600,000) and a weaker than expected performance in revenue generation from PATA events."
However, Mr Hardy said, "In 2016, prudent fiscal management and improvements in revenue generation from membership and from PATA events produced a more sustainable financial position from which to implement longer-term objectives."
He said, "This was the second consecutive year in which the Association returned, by comparison with recent year-end results, a much stronger net bottom line surplus. The prudent fiscal management policies referred to earlier included firm focus upon rebuilding the Association's cash reserves and, as at December 31st 2016, this figure had risen to US$ 1 million. The long-term objective remains to establish and maintain cash reserves of US$ 2 million.
"In summary, 2016 was a year in which the Association repeated its success of 2015 by growing income from membership and increasing, by 7.5 percent against 2015, revenues from PATA Travel Mart. Although revenue generated from other PATA events in 2016 was down compared to 2015, total income in 2016 was US$2.78 million, exceeding all fixed and variable operating expenses by US$ 289,000."
However, the fact that the bottom-line result dropped from US$ 448,000 in 2015 to US$ 289,000 in 2016 indicated that PATA still has headwinds to contend with.
Mr. Hardy also believes that higher levels of transparency will enhance trust in the management of the organisation, and thus attract more new members. Although PATA did lose membership last year, it also gained 170 new members, including new government members in the Middle East (Abu Dhabi and Ras Al Khaimah) and Africa (Western Cape and Zimbabwe).
He said that in the years to come, PATA would continue to reduce reliance on the PATA Travel Mart as a major source of revenues, and broaden the income base by delivering more PATA events.
In a separate comment to this editor, PATA's Director of Finance Pairoj Kiatthunsamai said that the PATA is now generating about 65% of its total income from the Travel Mart, about 10% from the Annual Summit and the rest from the other events. This year, the PTM hosted by Macau is already projected to do well. Going forward, however, the goal is to balance the revenue stream between the Mart (50%) and the Summit and other events (the remaining 50%).
In his annual report, Mr Hardy said that a stronger financial base would help PATA "pursue our other strategic goals, namely to build a strong and highly respected brand; to develop talent and people, and to increase engagement with members, chapters and the tourism industry at large."
He added, "The PATA brand was enhanced considerably in 2016. The busy calendar of events, including the Association's signature PATA Travel Mart, created another series of successful platforms for members to engage, to network, to build their respective businesses and to promote towns, cities, provinces, resorts, territories and nations.
"From Chiang Rai in Thailand to Guam USA, and from Banten province, Indonesia to Cox's Bazar in Bangladesh, each mainstream PATA event in 2016 exceeded expectations and made important contributions to the Association's improved financial position," Mr Hardy said.