17 Aug, 2016
Bangkok – The Ministry of Tourism and Sports this morning posted the stats of daily arrivals at five international gateway airports (Suvarnabhumi, Don Mueang, Phuket, Chiang Mai and Haad Yai) for the month of August to show the full impact of the Aug 11-12 bomb and arson attacks. The detailed stats include arrivals and departures for both Thais and Foreigners.
The most important stats of foreign visitor arrivals, reproduced below, shows minimal impact at these five airports, which handle roughly 70% of total arrivals to Thailand. They also prove right the estimate by the Tourism Authority of Thailand that the attacks will result in an arrivals drop of roughly 200,000 in total, and a quick turnaround following the launch of bounceback campaigns.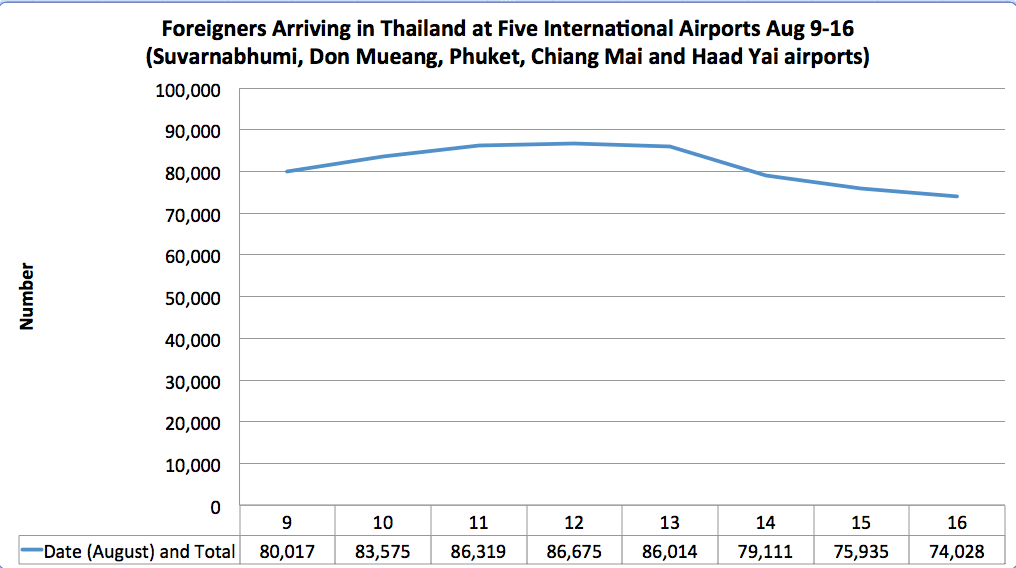 The full set of stats are reproduced below, for those wishing to do a more detailed point-by-point analysis. The PDF file was in Thai but has been translated into English for the benefit of Travel Impact Newswire readers.