4 May, 2016
Dubai, 28 April 2016, (ATM Press Release) – The influence of Millennials and their preference for quality over luxury, as well as the rise of a new breed of trendy and tech-friendly mid-market hotel brands, was the focus of a dedicated PwC-hosted panel session today (27 April 2016), with a line-up of international hoteliers stressing the importance of a diversified tourism proposition for the region's key destinations.
Held at the new ATM 2016 Global Stage and moderated by Vikram Loomba, Director – Hospitality & Leisure for PwC, the hour-long panel Great Mid-Market Hotel Debate addressed the status of the growing mid-tier accommodation segment in Dubai, including the current landscape, key barriers to entry and potential opportunities.
"Dubai will be home to somewhere between 20,000 and 35,000 mid-market rooms by 2020 and this surge in supply supports the PwC research, which flags a growing global movement away from luxury, and towards affordability, even from those for whom budget is not a primary concern," said Nadege Noblet-Segers, Exhibition Manager, Arabian Travel Market.
"This is being driven predominantly by the rising affluent middle class in key markets such as Asia, and with Dubai set to host Expo 2020 and Qatar, the 2022 FIFA World Cup, the mid-market segment is the fastest growing in terms of demand and pipeline," she added.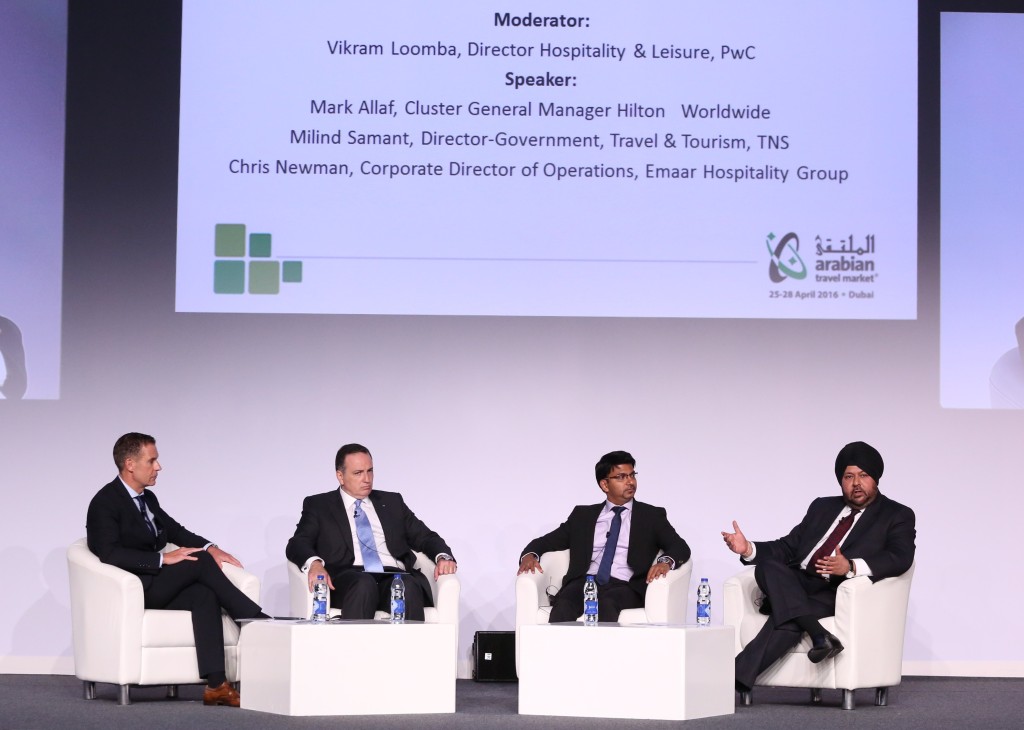 According to PwC, travellers opting for mid-market accommodation are looking for a well-connected location, clean rooms, uninterrupted WIFI, apps and accessibility via various technology platforms.
The high profile panel line-up included Mark Allaf, Cluster General Manager, Hilton Worldwide; Oliver Granet, Managing Director & COO, Accor Hotels Middle East; and Chris Newman, Corporate Director of Operations, Emaar Hospitality Group.
PwC used the example of Dubai as a regional case study, citing its current position as a luxury destination, which, as the city moves towards market maturity, is attracting a more diversified visitor profile supported by an enhanced offering.
Comparing the city's current offering to other major international destinations, Dubai is lagging behind in terms of mid-market product at 51% with 88%, 89% and 90% of hotels in London, New York and Los Angeles in the affordable bracket; 66% of all Paris' accommodation ranked mid-market and 76% in Hong Kong.
"With more and more Chinese and Indian travellers heading this way – and being actively targeted by both the Dubai and Abu Dhabi tourism authorities; the development of large-scale tourism projects, the unique behaviours of Millennials and a reduction in corporate travel budgets in straitened economic circumstances, the budget-friendly market is ripe for investment and development," says Vikram Loomba, Director – Hospitality & Leisure for PwC.
According to PwC, Dubai currently has a tally of 98,333 hotel and hotel apartment keys, with future supply through to 2020 expected to add a further 20,363 keys, of which around 56% will be within the five-star bracket, leaving ample room for additional three and four-star product to enter the market.
The panel also discussed the key challenges holding back mid-market hotel development, which include high land and development cost, with land in the accessible prime hotel clusters across Dubai rendered unfeasible due to land prices versus potential (lower) returns.
However, the PwC report authors believe that while higher five-star rates coupled with the current high occupancies enjoyed by the market in Dubai does make for an attractive investment opportunity, developing a mid-market hotel on the same plot of land can result in similar cash flows to the developer/owner.
This is due to smaller room size requirements, less landscape areas, leisure facilities and other ancillary experience-based offerings. A typical plot of land that can accommodate 250 five-star rooms may be able to accommodate 500+ mid-market hotel rooms wit the same allowable GFA, said the report; thus allowing similar commercial benefit. It is also possible to build from as low as US$80k per key.
The lack of public transportation connectivity was also raised as budget hotels are usually cited in secondary locations; as well as negative developer perception and a predilection for 'trophy assets'.
ATM 2016 will build on the success of this year's edition with the announcement of an additional hall as Reed Travel Exhibitions looks to add to its record-breaking achievements earlier this year. ATM 2015 witnessed a year-on-year visitor attendance increase of 15% to over 26,000, with exhibiting companies increasing by 5% to 2,873. Business deals worth more than US$2.5 billion were signed over the four days.
Note to readers: Travel Impact Newswire Executive Editor Imtiaz Muqbil was a hosted media delegate at the ATM 2016