17 Jun, 2015
DENPASAR, June 2015… Sanur Village Festival is a success as an independent tourism promotion effort that preserves and improves Sanur community ecology, economy, social cultural and creativity.
Chairman of Yayasan Pembangunan Sanur (YPS) Ida Bagus Gede Sidharta Putra claims the three parties that have worked closely together during the decade of festival are Sanur community, Denpasar government with Bali province government, and the private sector.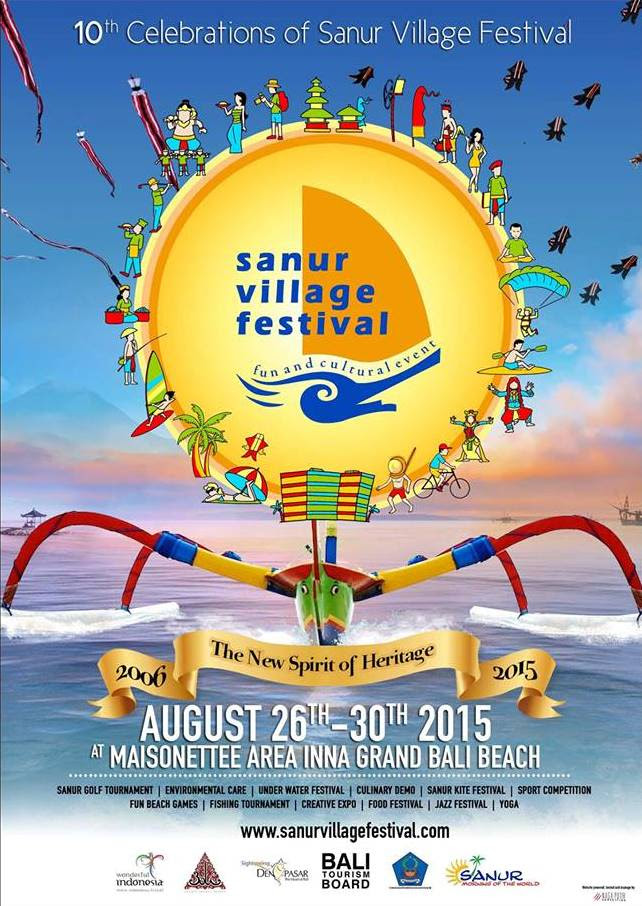 "The festival is community driven and celebrates the society, therefore it has always been an icon people look forward to every year," says Sidharta, better known as Gusde during the launching of "Dasa Warsa Sanur Village Festival", set from 26-30 August 2015. The 10 anniversary will be bigger and more festive with new and old programs loved by all the visitors.
Aside from the celebrations, One Decade of Sanur Village Festival should be a momentum to strengthen efforts in environment preservation, since many tourism activities tend to neglect ideals and philosophy practices by the Sanur community.
Gusde invites all stakeholders to look back in time to the first festival bask in 2006 which was a respond to the slowing of tourism post second Bali bombing (2005), which was still struggling from the first incident back in 2002. The following year, SVF II (2007) was launched with the theme "The New Spirit of Heritage" to give new spirit to the cultural ancestral heritage that preserved the coastal areas, environment and art creativity, and sustainable economy.
Afterwards the festival set themes in line with actual developing issues during the 9 years. These nine year records will be Sanur's basis for opening opportunities and facing future challenges. This destination competitiveness with its resources will encounter ASEAN economic society that demands consequence and high competency levels.
Gusde in his capacity as Chair of Perhimpunan Hotel dan Restoran Indonesia (PHRI) Denpasar was optimistic that communities already familiar with foreign tourists will easily be able to be competitive. The festival can help facilitate learning process and reflect future challenges.
He also considers the festival a place for showcasing innovation from carious sectors directly and indirectly linked to tourism, and massively promote it. This annual event has proven its benefit to improve Sanur and surrounding area economy.
Sanur Village Festival among them will have cleaning the beach, reforestation, baby turtle release, surfing competition, fun run, jukung competition, food festival, fruit and ice carving, cultural parade, international kite festival, fishing tournament, body painting, photo competition, golf tournament, and musical performances. SME Bazaar and other creative products will be displayed during the Sanur Kreatif Expo.
Briefly a decade of Sanur Village Festival:
SVF I: 25-27 August 2006, Inna Grand Bali Beach area
Sanur Village Festival was initiated to respond to tourism slow down post second Bali bombing (2005) which was still struggling from the first incident in 2002. Yayasan Pembangunan Sanur supported by Denpasar regional and Bali provincial government conducted a series of activities to support community cultural art and creative economy potential, hoped to effectively and sustainably promote Sanur.
SVF II: 15-19 August 2007, Inna Grand Bali Beach area
Introducing the theme The New Spirit of Heritage to give a new spirit to heritage that managed to coastal area, in terms of the environment, art, culture, and social activities. This theme will be used as basis for a sustainable SVF event.
SVF III: 6-10 August 2008, Mertasari beach
With the Going Green theme, all activities were focused on preserving Sanur as international tourism village, which maintains environment as the most important part of the tourism attraction. This festival was also a campaign for promoting the importance of Sanur in maintaining environmental and its rich art and culture preservation.
SVF IV: 12-16 August 2009, Mertasari beach
With the theme Marine Life, to remind of the essence of beach as the center of Sanur community life which flexibly follows the modern world development without forgetting their own identity as coastal community. For Sanur, the beach and sea are the source of economy and livelihood which must be maintained and guarded.
SVF V: 4-8 August 2010, Areal Cottage Inna Grand Bali
With the theme Saha Nuhuryang meaning a common prayer to the God almighty to receive a holy light which becomes the spirit for various aspects in Sanur community livelihood. SVF V emphasized the commitment to maintain culture, heritage and potential to develop creative economy to support tourism industry as an inseparable part of Sanur community life.
SVF VI: 18-22 November 2011, SunRise Beach
This SVF was held in conjunction with Pekan Flori dan Flora Nasional (PF2N) which is an annual agenda for Horticulture DirGen, minister of agriculture with the theme Flower Fiesta. These two events would inspire development of agricultural products and creative economy directly and indirectly linked to tourism industry needs.
SVF VII/2012: 26-30 September 2001, Inna Grand Bali Beach area
With the theme Salampah Laku, taken from a poem by modern Bali poet Ida Pedanda Made Sidemen, from Geriya Taman Intaran, Sanur. The local philosophy is basis for the tourism industry that has supported daily activities from spiritual to economic aspects. Salampah Laku would be the inspiration for all to achieve life perfection and holiness by integrating mind, word and action. The theme considers life like runs like a flow, enjoyed and will bring profit to the environment and people.
SVF VIII: 24-28 September 2013, Inna Grand Bali Beach area
With the theme Segara Giri from cosmology of sea and mountain with its socio-religious values as source of life. Sanur village is one of the axes of sunrise which is the starting point for Sanur community religious and social activities. The balance between the two is basis for harmony and sustainable life (Tri Hita Karana).
SVF IX: 20-24 August 2014, Maisonette Area, Inna Grand Bali Beach
With the theme Morning of the World is the spiritual essence that keeps the event existence in-line with Sanur community activities. The theme also appreciates the religious powers and roles of Sulinggih during the nyurya sewana ceremony every morning during sunrise. Morning of the World is also the promotion rebranding for Sanur tourism, where Sanur's morning is morning for the Bali and world.