25 May, 2015
BEIJING, (Xinhua) 2015-05-17 – The Palace Museum in Beijing will launch a pilot scheme to limit the daily visitors' number by 80,000 on June 13, according to the museum's announcement Sunday.
The Palace Museum will also impose a real-name registration system for tickets buying at the same time. All the group tour ticket booking will be carried out online, and the traditional site-ticket purchase booths will be canceled.
Visitor number control is a must to protect the security of both the cultural relics and tourists, said Shan Jixiang, director of the Palace Museum.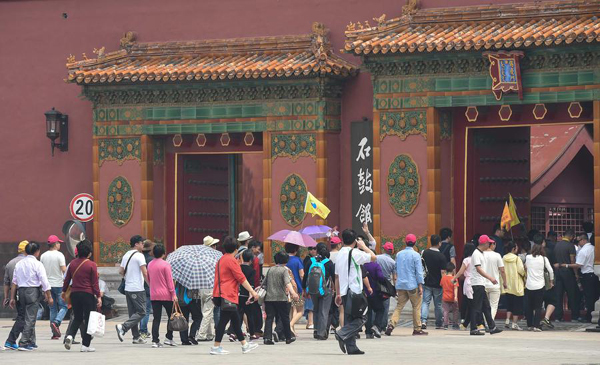 People visit the Palace Museum, also known as the Forbidden City, in Beijing, capital of China, May 17, 2015. [Photo/Xinhua]
As a renowned world cultural heritage with a history extending 600 years, the Palace Museum received more than 10 million visitors annually in recent years.
Statistics shows during the last three years, the museum's annual average visitor number have exceeded 15 million, way more than its counterpart such as the Louvre and the British Museum, Shan said.
Traveller's enthusiasm has caused great pressure to our service standard and safety control, Shan said.
He revealed that the museum is currently updating the ticket reservation system, so as to make it more convenient to book tickets and can guide the visitors to avoid their travelling during peak seasons.