31 Oct, 2014
Banda Aceh, Indonesia — When Rahmadhani Sulaiman, Director of Programming and Planning at the Aceh Tourism & Culture Office, narrates the story of the 26 Dec 2004 tsunami to visitors, he highlights the wisdom of the word "Smong07". It is what saved the islanders of Simeulue, around 200 kilometers off the western coast of Aceh Province. Although located close to the epicenter of the tsunami-causing earthquake, Simeulue recorded only seven victims, as against 78,000 who perished along the western coastline of the province.
How come?
Says the 42-year-old Melbourne-educated official, "Smong07 refers to another tsunami which struck the island nearly a century ago, on January 4th, 1907, following a 7.8 Richter scale earthquake, wiping out 70% of the population. Since then, generation after generation used local folklore, lullabies, poems and songs to ensure that everyone recognises the early warning – a sudden receding of seawater from the coast. When this happened on the morning of Dec 26, 2004, the Simeulue islanders rushed to the hilly areas, while those on the Aceh mainland did the opposite, they rushed to the sea to pick up the dead fish."
He adds, "The Indonesian language does not possess a particular word for "Tsunami" and uses a Japanese expression "Tsunami". But the Simeulue people own a specific old term for a tidal wave called "Smong" which proved to be more effective than a sophisticated early warning system. Today, we consider the Smong a key to disaster risk reduction by sharing information and knowledge for awareness-raising and educational initiatives."
This is how one lullaby goes:
| | |
| --- | --- |
| Enggelmonsaocurito | Please listen to this story |
| Inangmasosemonan | one day in the past |
| Manoknopsaofano | a village was sinking |
| Uwilah da sesewan | that what have been told |
| Unen ne aleklinon | starting with earthquakes |
| Fesangbakat ne mali | following by giant wave |
| Manoknopsaohampong | whole the country was sinking |
| Tibo-tibomawi | Immediately |
| Angalinon ne mali | if the strong earthquake |
| uweksuruiksahuli | followed by the lowering of sea water |
| Maheyamihawali | please find in hurry |
| Fano me singatenggi | a higher place |
| Ede smongkahanne | It is called "Smong" |
| Turiang da nenekta | a history of our ancestor |
| Miredemteher ere | please always remember |
| Pesandannavi da | the message and instruction |
| Smongdumek-dumekmo, | Smong is your bath |
| linonuwak-uwakmo, | Earthquakes is your swing |
| bedelaikkeundang-keundangmo, | thunderstorm is your music |
| kileklampu-lampumu | thunder light is your lamp |
Smong07 is also the inspiration of the Aceh Tsunami Museum, one of the highlights of any visit to this extraordinary province and its capital city Banda Aceh. No-one who visits the museum can leave without reflecting with deep sorrow on one of the worst natural disasters in recent memory. Local tourism officials also proudly note that the soul-searching triggered by the 2004 disaster led to the peace talks with the leaders of a 30-year insurgency movement and the August 2005 signing of a deal that ended the conflict. That insurgency had led to 15,000 deaths, considered another total waste which achieved nothing except deprivation and poverty.
The Acehnese tourism industry is also proud of another deep-rooted aspect of its history, that Aceh was where Islam first landed in Indonesia. Add to that the pristine beaches and diving spots on the island of Sabang, and some of Indonesia's finest coffee and cuisine, and the product contours of a definitive tourism marketing strategy become clear – Aceh as a centre of education for disaster risk reduction, conferences on peace and conflict resolution, a rich Islamic culture and heritage, coffee and cuisine, and finally ecotourism, surfing and just plain lying on a beach doing absolutely nothing.
This combination is perfect for well-heeled travellers who have been-there, done-that, and now wish to experience places where they can relax and/or reflect on the numerous financial, geopolitical, environmental and economic tsunamis hitting many countries. Located strategically along the international shipping lanes leading to  the Malacca Strait, Aceh is easily worth a five-night stay. The city is generally clean, and the people are wonderful. Everywhere this editor went – museums, shops, mosques, I was overwhelmed by the friendliness. Even the becak (motorcycle taxi) driver tried to strike up a conversation, in spite of knowing only six words of English, one of which was "tsunami."
At the moment, Acehnese officials believe the province is suffering from a "distorted image" — that the world thinks it has not having fully recovered from the tsunami. Wrong. The influx of millions of dollars in aid money, disaster recovery budgets from the national treasury, the peace pact and an agreement with the central government to give Aceh a more equitable share of earnings from oil and gas resources has spurred the economy. However, like with many Asian countries, the rich-poor income balance is more than apparent. The city of Banda Aceh is racing ahead while the situation in the rural areas is quite different.
The "distorted image" that offends Acehnese officials most is with reference to Islam. Aceh is more than 90% Muslim. Acehnese officials say Islam is to Aceh what Hinduism is to Bali, and deserves equal respect. Said Zaini Abdullah, Governor of Aceh, "Aceh's characteristics in terms of its religion, culture and customs, we also wish to promote Aceh as a spiritual-based tourism. We are quite sure that the implementation of Islamic Syaria does not at all become the barriers that will impede the tourists in order to visit and explore the beauty of Aceh's nature and culture. For sure, the Islamic Syaria implementation will totally support and strengthen our 'eternal peace'."
Added Hj. Illiza Sa'aduddin Djamal, Mayor of Banda Aceh, "The wisdom has become our strength in building Banda Aceh City into a model of civilised city within the framework of Islamic sharia. With that identity, we will continue to build a constructive partnership with various parties. As other countries have a high pride in their identity, as Americans are proud of the slogan "We keep America on Top of the World", Germans with Deutschland Uber Alles, we are also proud of our identity." Indeed, provincial officials see plenty of opportunities to create Sharia-tourism packages for the Islamic market from within ASEAN, as well as other countries in Asia and the Middle East.
The organisation of TIME has opened those opportunities and taken what is the first step towards enhancing demand. According to the Governor, tourist visits to Aceh totalled 1.2 million (of which international visitors comprise only 42,000, mostly from Malaysia) in 2013. He added, "It is hoped that the number will increase to 1.5 million tourists in 2014 and create significant impacts to Aceh economically, socio-culturally and environmentally. From a tourism-based business perspective, this industry has also generated a significant contribution to Aceh's domestic regional income (PDRB) of 0.88%. Of course, it is hoped that in the upcoming years the economic contribution will increase 3%."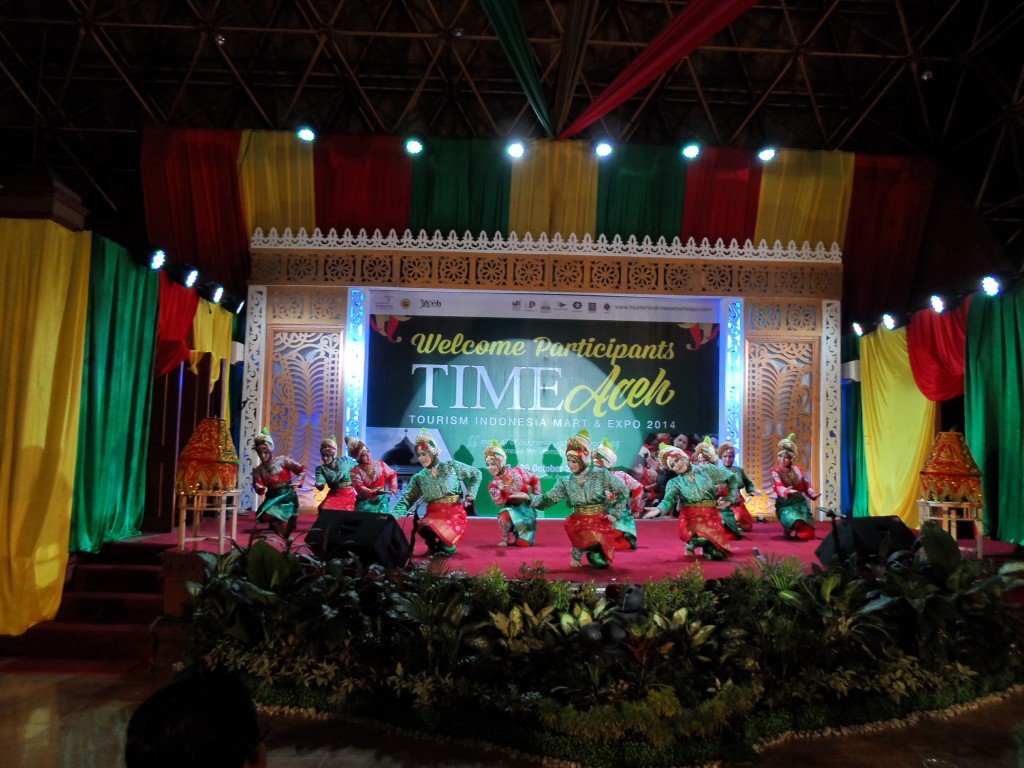 Indeed, tourism is an important component of the overall economy which presently relies on oil & gas, gold mining, coffee plantations, rubber and fisheries. International direct flight access is only from Kuala Lumpur and Penang. According to Mr. Octowandi, GM of the Hermes Palace Hotel and head of the Aceh chapter of the Indonesian hotel association, the province has a stock of 307 hotels, resorts and guesthouses, with an average annual occupancy of 70-80%. When occupancies hit that level, he said, expansion in capacity becomes necessary.
As it has done with former host cities Makassar, Lombok, Lampung and Padang over the course of its 20 years, TIME 2014 became the first travel trade show to put Aceh on the map. Held in Hermes Palace Hotel, it was organized by the Indonesian Tourism Council (MPI) and supported by Ministry of Tourism and Creative Economy, Provincial Government of Aceh, Garuda Indonesia and other airlines, Association of the Indonesian Tours & Travel Agencies (ASITA) Aceh, Indonesia Hotel and Restaurant Association (PHRI) Aceh, Indonesian Conference and Convention Association (INCCA), and Pacto Convex as the event organizer.
Chairperson of TIME 2014, Meity Robot, reported that it was attended by 60 buyers from from Australia, Bahrain, Bangladesh, Bulgaria, Canada, Czech Republic, Germany, India, Indonesia, Italy, Malaysia, Poland, Singapore, South Africa, The Netherlands, The Philippines, United Kingdom, and USA. There were 60 sellers from Aceh, Bali, Banten, Bangka Belitung, Bengkulu, East Java, Jakarta, Lampung, North Sumatra, Papua, Riau Islands, South Sumatera, South East Sulawesi, West Nusa Tenggara, etc.
Said Ms Robot, "We hope that TIME 2014 will speed up the development of tourism in Aceh as global tourism destination, as this region, and Banda Aceh in particular, own sound infrastructure and other supporting facilities including hotels with international standard, as well as international airport." Added Director General of Tourism of the Ministry of Tourism and Creative Economy, Mrs Esthy Reko Astuti, "TIME is in line with "Wonderful Indonesia" program in our effort to increase the number of foreign tourist arrivals targeted this year at 9.5 million international visitors and 255 million domestic visitors." With a new government in place, there is optimism that strong policy support for tourism will continue across Indonesia.
After TIME 2014, a strong post-event evaluation was planned. "We will improve," said Mr. Rahmadhani Sulaiman. "The tsunami was an act of God but a blessing in disguise. We now have to create crisis into opportunities. The peace-building has been very successful, reconstruction has been successful." Now, new challenges have emerged, such as creating a new generation of qualified manpower. At the moment, most of the workforce is employed by the government but that needs to be diversified into the private sector.
Aceh also boasts a "Thanks to the World" monument in Blang Padang, built to preserve memories of the generosity of the 53 countries which helped the post-tsunami recovery. This 26 December, 2014, the 10th anniversary of the disaster will be observed with a solemn commemoration event. After the opening with Islamic prayers, it will comprise of a number of events on natural disaster reduction, speakers highlighting local culture and history that will focus on the lessons of the past, ceremonies to thank the countries that helped the reconstruction and a 10-kilometre marathon. It is expected to be attended by many of the people who were in Aceh in the post-disaster period. Amongst the Acehnese hosts, children who were only 9 or 10 years old when the tsunami struck are now 19-20. "For them to re-establish contact will be an emotional moment," said Mr. Rahmadhani. About 1,500 rooms have been prepared. As that may not be enough, arrangements have been made for homestays."
What awaits them is the traditional Acehnese welcome. Said Governor Zaini Abdullah, "There is a philosophy that our parents passed on in a form of "Pinto Aceh". When someone comes into the Aceh House, the main door is smaller than a regular door, which means everyone who enters has to bow as a sign of respect to the host. However, once you are inside, you will find a wide open space, which symbolized our openness in serving guests, as it is our custom to honor our guests."
That custom has remained intact, both before and after the tsunami.