21 Aug, 2014
Seoul, Aug 20, 2014 (Korea.net) – The government intends to support the establishment of integrated tourist resorts that feature hotels, casinos and performance venues, as well as for-profit hospitals on Jeju Island and in free economic zones across the country. Also, beginning next year, Chinese tourists will be allowed to file group visa applications online and private vocational schools will be able to issue student visas to international students.
The government announced these varied deregulation plans during the sixth trade and investment promotion meeting on August 12. They are designed to promote investment in prospective service industries, a key item in the government's three-year blueprint for economic growth.
"Korea has huge potential to become a leader in service industries, as we have world-class information and medical technologies as well as great enthusiasm for education and a talented work force," said President Park Geun-hye. "We need to develop key service industries such as healthcare, tourism, finance and software through openness and competition, and improve their competitiveness."
The establishment of four large-scale resorts
The government intends to encourage the establishment of integrated tourist resorts that feature hotels, convention facilities, casinos and performance halls. As of now, only four such resorts are in the works. The LOCZ consortium, the Paradise Group and Dream Island intend will operate resorts on Yeongjongdo Island off the coast of Incheon, and then the Jeju Myths and History Theme Park is on Jeju Island. They are all expected to open between 2017 and 2020. A total of KRW 8.7 trillion will be invested into the four projects.
The government will provide one-stop services to make administrative processes as easy and quick as possible for the projects. It intends to build roads to the resorts and give construction approval in a timely manner. It also plans to revive a project to build a famous theme park in Hwaseong, Gyeonggi-do (Gyeonggi Province).
There is also good news for mainland Chinese tourists. The Korean government will launch a cable TV channel next year in Mandarin and aimed at Chinese tourists. It will promote regional palaces and fortresses, theme parks and shopping centers. Also beginning next year, the government will allow Chinese tourists to submit group visa applications online, instead of having to visit a Korean embassy or consulate. It will also designate COEX, an office and shopping complex in southern Seoul that is particularly popular among Chinese tourists, as a special tourist district.
The government also has plans to boost tourism in regional mountain parks. About 64 percent of South Korea's land consists of mountains, but due to various regulations, the use of these mountains as a tourism resource is somewhat limited. At the moment, it is illegal to construct buildings anywhere further than half way up a mountain, but the government will introduce a new law to designate certain mountains as tourist zones, allowing hotels to be built further up the hillside without seriously damaging the natural landscape.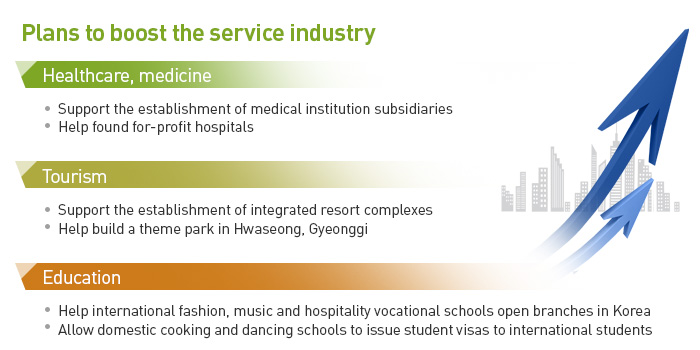 The establishment of for-profit hospitals
For the medical and healthcare industries, the government will support the establishment of for-profit hospitals in free economic zones and on Jeju Island. By the end of September, the government will make a decision on whether it will approve a request by Chinese company CSC to build a for-profit hospital on Jeju Island. The government intends to legislate a special law to provide Korean hospitals with assistance similar to that given to small- and medium-sized enterprises in order to help them conduct business overseas and to recruit more international patients.
The government will also help hospitals establish subsidiaries. In December 2013, it allowed hospitals to establish subsidiaries for non-core businesses and now some hospitals are in the process of creating subsidiaries. It intends to help four hospitals that are now trying to establish their subsidiaries by helping them solve problems they face.
In education, the government intends to encourage internationally recognized fashion, music and hospitality management vocational schools to open branches in Korea. It will also allow international educational institutions to enter the Korean market in the form of subsidiaries or joint ventures so that they can open branches in the country. It will also allow well-known Korean vocational schools that teach languages, cooking or dance to issue visas to international students.