12 Oct, 2013
2013-10-08 – (China Daily) – National holidays provide rare opportunities for the general public to travel and get a well-deserved rest, both physically and mentally, from their daily work routine.
However, problems exposed by travel arrangements involving hundreds of millions of people, from overburdened tourist accommodation facilities at major scenic spots and poor services to intolerable traffic congestion on the main roads, have sparked speculation over whether national holidays are a time for leisure or stress.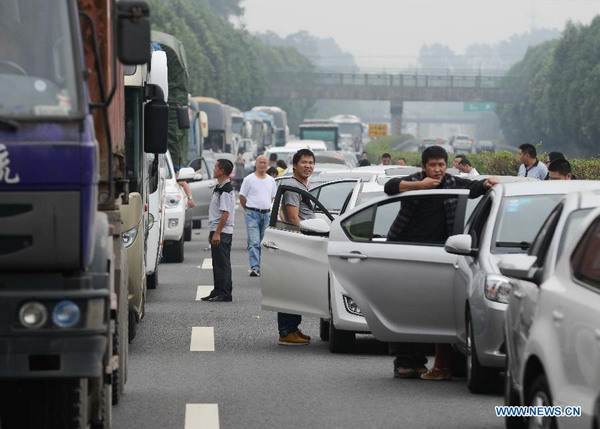 Drivers and passengers wait on the Chengdu-Ya'an Highway in southwest China's Sichuan Province, Oct 1, 2013. Highways witnessed a surge in traffic as the Chinese government scrapped the expressway tolls for cars with seven seats or fewer during the seven-day national holidays. [Photo/Xinhua]
This year's National Day holiday, which concluded on Monday, offers much food for thought. Traffic congestion has become a common topic in discussions on the advantages and disadvantages of vacationing.
During the National Day Golden Week, China's only weeklong holiday aside from Spring Festival, many travelers still encountered traffic chaos on the first day of the holiday. Many highways and road arteries throughout the country experienced massive traffic jams on both the opening and concluding days of the holiday. Some sections of the Beijing-Tibet and Beijing-Hong Kong-Macao highways resembled a parking lot, testing public patience.
Many people opted to take their vehicles because road tolls for passenger vehicles up to seven seats have been suspended during major holidays since last year's National Day.
This exacerbated traffic congestion on highways and trunk roads also caused intense public discussion on whether such a toll-free policy is either reasonable or practical.
According to estimates made by the Ministry of Transport, about 600 million passengers were expected to travel by road during this year's National Day holiday, up 6.1 percent year-on-year. As the national economy further develops and people's living conditions improve, the number of private vehicles will increase in the years ahead.
As part of the country's broader plan to spur the tourism industry, the adoption of a toll-free policy is indeed an effective way of bolstering the sector. But the traffic congestion caused by the sharp increase in car use during these national holidays also highlights the need for the authorities to formulate practical measures to ensure that drivers and passengers appreciate the splendors they had been anticipating.