4 Jun, 2013
BANGKOK – When delegates turned up for a conference of tourism academics in Bangkok between 25-28 May, they were handed paper-bags as delegate kits. That's true, literally speaking. Three students of conference organiser Siam University, and one lecturer, took hundreds of old newspapers and magazines from the University library and a local coffee chain and cut, folded and glued them into 170 bags of 40x30x10 cms each. At 20 minutes per bag, it took roughly two weeks to finish the lot. Delegates, most of whom had never seen anything like it, were told that if they didn't want to take the bags back home, they could return them to the organisers for onward sale to used-paper dealers. The money would be donated to a local save-the-elephants charity.
In line with the reduce-recycle-reuse philosophy, the bags were painstakingly crafted by Miss Jiraporn Sukkrathok, 22, third-year; Mr. Thakoon Sakulsirisombat, 23, fourth-year; and Miss Vishakha Pandey, 18, second-year; accompanied by Mrs Madeleine Recknagel, lecturer and project coordinator. It was an indeed an "innovation", a word that was often cited at the conference, which was organised almost entirely by undergrad students of Siam University's Hotel & Tourism Management Program and sponsored by Thailand Convention & Exhibition and Petroleum Authority of Thailand (PTT) group.
About 120 delegates turned up for the "World Conference on Hospitality, Tourism and Event Research & International Convention and Expo Summit", claimed to be the first time that WHTER & ICES events were merged. The theme, "Academics Meet Industry" was designed to bring together researchers, educators and industry delegates with a focus on topics that would help students marry theory and practise. The contents provided ample food for thought about the changes sweeping through one of the fastest growing economic sectors in the Asia-Pacific region today.
Innovative Ideas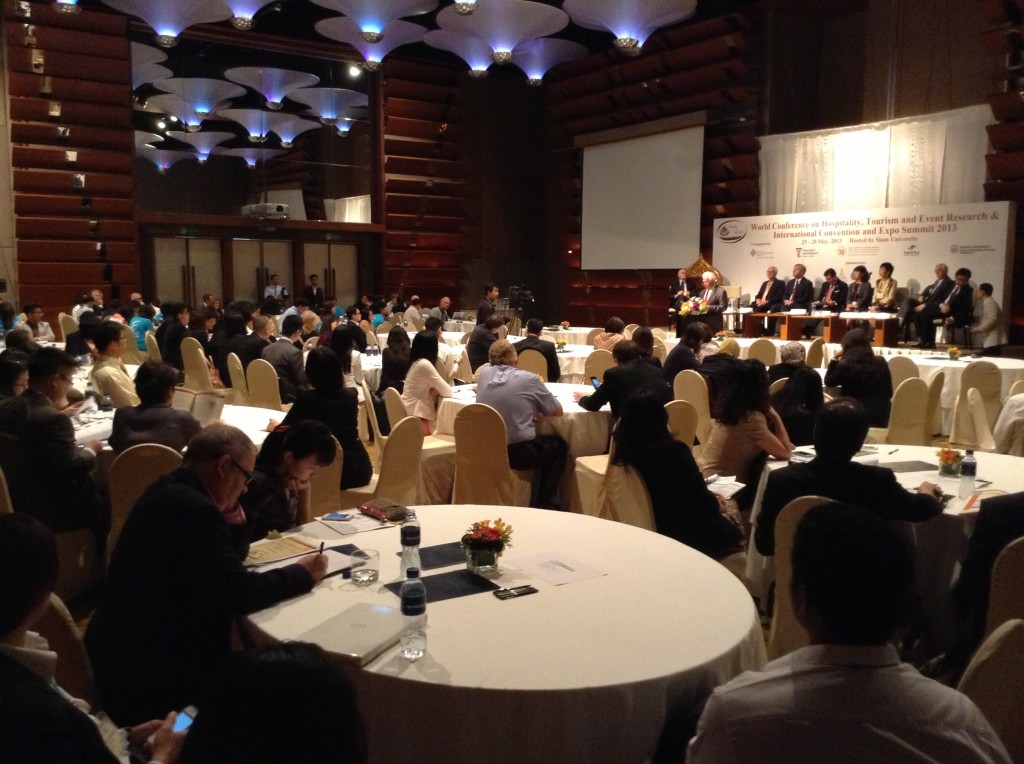 The conference in session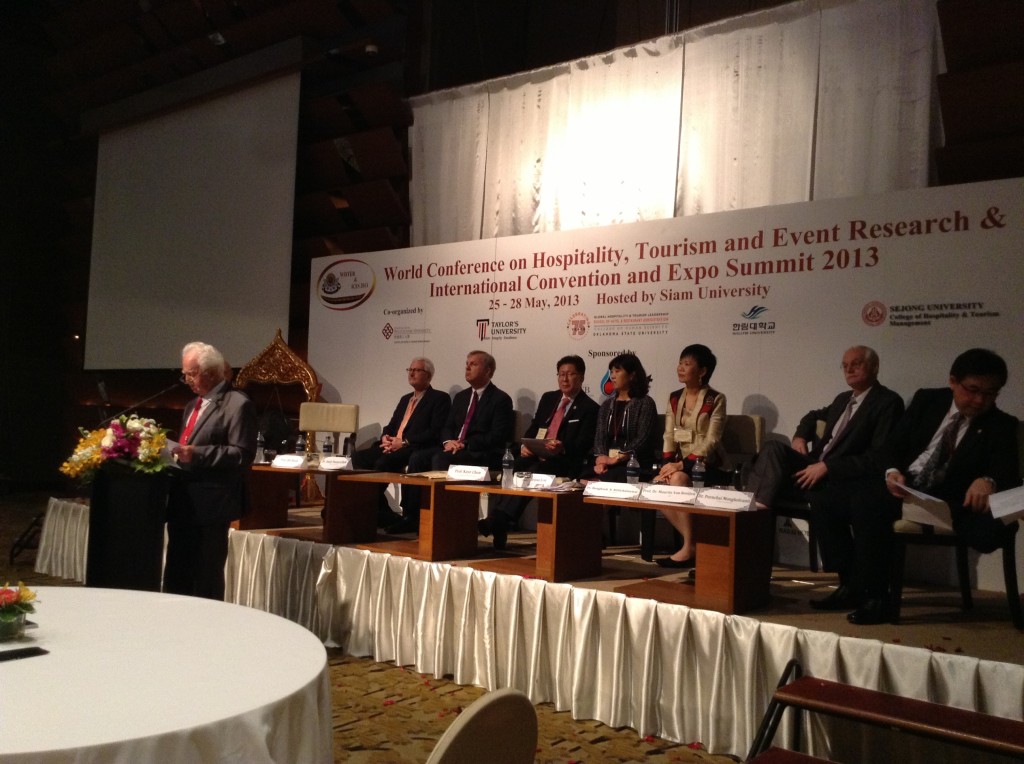 The opening speeches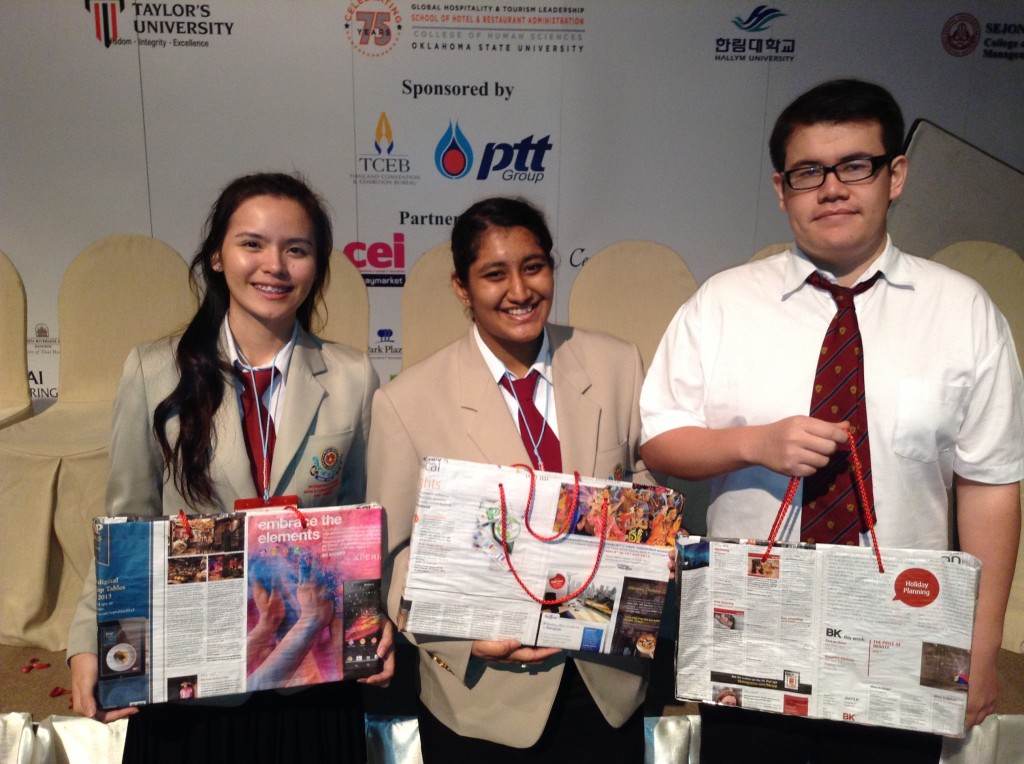 The three students who made the "delegate kits": Left to right: Jiraporn Sukkrathok, Vishakha Pandey and Thakoon Sakulsirisombat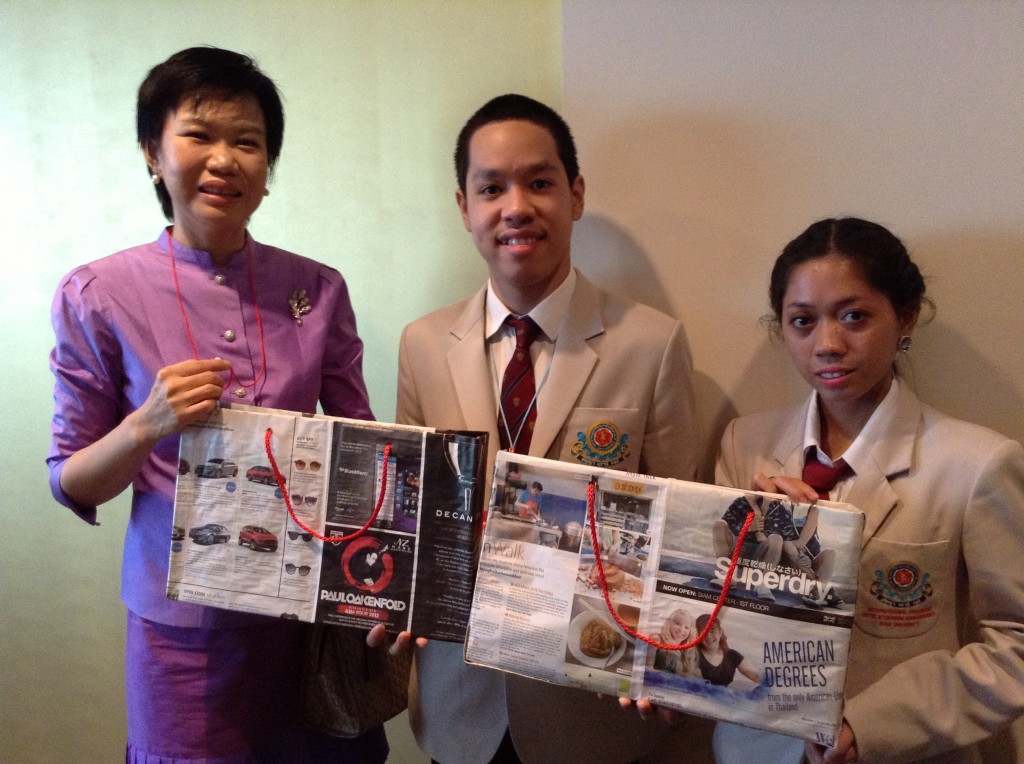 Associate Professor Dr Bongkosh Rittichainuwat of Siam University and two of her students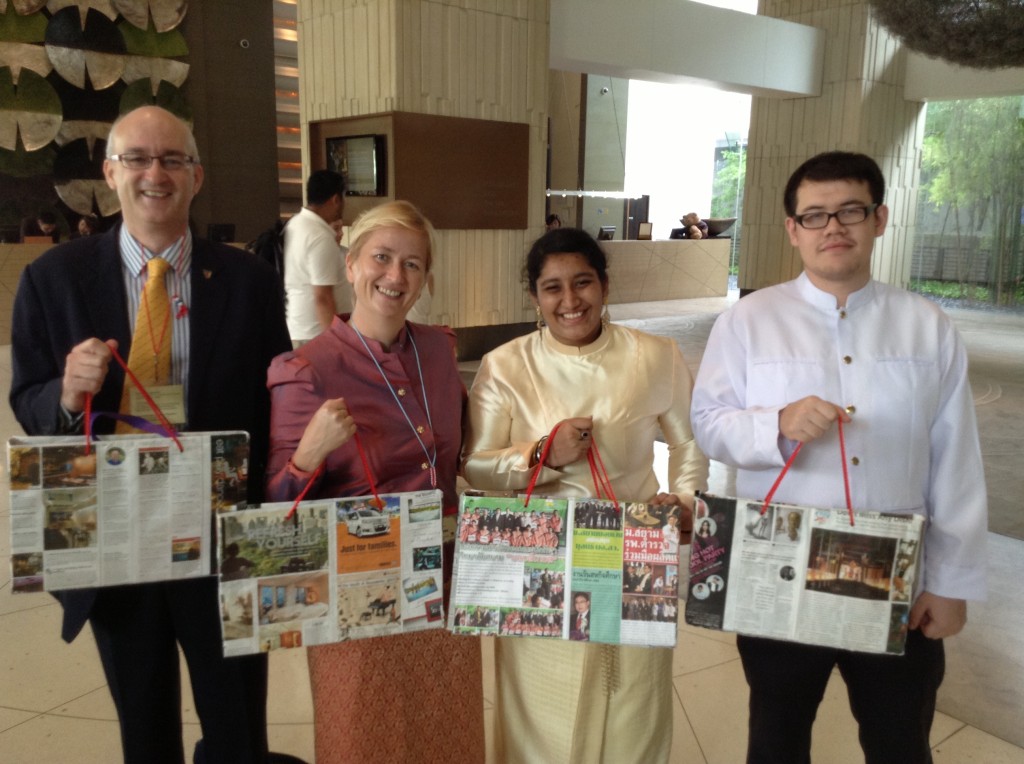 Prof Perry Hobson, Madeleine Recknagel, Vishakha Pandey and Thakoon Sakulsirisombat
In his opening remarks, Professor Kaye Chon, Dean and Chair Professor, School of Hotel & Tourism Management, Hong Kong Polytechnic University, said that the global centre of gravity is moving towards Asia, which is becoming a centre for ideas and innovation, and also projected to see the biggest growth in terms of tourism. This is leading to increased interest in studying tourism and growing demands for the universities to produce well-trained graduates.
For academics, he said, this meant making sure their work remains of relevance to industry. Their research had to create an impact, and not just be for the sake of publishing. In turn, good research would lead to innovation and make all the difference between success and failure, he said, citing companies such as Apple which had dethroned formerly dominant giants such as Nokia in the mobile phone business and how Samsung had overtaken Sony.
He said that his own university had pumped US$170 million to develop its own five-star hotel as a place to impart practical experience. The idea initially met with a lot of scepticism, cynicism and pessimism. However, he said the hotel proved the critics wrong and began turning a profit in three years. How? Through innovative ideas based on research.
Prof Chon cited one idea. As many long haul flights got into HK airport early morning, passengers often turned up tired at the hotel but had to wait several hours before they could get a room. "So we came up with idea of creating a first class lounge where guests could shower, change, rest and have access to free coffee, TV and internet while they waited for their rooms to be ready. They could also use the lounge in case of a late check out." The idea has proved a hit, he said. "We have to aim high. We have to have both vision and hindsight. The hotel is winning high rankings in TripAdvisor. We even had 20 Marriott executives flying in from the U.S. to see how we do it," Prof Chon said.
Unforeseen developments
Prof Erik Cohen of the Hebrew University of Jerusalem cited the impact of global geopolitical, economic and environmental crises on tourism, including the growing backlash against globalisation. His primary conclusion was stark: "There is no doubt that the basic assumption of unrelenting expansion of global tourism has been put into question. Tourism planners, investors and managers in Asia and elsewhere will have to rethink their long-range policies and seek ways to respond to the challenges and threats, which the changing world scene poses to future tourism development."
Said the professor, "At the turn of the millennium, social scientists looked with optimism towards the new century, expecting the current trend of globalization to continue unabated, accompanied by accelerating economic expansion and growing prosperity on the global scale. But these optimistic expectations suffered increasing disappointment as the new century progressed. A series of major environmental crises, wars, terrorist attacks, financial market crashes, climatic changes and natural disasters darkened the horizon, and shattered conventional optimism. Just as globalization held forth the promise of reducing obstacles to the spread of its benefits, so it amplified the effects of local events onto the global sphere.
"These unforeseen developments raise a fundamental question about the long-term stability and ultimate viability of the current global politico-economic system, based as it is on a neo-liberal economic philosophy, credit-based consumerism and growing sovereign debt. The recurrent crises appear increasingly to be symptoms of the approaching demise of that system, leading to a slow-down or reversal of the process of globalization, a decline of consumerism as the prevailing cultural ethos and motor of the economic system, and the rise of a new, "post-consumerist" future. The intense public distrust and resentment of the leading American financial institutions, expressed in the "Occupy" movement in the U.S., and the growing public resistance to the austerity measures taken by European governments to come to grips with their sovereign debt, are indications of the explosive potential inherent in some major contemporary crises," Prof Cohen said. His full paper can be downloaded FREE by clicking here.
Prof Chris Ryan of the University of Waikato, said there is enormous pressure on researchers and academics to get published. The journal "Tourism Management" gets hundreds of manuscripts for each issue, and the numbers are increasing. The competition is fierce. "It was never easy to publish in top journals but today it is very difficult," he said. "Today more people are doing Ph.D's than ever before. However, not each of these is making a contribution to human knowledge."
Calling on students to have a justification and understanding of the research they indulge in, he also urged them to broaden their perspectives by looking at sectors outside tourism. "We get caught up in our own specific fields and it helps sometimes to look at things a little more broadly," Prof Ryan said, suggesting that instead of attending only travel & tourism events, it might help to attend those in other sectors.
Influence of Publishing Companies
Prof Perry Hobson of Taylor's University, Malaysia, echoed many of Prof Ryan's views. He said many academics also face significant pressures related to time and costs in reviewing the academic papers. Prof Hobson said academic writing requires a very different skills set, with a whole range of constructions, performances and rules some of which are not immediately clear to young researchers. The problem is compounded if English is the researcher's second language.
In one forthright remark, he admitted that academics, too, are "writing often for ourselves and which no one else finds interesting. It is a very nice closed circle for us. The rest of the world can go on in its merry way and will not interfere with us all. We are academics but we are also our own reviewers and editors."
He also raised questions about the increasing influence of publishing companies, many of them part of media conglomerates, which are gaining rights to publish these journals. "Who is profiting from this knowledge?" Prof Hobson asked. He called for more scrutiny and public discussion about this business model under which publishing companies get access to these papers at a relatively low cost, and then charge the universities exorbitant subscription fees to access those same journals. "This means that universities are paying to buy back their own knowledge and research base," he said. The journals are then promoted through a ranking system which Prof Hobson said also needs more accountability and transparency.
He said the pressure to publish is leading to increased incidents of plagiarisation, especially amongst politicians seeking to enhance their status with degrees next to their names. He rued the fact that the internet world is now leading to a fake universities issuing fake degrees and publishing fake journals. It was a growing problem, he said, urging students seeking a global education and signing up for online courses to be careful about what they are getting into.
Prof Bill Ryan of Oklahoma State University said that many students get high grades but are unable to organise real projects. He said practical experience counted more than theoretical learning. Adding to this, Associate Professor Dr Bongkosh Rittichainuwat of Siam University was honest enough to admit this was true in the case of the conference itself. Although the university had taught a MICE programme for 14 years, and even sent students to make presentations at global MICE shows such as IMEX and IT&CMA, they had still faced numerous organisational issues in managing this conference. However, she thanked participants for their patience and support. "The conference was a good chance for the students to put their theory into practise. We would like to thank you for your support in giving them a chance to do so."
Experience Counts
Professor Maurits van Rooijen, Rector/CEO of the London School of Business & Finance said there is no connection between academic excellence and the performance of CEOs. He said many corporate CEOs have a loud voice and sharp chin because "they are more interested in their egos than leadership." In fact, he said, what was needed was "leaders with sharp eyesight and bigger ears." Such leaders need to listen and observe and see what's happening as their primary job is to react to opportunities.
Experience can make even average students into very good CEOs, Prof Ryan said. "A good manager walks around all the time. He/she doesn't sit behind a desk studying statistics and doing analysis. For a successful entrepreneur, the key factor is to understand the consumers. They have to know who is going to buy their products, what people want. This is not about being clever but just understanding people. The best entrepreneurs often were those who had the daftest ideas."
Professor Ercan Sirakaya-Turk of the University of South Carolina gave a live demonstration of a "Structural Equation Modeling" concept. In simple terms, it was all about linking social, cultural and environmental values to travel & tourism, and ways to evaluate and measure the linkage. His computer model appeared to be a bit complex but with some practise, it could easily be programmed to deliver results. The professor later said it could also be adapted to meet one of industry's most important needs: identifying this elusive link called "carrying capacity."
In a subsequent presentation, Prof Ercan also shared his personal observations on his first visit to Thailand. He said he had been overwhelmed by the quality of Thai hotels and service standards. At the same time, he said both he and his wife were shocked to see middle-aged and elderly males mainly Europeans, walking the streets hand in hand with young Thai girls. He was equally disturbed to see the crowds of boats parked at the beaches of the popular Phi Phi island. Far from being critical, his message was constructive and clear: Thailand can exemplify the best and worst of tourism, all worth learning from.
Indeed, the set of papers and presentations at the conference clearly showed that Asian students are producing world-class research on contemporary topics. Many subjects were quite fascinating, for example, how Bollywood movies impact on European destinations; how visitors perceive Bangkok museums; a customer evaluation of hotel brands; a comparison of the websites of Singapore, Hong Kong and Bangkok; experiences at German restaurants in Pattaya; the site selection decision of incentive travel operators; Customer retention in the theme parks; and many more.
Very Risky World
Although equivalent to thousands of dollars worth of free research, it was largely wasted. The way the papers were written, packaged and presented verified what Prof Hobson said earlier – students and academics writing mainly for themselves. In my own presentation later, I referred to such writing as "gobbledygook", long overdue for innovative overhaul and revamp if academia is truly serious about becoming more relevant to the industry it serves. Drowning the pursuit of relevance in a sea of irrelevance is a contradiction in terms, and well worth fixing.
PATA Thailand Chapter Chairman Bert van Walbeek, who works with Dr Bongkosh on other projects, chipped in to help with organising a day of interactive, debate-style panels with some industry figures such as Christoph Voegeli, General Manager of the Royal Cliff Hotel, Mason Florence of the Mekong Tourism Office, Alex Rayner, Chief Marketing Officer of PATA, and Kevin Murphy, President & CEO, Asiawide Hospitality Solutions. Apart from these executives, there was scant representation by the private industry itself. In one session, three people raised their hands when asked to identify who in the audience were from the industry, but declined to say where they were from.
Upon request from Mr. van Walbeek and Prof Bongkosh, this editor delivered two presentations at the industry panel, one on HRD and the other on crisis management.
In my presentations, I exhorted academics to focus on the role of travel & tourism in the new world order and the emergence of the Asian Century. Academics need to help their students not just find jobs but rather to help create a more just, peaceful, sustainable world which in turn would boost their students' chances of finding good jobs. This is in line with the dictum that this present generation is merely in transit, acting as a custodian to prepare the world for the next generation. "The biggest contribution you can make is to help the industry learn from the mistakes of the past in shaping the emerging new world order," I said.
I asked for a show of hands to indicate how many delegates had heard of Nalanda, Takshashila and Gandhara, all great centres of higher learning that flourished centuries ago in what is now known as India and Pakistan. Not a single hand went up. These former educational centres testified to the existence of a formerly vibrant Asian civilisation. Academics need to probe why they went to decline and how that former glory can be revived.
"This is our last chance," I said, "It's a very risky world. There is too much change taking place too quickly, affecting too many people in too many different parts of the world, with too much pressure to make too many decisions in too little time with too little resources with too high a price to be paid for making wrong decision and too little reward to making the right ones."
Widely predicted
I also debunked the claims of Prof Erik Cohen that many of the global crises he cited were "unforeseen developments" and that those calling for a different development roadmap had "no alternative proposals to offer."
Several of the man-made crises such as the economic downturns had been accurately predicted by NGOs and social activists attending the World Social Forum, the grassroots movements counterpart to the World Economic Forum. "But these are poor people, and these days nobody wants to listen to the poor because if you are poor, you are considered to be stupid," I said.
I also said that there was no shortage of "alternative development paradigms" waiting to be implemented. One example, the sufficiency economy concept of Thailand's King Bhumibhol, in fact was a part of the conference programme with a post-tour to the Chitralada royal agricultural projects. Another example was the Gross National Happiness concept of the former King of Bhutan. This has now been embellished with measurement indicators developed by the OECD which has repackaged and rebranded the same philosophy as the "Better Life Index."
My key message to the students and academics was to replace crisis management with crisis prevention, to get a better sense of history, learn from the mistakes of the past, especially failed economic and geopolitical policies, and work together to create new concepts of development. That would comprise the real innovation.
Overall, it was an extremely interesting and productive conference, especially after sifting the wheat from the chaff. Universities face their own set of challenges, including the need to become financially independent and enhance their own competitive status. Their work today will impact on the future of travel & tourism and also help shape the emerging Asian Century. Conferences such as this will go a long way towards advancing that cause.
Paper presentation awards
Tourism Management Best Paper Award: "Best Match up of Airline Advertising Communication Effect: Safety v Child Endorsers" Kuo-Ching Wang, National Taiwan Normal University; Wan-Ting Jhu Transasia Airways; Yang Gao, Hunan Normal University
Journal of Convention and Event Tourism Best Paper Award: "Attendee Behaviour in Business Event Tourism: A Holistic Approach": Tracy (Ying) Lu, University of Kentucky; Howard Adler, Purdue University; Liping Cai, Purdue University; Mimi Li, Hong Kong Polytechnic University
Professor Erik Cohen Best Paper Award: "Indigenous Tourism in Australia: An analysis of demand and supply": Lisa Ruhanen, University of Queensland; Michelle Whitford, Griffith University; Char-lee Mclennan, Griffith University
Emerald Publishing Best Paper Award: What makes visitors environmentally friendly: A study of international visitors in Thailand': Montakan Chubchuwong, Asian Institute of Technology and Dhurakij Pundit University; Marian Beise-zee, Ritsumeikan Asia Pacific University; and Mark Speece, American University of Kuwait
International Journal of Contemporary Hospitality Management Best Paper Award: "An analysis of data regarding public private partnerships to encourage hotel development in the United States": Robert Nelson, University of Delaware and Jan De Roos, Cornell University
Siam University Highly Commended Paper Award: "Construction of a fanaticism scale in the context of media fan pilgrimage participation": Wei Heng, Wang, Hong Kong Poly U; Hanqin Zhang Hong Kong Poly U; Kam Hung, Hong Kong Poly U
Tourism Association of Thailand Highly Commended Paper award: An understanding of attendees at a food festival by the levels of involvement": Young Hoon Kim, University of North Texas; Bharath Josiam, University of North Texas; Jermaine Jamison, University of North Texas
Conference Chair Highly Commended Paper Award:: "Sports Events as community builders – how social capital helps the locals cope': Nigel Jamieson, Tafe SA
Conference Editor's Highly Commended Paper award: "The effect of congruity between restaurant brand image and menu items: in the context of promoting healthy menu items": EunHa Jeong, Purdue University; Shawn Jang, Purdue University